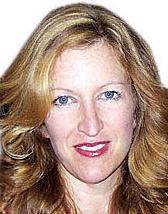 There's a category of people created for service that we can use or ignore, as the whim takes us.
We can drop off our children with them when we want to go out or go to work – or even leave town.
In fact, if we don't want to spend that $110 a week on day care, and this day care is free.
Like a daily Santa Claus or a version of welfare, with no rules or application process, these people provide for our needs.
If we want to run off on a drug-hazed escape from life or have a faraway job or just spend more time with the latest lover, these people will take care of our children and love them as if they are their own.
Which they almost are because, as you guessed it, these imminently useful people are grandparents.
Grandparents can care for and love our children – and our children love and need them — but there are no strings attached (except for heartstrings, but they are easily broken, right?). We can take our children away from them whenever we want to, or at least, whenever we find another way to take care of our children.
So it is that some people spend months or years raising grandchildren, lovingly nurturing them as well as financially supporting them, but then with the snap of the fingers, the parents can swoop in and take away those children.
Grandparents have little to no way to defend themselves against this practical kidnapping of children they love so much.
There's another common scenario in which grandparents lose contact with their grandchildren: The parents divorce.
Even within the most well-meaning of families, when children's time is divided between two parents, that cuts the available grandparent-visiting time at least in half.
And if a parent were to die, will the remaining parent still cultivate the kids' relationships with that other side of their family?
As I'm writing, all this I'm thinking about various grandparents who have told me about experiencing the scenarios I described above. It's an all-too-common story you've probably heard a dozen times yourself.
They've talked through tears about the utter heartbreak of losing contact with their beloved grandchildren, and some even express concern about their grandchildren's welfare.
One grandmother even sued her daughter's ex-husband and his new wife for visitation rights. This grandmother had been the care-giver during the child's first five years.
Some of those years they were next-door neighbors, and for a year or two, the toddler even lived with her.
One day, without warning, the daughter gave up custody of the child to the ex-husband before running off with a new lover. The ex-husband took the child to live in Idaho.
In court, the grandmother won visitation rights for a few weeks each year.
However, she went into debt to pay her attorney's fees for that fight, and she can't afford airline tickets across the U.S.
I thought the fact that she had won visitation at least gave a little hope to the point of this column, so in the interests of being specific, I asked attorney Ward Armstrong how Virginia law deals with the matter.
Ward's law office is a family affair, with daughters Courtney Wenstern and Whitney Collins and wife Pam Armstrong.
I learned I had been overly optimistic in my assumptions.
Basically, federal law doesn't support visitation for grandparents, although the general public and judges seem to, he explained.
Years ago, the state of Washington had a statute that allowed grandparents visitation right if it is in the child's best interest, he said.
However, in the mid-1990s the U.S. Supreme Court rendered a decision in the Troxell case, an appeal of a grandparents' visitation case from Washington, denying grandparents visitation rights if the parents object.
"The Supreme Court … said, no, a parent has substantial rights, including the way to raise that child in the way they see fit," he said. Grandparents only could get visitation rights if they "could show actual harm to the child" otherwise.
A Virginia statute "upheld that same standard of actual harm," he said.
"What it means is there's a much higher burden for the grandparent to obtain visitation with the grandchildren."
He personally doesn't agree with the Troxell ruling, he said – and he's under the impression that judges don't think much of it, either, because he's seen them "bend over backwards to find actual harm" to allow the grandparents to see the kids.
"I think the judges really search for a reason to allow grandparents visitation," he said. "They really do not want to deny grandparent visitation. … Each case rises and falls on its own facts."
If custody and visitation rights are established before the lack of visitation becomes a problem, though, the grandparents stand a pretty good chance winning visitation rights if push were to come to shove.
There may be some hope: "The trend is going up for grandparents," Whitney said. "It's becoming more well-known."
Children and grandparents need each other. It's a natural relationship that brings happiness to both and helps the children grow and develop and understand the world.