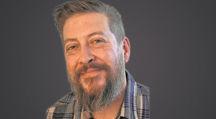 A longtime reader asked: "Is your ol' buddy Gary the groundhog getting his fill of your garden this year?"
It was a reference to a couple of columns I wrote back in 2020 describing my battle with a groundhog who took up residence under my shed for the bounty of a small garden I tilled nearby.
Last year's fight ended in a tie with neither of us going hungry. I never answered the age-old question of how much wood could a woodchuck chuck but I do know he can eat twice his weight in squash plants.
This year, unfortunately for me, Gary produced reinforcements. He and his wife, Greta, at some point were blessed with two little whistlepigs named Gandalf and the Great Goblin.
Gary obviously spent much of the winter hibernating and rereading J.R.R Tolkien's "The Hobbit."
When I saw the two wee thickwood badgers in the yard (and, yes, I looked up all the alternative names for groundhogs on Wikipedia), they were admittedly cute, but looks can be deceiving.
I knew there was trouble ahead.
I imagine Gary, as a caring father, prepared his youngsters for what was in store.
"Children, gather 'round me," he likely said from the safety of the burrow beneath my shed. "Wait, don't sit there. It's where the chainsaw leaks bar oil through the floor above. Sit here, near my Tolkien collection."
"Yes, father. We are eager to sit at your paws and partake of your infinite wisdom, for you have lived many years and vanquished many foes."
"Soon, my children, we shall feast from the bountiful garden, or as bountiful as we can get around here considering the sad lack of agricultural knowledge possessed by the creature who planted it. And that creature is the Angry Giant."
"The Angry Giant sounds fearsome, father."
"Actually he's comically inept at most things. I watched him throw his shoulder out pitching apples at a fence post and laughed as he wailed in pain and danced around crazily when our friend Bobby the bee stung him as he disturbed the tranquility of nature with his infernal grass-mowing machine. And, in truth, he isn't much of a giant but he is bigger than we are."
"What makes him angry, father?"
"Oh, almost everything. That guy is a ticking time bomb if you ask me. But I know one thing that makes him angry for sure: Our presence in the bountiful garden."
"What shall we do when we encounter the Angry Giant, father?"
"When he emerges from his larger shed next door, arms flailing, curses filling the air, pretend to be frightened and run away. He will soon return to his shed, crack open a can of mead or whatever beverage he consumes and forget about our presence. And that is when we feast, my children."
I'm sure it went something like that.
When the seeds and tiny plants began to reach for the sky, from the clover to the garden moved Gandalf and the Great Goblin. The latter was well named, for he was gobblin' up all the zucchini plants.
I flailed and cursed and ran them away a few times, only to have them return later. My latest tactic is to slip into the kitchen, quietly raise the window over the sink, slowly lift the screen and fire over their heads with a BB pistol.
I haven't seen Gary in while, but I figure he's over by the fence line, watching proudly as his offspring carry on the battle for control of the bountiful garden. But there is a long way to go until harvest. This war is far from over. So sayeth the Angry Giant.
Scott Hollifield is editor/general manager of The McDowell News in Marion, N.C., and a humor columnist for Lee Newspapers. Contact him at rhollfield@mcdowellnews.com.