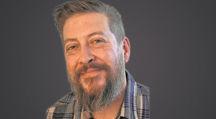 EDITOR'S NOTE: I'm still in vacation mode, so here's a lightly edited column from back in the 1990s that no one will remember reading, revamped slightly to remove a few dated references. I did leave in former talk show host Phil Donahue, choosing not replace him with Dr. Phil, which would give the column a more contemporary slant and not remind you, the reader, this is an ancient repeat. As far as talk show hosts named Phil go, I am still partial to Donahue so I stuck with him. The column's theme is one I've returned to time and time again over the years – home-improvement projects gone awry. Eventually, I completed this one, sold the house a few years after that and the new owners burned it down with an improperly installed wood stove, forever erasing my handiwork. But that is their story. This one is mine.
I don't know if anybody noticed, but I had paint in my ear today.
I saw a small clump of white latex semi-gloss in my left ear when I looked in the bathroom mirror. I was able to remove it with my finger, avoiding the more drastic method of ear paint removal, which involves a pencil eraser or a bent paper clip.
I had been at work for a couple of hours and nobody had told me about the paint in my ear. I was a bit embarrassed, much like the time I interviewed the governor during his visit to a local fish hatchery and realized later my pants had been unzipped the entire time.
Before I found the paint in my ear, I had talked to several members of the general public who often come by the newspaper office to show off unusually shaped vegetables or threaten to beat me senseless for putting granny's speeding ticket in district court news.
Nobody said, "By the way, you lying leftist liberal media member, you've got a big clump of paint in your ear."
But they had to notice. It was a pretty big clump.
I was worried that people would think I was a crazed paint fume addict. I once saw an episode of the Phil Donahue show in which Phil warned parents that some troubled teens, when they aren't playing rock music backwards to discover hidden satanic messages, are breathing the fumes from paint, bug spray and household cleaners to get a buzz. A couple of the unfortunate side effects of this activity are massive losses of brain cells and death.
There are warning signs. Phil said someone who may be doing this bizarre and highly stupid activity could have paint splotches on him from having his head stuck down in a bucket or his face in a paper bag full of spray paint.
My reason for having paint in my ear is legitimate: I'm painting my house. It was a project I started a year ago, but abandoned after completing six square feet because I was attacked by bees. This time I soaked the house in bug spray, which kills bees and — according to Phil Donahue — idiots who breathe the fumes.
The bees are dead, but the work is still very slow. In fact, a fellow up the road built in entire house before I completed painting the front of mine. I tell myself that I'm slow because I'm deliberate and careful, but the paint in my ear says otherwise.
So, while I'm painting my house over the next few years, I'm going to check my ears and nose and any other out-of-the-way spot before I go out in public. I don't want people thinking I've had my head stuck in a bucket killing off brain cells. There are plenty of other activities for that.
Scott Hollifield is editor/general manager of The McDowell News in Marion, N.C., and a humor columnist for Lee Newspapers. Contact him at rhollfield@mcdowellnews.com.