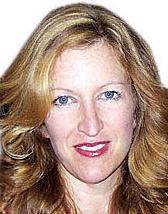 The first rule of camping is that, when you wake up cold and needing to visit the privy, don't try to fall back asleep as fast as you can in hopes of escaping the discomfort.
Just deal with it: Stumble and crawl out of the tent, make your way to your feet, bundle up against the cold and walk that quarter mile to the bathhouse. If you don't, you'll keep waking up cold and uncomfortable all night long and be exhausted the next day from not sleeping well.
The second rule of camping is during preparations, be like Santa Claus and make your list and check it twice. Coffee and the coffee strainer should be at the top of that list. When you wake up cold and unrested, you peg too much hope on that morning coffee to warm and invigorate you, and it's a crushing blow to face the day without it.
The third rule of camping is also about preparations: Check out fishing poles, a tackle box and a "nature backpack" from the library. It's a shame that so far my name is the only one on the chart for checking out the fishing poles and tackle box. (No, I haven't caught any fish yet, but that's not the fault of the equipment.) The nature backpacks include fun things such as a bug-catching net and observation container, field guides, books and day passes for Virginia state parks.
The fourth rule of camping also is in the preparations category: Bring ways to organize all your stuff. It won't be easy to fit shelves or plastic tubs in the car, which already will be packed to the brim with everything else. However, it will save you the use of the picnic table and keep things from getting dirty on the ground. When the picnic table is the only surface on which to store all your food and supplies, you can't use it for proper meals or playing cards. Plus, it makes for a messy campsite, which is a downer.
The fifth rule of camping is to familiarize yourself with your tent and how to set it up before you leave for the campsite. It doesn't matter how many times you've set it up before. If you're setting it up in the dark of night and forget which side is the top and which is the bottom, it will take far too long.
The sixth rule of camping is to teach kids right away how to collect kindling and to build and light a fire. When you camp with kids, you're forever free of having to stoop down to the ground to pick up sticks. They love it and will keep you well supplied.
They also get a thrill out of stacking the firewood, then starting the fire. That brings us to Rule 6.1, which is to bring the sturdy, long-handled matches. That way kids get to light the match, then the fire, safely – and under full adult supervision at all times, of course.
The seventh rule of camping is not to assume eating and sleeping in the great outdoors means privacy. You may well find yourself in a campground with a higher population density than if you were in a neighborhood in Richmond.
You'll be carrying out all the intimacy of home life in front of strangers without the benefits of walls. The family to the left who brought shelves and cabinets to keep their stuff tidy and who decorate their picnic table with flowers and fairy lights will see your table so piled high with stuff that you have to balance your lunch plates carefully on your lap. The couple to the right who argue all day long will see you struggle to get to your feet after you crawl out of your tent each morning.
Rule 7.1 of camping is to pretend you can't hear your neighbors' private conversations, as they pretend they can't hear yours. Helpful exceptions can be made, however, such as when a neighbor brings over his can opener moments after you've realized you've forgotten yours, or the kid at the next camp asks you for a Band-Aid right after you've given one to your own child.
The eighth rule of camping is to bring extra Hershey bars for the s'mores to account for what the kids sneak them when you're not looking.
The ninth rule of camping is to keep the following week free so you can devote all your time to doing laundry, which comes at the ratio of 5 to 1 in terms of laundry loads per person. Disappointingly, you'll even have to wash the things you didn't use, because they end up stinking just by being at a campsite. Wash the thickest sleeping bags and blankets more quickly, so the pile reduces visibly (it's a mental trick).
And, finally, a family camping trip is just that – the whole family. That means not leaving out the cat, who apparently takes on Rule 10 as important for herself. Because the mom, kids and dogs got to dirty blankets, sleeping bags, clothes, hot pads and dish towels at the campsite, the cat, who was left behind, will do her part by puking all over the bedspread and pillows that remained at home, so you won't sleep as comfortably when you get home as you had hoped for, and your laundry pile can get even taller.