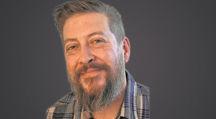 I've been too busy celebrating our nation's independence and running groundhogs out of the garden to write a new column, but I was able to dig up an old one from the 1990s that has some relevance today, considering the recent release of the government UFO report.
This also harkens back to a time when I received nutty stuff through the actual mail instead of my email inbox. Enjoy this lightly edited repeat from back in the day.
Here's something I bet you didn't know: 1993 was the busiest UFO year in at least a decade.
I didn't realize this amazing fact until I received a copy of the Fund for UFO Research Inc.'s 1993 UFO Year in Review, which breaks UFO-related activity into categories like government involvement, abductions, crop circles and cattle mutilation.
I didn't request a copy of the 1993 UFO Year in Review, but I am apparently on a master mailing list for people who have non-mainstream beliefs, unusual theories or wacky ideas they want to promote. Anytime anyone spots Elvis scrubbing commodes at an interstate rest stop, sees the image of the Virgin Mary appear in a bowl of Fruit Loops or mass markets glow-in-the-dark condoms, I get a news release about it.
"Hey, send it down there to that newspaper doofus in North Carolina. That bonehead will write about anything."
One non-UFO mailing I received about subliminal mind control claims the Post Office is a sinister organization bent on world domination through mail censorship. Ironically, this arrived in the mail.
"The national media will never expose mail censorship," the release says. "Each year postal workers easily get big raises because they censor our mail."
It that was true, they would be driving snazzier vehicles.
In addition, the letter — which, I remind you, arrived by mail — states most street lights and traffic lights are surveillance cameras, and even the light bulbs in ours home take our pictures and record our voices in case we're doing something the Post Office doesn't like.
You have been warned. Let's just hope those power-mad evil geniuses who sort the mail don't get to this before you read it.
(2021 update: Who knew a couple of decades later we would surveil ourselves through doorbell cameras, trail cams, social media and internet home devices like Alexa while the Post Office barely hangs on?)
A mailing from another group warns of the coming "civil war" in which crazed homosexuals will take to the streets and force us all to engage in some acts that I didn't even know were physically possible.
The Post Office is apparently not involved in this conspiracy.
The hate-filled, error-packed, libelous four-page "editorial" is supposedly copyrighted and intended for use "in its entirety...If you wish to edit due to space, do your editing and then FAX us a copy (for) approval prior to publishing."
Uh, yeah. I'll get right on that.
So, if my mailbag is an indication, the UFO people have a firmer grip on reality than many. It seems more plausible that spaceships will land in my backyard than those who favor an alternative lifestyle will take up AK-47s and force me tango to Judy Garland records during the next civil war.
(2021 update: Yep. There weren't a lot of rainbow flags at the insurrection.)
According to the aforementioned 1993 UFO report, strange cattle mutilations were reported in Georgia, where farm animals have long been — Stop reading! Stop reading! This is the all-seeing Post Office! We are censoring the rest of this column because it is just too stupid to continue. If you have a complaint, please speak directly into the listening device in the light bulb above you. Now, you are commanded to tango to Judy Garland records. That is all.
Scott Hollifield is editor/general manager of The McDowell News in Marion, N.C., and a humor columnist for Lee Newspapers. Contact him at rhollfield@mcdowellnews.com.