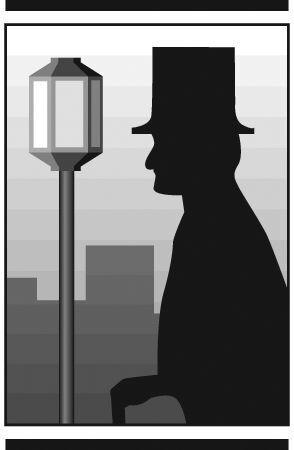 TODAY'S WORD is foil. Example: The Road Runner always managed to foil any mischief Wile E. Coyote tried to get up to.
THURSDAY'S WORD was pellucid. It means lucid in style or meaning; easily understood. Example: He was always confused and befuddled in his statistics class, but in geometry, the teacher explained concepts and methods so well that the new concepts she introduced were pellucid.
Oldest resident
Who is the area's oldest citizen? To the best of The Stroller's knowledge, it's Raymond Ross, whose 108th birthday will be in October. People say he's doing well at Stanleytown Health & Rehab.
Please send in names and ages of people you know who are older than 100. It would be interesting to see how many and who they are but, most especially, to see who the area's oldest resident is. Perhaps Raymond Ross will continue with that title that, for years, has been thought to be his.
Orange-and-white building
"There is more behind that orange-and-white facade than we thought!" wrote William C. Adams in a Facebook post on the site "Martinsville -- My Hometown."
Of course, he's talking about that odd-looking building on Main Street across from the old courthouse in uptown Martinsville.
That building is the old Kearfott Drugs store, and the side (facing what's now a parking lot) of the brick building had "C.P. Kearfott & Sons - Rexall Drugs" painted on it.
The building "was painted over many times. By 1960, the entire building was painted white," Adams wrote in the comments section.
The picture he posted also showed the Astor Cafe, a brick building that used to be on the land where that parking lot is now.
Bright white sheets
In the July 5 edition of "Apartment Therapy," Shifrah Combiths writes "How to Whiten White Sheets with 2 Ingredients." "I could never get my white sheets really clean, until I tried this," she writes:
Put half a cup of baking soda in the drum of the washing machine, and pour some distilled white vinegar into the fabric softener dispenser. It's important to keep them separate, she writes. If the baking soda and vinegar were to combine, they would lose their effects.
Not only do the sheets get cleaner, but they will be softer, as well, she promises.
Unfortunately, the article does not mention whether or not to use the normal amount of laundry detergent.
THURSDAY'S TRIVIA ANSWER: It was Forrest Gump in the movie of the same name who said, "Mama always said life was like a box of chocolates: You never know what you're gonna get." The 1994 movie was based on a 1986 novel by the same name. It shows the life of a simple-minded but kind man from Alabama who witnesses several major historical events.
TODAY'S TRIVIA QUESTION: What connection does the local area have to one of the stars of "Forrest Gump"?
The Stroller appreciates readers calling or emailing to share jokes, stories, comments, Words of the Day and trivia questions. We're at 276-638-8801 ext. 243 and stroller@martinsvillebulletin.com.
Catch the latest in Opinion
Get opinion pieces, letters and editorials sent directly to your inbox weekly!