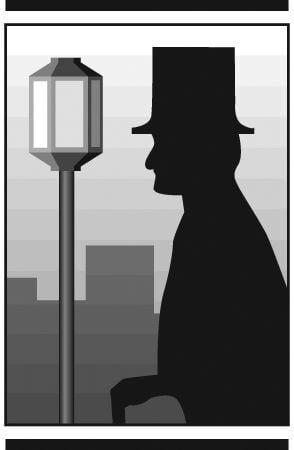 TODAY'S WORD is brusque. Example: Lettie Sue's brusque demeanor often obscured her kind heart and generous nature.
SUNDAY'S WORD was brazen. It means unrestrained by convention or propriety. Example: You brazen hussy, leave my husband alone!
He's how old?
The Stroller loves getting mail – jokes, family reunion announcements, Words of the Day, Trivia question suggestions and more. Sometimes, though, the mail that arrives contains a correction. Such was the case when a discerning reader pointed out that, in a list of people 100 or older, The Stroller's math had a local man at 202 years of age.
Last Monday's Stroller had that the man "turned 101 on Jan. 24, 1919." Let the record show that, rather than turning 101 a century ago, Wiliam Guinn Young was born on Jan. 24, 1919, and he turned 101 this year.
The Stroller always appreciates being put back on the right track. Keep in touch (but don't wait for a mistake to give the treat of a note or email).
Invitation to use trails
Mountain Laurel Trails, at 411 Mountain Laurel Trail, Ridgeway, has several free cycling events each week, open to the public. 
Check www.mountainlaureltrails.com or call 276-340-9144 to find out when group rides are scheduled (there aren't any listed yet for the immediate future).
The Mountain Laurel Trails were started by landowner Bob Norris and other trail builders and mountain biking enthusiasts to develop the trail system off Horsepasture-Price Road in Henry County. The trail system is located on more than 150 acres.
The hand- and machine-constructed trails cover nearly 10 miles. They are based on a stacked-loop designs with up to 15, according to the website. The 5-mile Central Loop is the core trail to which all the other optional trails are connected.
They pass through some pretty scenery, including lovely rhododendron bushes, ridge tops and peaceful creeks.
"It remains a work in progress, with signage, maps, parking lot facilities, on-site camping information boards and optional technical trail features like skinnys and rock gardens that are a challenge," the website states.
To get to the trails, Get on Horsepasture-Price Road from U.S. 58 West. The trail is about 1 1/2 miles out on the right. Travel about 1/2 mile to the day-use trailhead on the right after the fork in the road. There's plenty of parking there.
SUNDAY'S TRIVIA ANSWER: "Greed, for lack of a better word, is good" is a quote from the 1987 movie "Wall Street." Gordon Gekko, played by Michael Douglas, said that in a speech about the evolutionary spirit.
TODAY'S TRIVIA QUESTION: From what movie did this classic piece of good advice come from? "Keep your friends close, but your enemies closer."
The Stroller appreciates readers calling or emailing to share jokes, stories, comments, Words of the Day and trivia questions. We're at 276-638-8801 ext. 243 and stroller@martinsvillebulletin.com.
Catch the latest in Opinion
Get opinion pieces, letters and editorials sent directly to your inbox weekly!