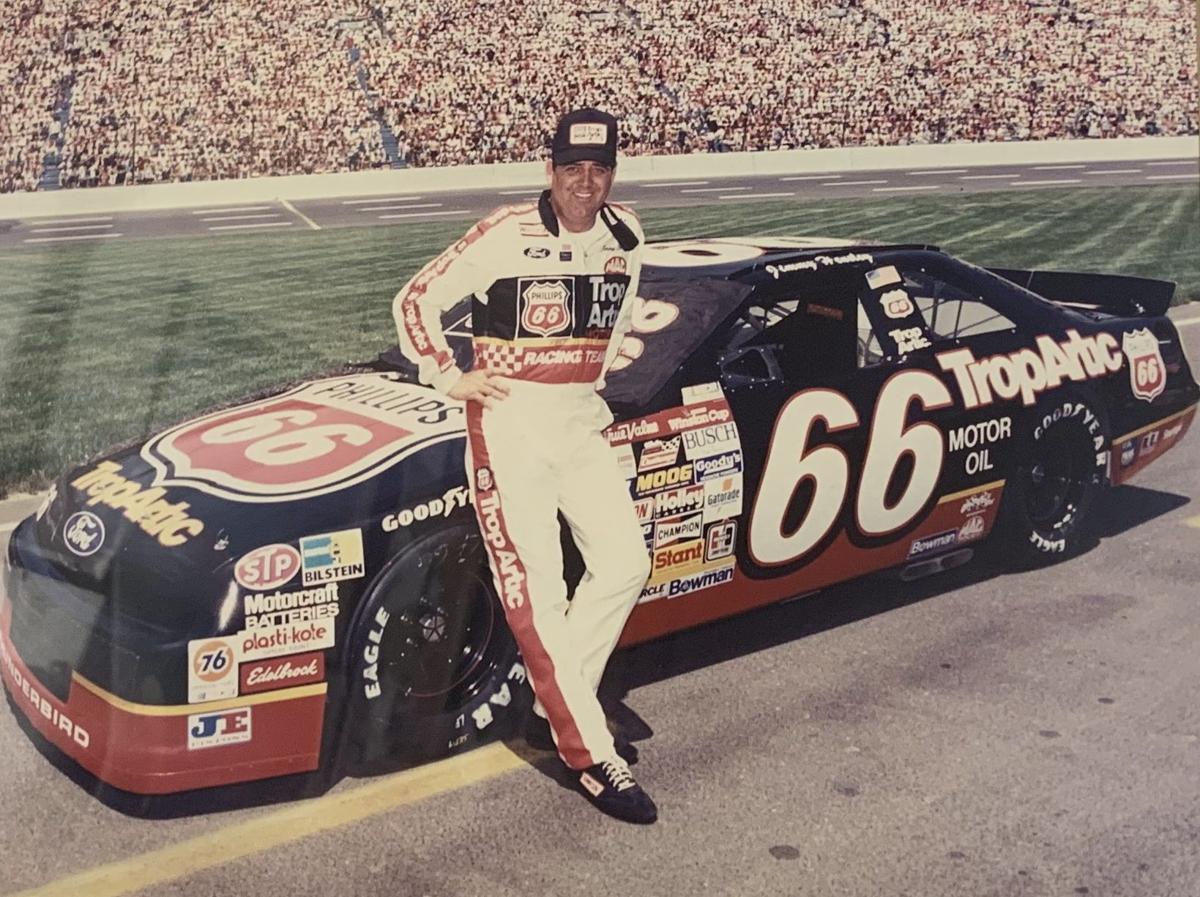 Jimmy Hensley won so many races at Martinsville Speedway that he lost count.
The long-time Martinsville resident raced nearly 500 times between NASCAR's three highest series, including 98 races in the Cup Series between 1972-1996.
But even with all the wins at his home track, there was one day that stood out for Hensley. In this week's edition of "Stories from Martinsville Speedway," the local racing legend told the Martinsville Bulletin the story of the 1989 Goody's 500 fall race at the track.

Jimmy Hensley: I won a few races there in the trucks and Busch and modifieds. A pretty good accomplishment was when Hurricane Hugo came through here in 1989.
Dale Earnhardt could not get here because of the storm. I qualified his car on the pole for the 500. So that was a pretty big day for me.
A couple of the crew members asked me to shake his car down. I thought he was going to get there in time to qualify but he didn't make it so I qualified it and I was lucky enough to get a fast enough lap to set it on the pole, which was a pretty big deal to me.
The Busch cars were running too and me living here, I was already over at the race track. I didn't think we were going to get to do anything because it really looked bad when I woke up that morning. Matter of fact, I was driving an oil truck then too and I went to work actually before I went to the race track.
And they called me at work and said they were getting ready to start practice, so I got out of the oil truck and went over there and was actually there to do my Busch car when the Goodwrench crew came over and asked me if I'd drive Dale's car for practice. They didn't say anything about qualifying. I thought I was just doing it until he could get there but he didn't make it that day. Well, he did make it but it was after we qualified.
I was pretty nervous, because actually I was the fastest in practice. We had two little practices, or three maybe, short practices, and I was the fastest in all of them. (Darrell) Waltrip, he was there. And (Geoff and Brett) Bodine, they were there, so it was some pretty good cars there and drivers too, so when they said I was going to qualify I got pretty nervous.
It's kind of funny. That's before they had the walk through. You had to cross the track at the gate where you drive in. They didn't have the tunnel where people walk in now.
Actually when I went out to qualify they let him (Earnhardt) walk across the track. He got there just as I was getting ready to qualify. Which I didn't know. I didn't know any of that.
Anyway, I did my two laps and came on in. He was the first one to stick his head in the window. He said, 'Good job boy!' or something like that.
I was all keyed up because in five minutes it looked like there was 100 people standing around the car. They wouldn't let me get out of the car.
That was bad luck or something. That's what they said, I don't know. I just always got out of it when I qualified. It didn't make no difference to me. I had to sit there until everybody qualified.
It was a good day for me. A lot of people lost a lot of stuff that day, but it was a great day for me.
I've got I believe nine wins over there, maybe. I should have had 20, but you know how that goes. You've got to have a little luck along the way too. I won eight or nine, I don't really know to tell you the truth.
It ranks right up at the top because I really didn't have anything that next year to drive. And that kind of opened some doors for me in the Busch Series. I got a good Busch ride on account of that, so it was more than just that day. It went on into the next year too.
I'll be 75 Sunday. I've lived here 73-and-a-half years. I was born in Newport News but we moved back here. My dad worked in the shipyard during the war but moved back here.
I had a lot of fans over the years, especially there. Because I knew so many people from the area that went to the races. It was pretty neat, especially when you won or something. It wasn't as good when you fell out or wrecked or whatever. But winning was pretty good.
I drove an oil truck. Back then we traveled a little bit in the Busch, but it wasn't that far away. I did some Winston Cup stuff from 93-96 and we were in California and just everywhere, so I had to give that oil truck up because I couldn't be there but one day a week and do a week's work. But I worked at that oil company I think 18 years while I was driving.
They were good, they let me off some when I needed to and never said anything about it. I was racing when I went there and they knew I had to be off some but it worked out O.K. It was different for sure.
I raced 36 years and won right many races and lost a lot more so it's just kind of a racing story. You have good days and bad just like you do in anything, but that's all I wanted to do was race a race car and the good lord let me do that, so that's just the way it is.
It's a lot of good memories, no doubt about that. Like I said, I could have had more, it just didn't work out for me.
(Editor's note: Dale Earnhardt started the 1989 Goody's 500 at Martinsville Speedway on the pole and led 74 laps on the way to a ninth place finish. That day in qualifying was Hensley's only time racing a Cup Series car that season, and his only career Cup Series pole win. He ran full time in the NASCAR Busch Series, now the Xfinity Series, in 1990 and 1991.
Hensley had three Busch Series wins and one Truck Series win at Martinsville Speedway. In 25 Cup Series starts at his home track he had one top-5 finish and one pole.)
Cara Cooper is the sports editor of the Martinsville Bulletin. You can reach her at (276)638-8801 ext. 241.
Cara Cooper is the sports editor of the Martinsville Bulletin. You can reach her at (276)638-8801 ext. 241.
Be the first to know
Get local news delivered to your inbox!