Everything at Martinsville Speedway was ready to go for a race on May 9. So even though that race was moved to June 10, speedway president Clay Campbell said there wasn't much they had to do to prepare on short notice.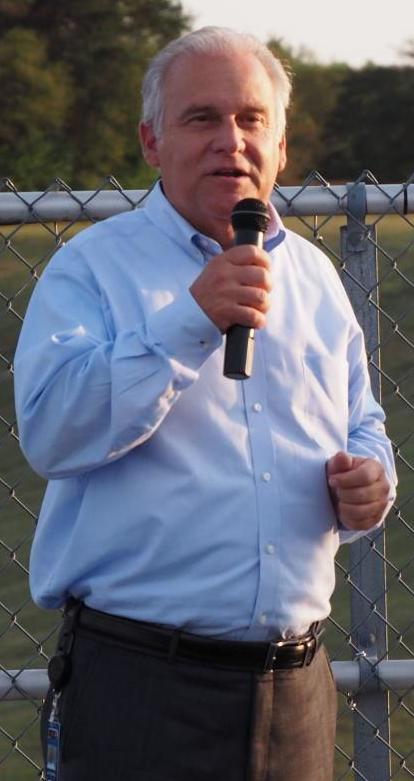 "It was pretty much ready," Campbell said at the track on Friday. "Obviously as you get closer, regardless of if you're ready or not, there are things you do in that last week to really put the finishing touches on it.
"You wouldn't notice anything different now than you would if you were here last October, so we were fortunate that it didn't catch us off guard. Our guys have been maintaining the place, mowing the grass, and the place looks as good as it ever has."
The biggest difference in the weeks leading up to the race was prepping a track for an event with no fans. Campbell said only about 800-900 essential personnel will be allowed on the track's property for Wednesday's NASCAR Cup Series Blue-Emu Maximum Pain Relief 500, the first Cup Series night race and midweek race in the track's 73 year history.
Those essential personnel will include a smaller number of team members per team, fire, rescue, and security for the infield brought in by the Speedway, and those on a pre-approved list by NASCAR. Campbell said the number is typically about double or triple that on a normal race weekend.
"Really all we're staffing is what's in the infield itself," Campbell said. "We don't have anything outside, obviously we don't have 40,000 fans out here so we don't need security, we don't need the parking, we don't need the traffic control, concessions. If fact we won't even have concessions open in the infield. We will not be serving food. Everybody is responsible for their own food. So everything is pretty well buttoned up."
Here's more of what Campbell had to say about the upcoming race and how it will look from the track and on TV.
(Editor's note: This interview has been edited for space and clarity.)
Martinsville Bulletin: It's quite a different race week for you all. How different has the run-up been?
Clay Campbell: It's different from a number of fronts. One being here we are in June where we usually run in March, which we would have been in May. The weather is different preparing for a race when it's nice and hot out here, so that's a change. That's a small change in comparison to the others.
But preparing for a race with no fans obviously is different. Actually I think it's been as challenging preparing for this race as it is for one that we're used to. When we have fans, we've been doing that for decades so that's what we're used to. Doing something outside of our normal life around here at the speedway is different, but as far as preparing for the safety protocols and things like that, that's pretty much a NASCAR-driven thing, so that has not been bad, and we have a few races under our belt… so we learned a lot from that.
NASCAR did a great job coming up with the protocols and putting all this together and it's our job just to implement it and make sure it goes off. Good thing for us we were prepared for our May 9 race and then things changed, so the facility itself was 90 percent ready… All we had to do was working on the different things as far as the screening areas and everything we're doing inside the track and things like that.
Other that that, it feels weird. Here we are less than a week away from the race and our campground is not packed, we don't have people all over the place, we don't have vendors coming in and getting set up. It'll be absolutely nobody here other than the people it takes to put the race on. So that's different but we'll get through it.
How different will the track look on Wednesday besides not having fans and vendors and that sort of thing?
That's going to be the biggest difference, having grandstands with absolutely nobody in them, but the track itself will look like it always has, except you're going to see the majority of it under the lights, which will be cool.
It's unfortunate, leading up to the May 9 race, that was probably the most excited I've seen everybody in the industry in a long, long time to finally have a night race here at Martinsville. Have it in May, not in March. That was all leading and pointing towards a very, very successful event. I think it still is, albeit without fans. The track is going to look good. We've got everything ready to go. We've been testing our lights and the place looks good under the lights.
You had said June 10 was NASCAR's decision. Do you know anything about the process they went through to pick that day? Did they have to talk with the governor or anything?
The day itself had nothing to do with the commonwealth. The date came from, when NASCAR got started back… every race that NASCAR was planning at the beginning kept the competitors within a two hour drive of the Charlotte area where the majority of the teams are. So the goal was to keep it close where they could drive to the facility, run the race, and go back home, not have to fly, not have to stay in hotels, not have to go out. So they could come here, pretty much quarantined, get out of their motor home with 10 minutes before the start of the engines, get in their car, run the race and go home. So that's how June 10 came about. Obviously we had to go to the states that were open to do this. The Commonwealth of Virginia wasn't, but we dealt with the governor's office, the Secretary of Trade and Commerce and the protocols that NASCAR came out with, they were very impressed with what NASCAR did. There were a lot of good people, a lot of smart people around the table with NASCAR to come up with the protocols. They had an epidemiologist advising them on things, so it was very well-thought out. I really don't think they missed anything, and the governor and his staff were very impressed with what we presented and they gave us the blessing to do this without fans with a minimal amount of people down there. So that's how it all transpired.
And it seems like it's gone really well in the couple of races since the sport came back.
It has. I was at Darlington, that track is one of my responsibilities, and it went off without a hitch. The screening, there were no issues that I know of whatsoever and now that we've had several races before we get here the competitors know what to do expect. That's the new norm for them right now as far as having to go through the screening. They're given times when each team is supposed to show up and go through that so there's been no backup, everybody is accepting the fact of, 'Hey this is what we're supposed to do' and NASCAR had really put some teeth in it as far as if they catch somebody not adhering to the protocols, as far as not wearing a mask and things like that, there's some pretty hefty financial penalties to that. So I think everybody has accepted it and they realize how important it is to get this sport going again. And thank goodness we're up and running. There will come a time where we'll get fans back into the facility but that's down the road. I know everybody wants fans back, they're what made the sport what it is. We want fans back, but that has to be done in a safe manner. That's being looked at and hopefully soon that will change.
Can you talk a little bit about how the day will go on Wednesday up until the race?
Wednesday morning the haulers will come up, bringing the cars and the transporters. They will be screened before they go in, they'll go in and get parked. The drivers are not due until late in the afternoon, but the teams will be in early. They have a specific time that they have to arrive. They know what time they're supposed to be here, they know what time they go through screening, so they don't have to wait. They will be allowed to work on the cars, get them tuned up and ready to go, then with I think 10 minutes to go they'll call the drivers out of their motor homes, which will be in the driver's lot, to report to their cars and there we go.
It's a well-thought out plan and so far, knock on wood, it's worked. The more they do it the more used to it they become. It's pretty neat to see it. I was a part of the group from Day 1 meeting to see how this is all going to come together, and to see it actually work after all the hard work that everybody put into it, it's very rewarding.
And when you say screenings, what all does that entail?
Temperature check, they'll have a small questionnaire to fill out. They've already preregistered with NASCAR prior to the day, they're on a roster. So in other words we know everybody that goes through that gate. When you roll into the screening area, you'll state your name, they'll find you on the roster, give you the questionnaire, check your temperature, and then you'll be admitted on in.
For you, is it the same level of excitement for Wednesday as it would be for a normal race?
Yea, it's a lot of excitement because No. 1 it's our first real night race for Cup Series, it's our first midweek race, so we're excited to that have prime time on FS1. People have asked for that for a long time and this is a good way to try it out and see what the rating are and things that. And without fans it makes it a little bit easier to try a midweek race. But I think everybody is excited but everybody misses the fans. Everybody wishes we had fans to see it, but I think they'll get to see it on TV and see what hopefully they can expect in 2021 when we do it with everybody here.