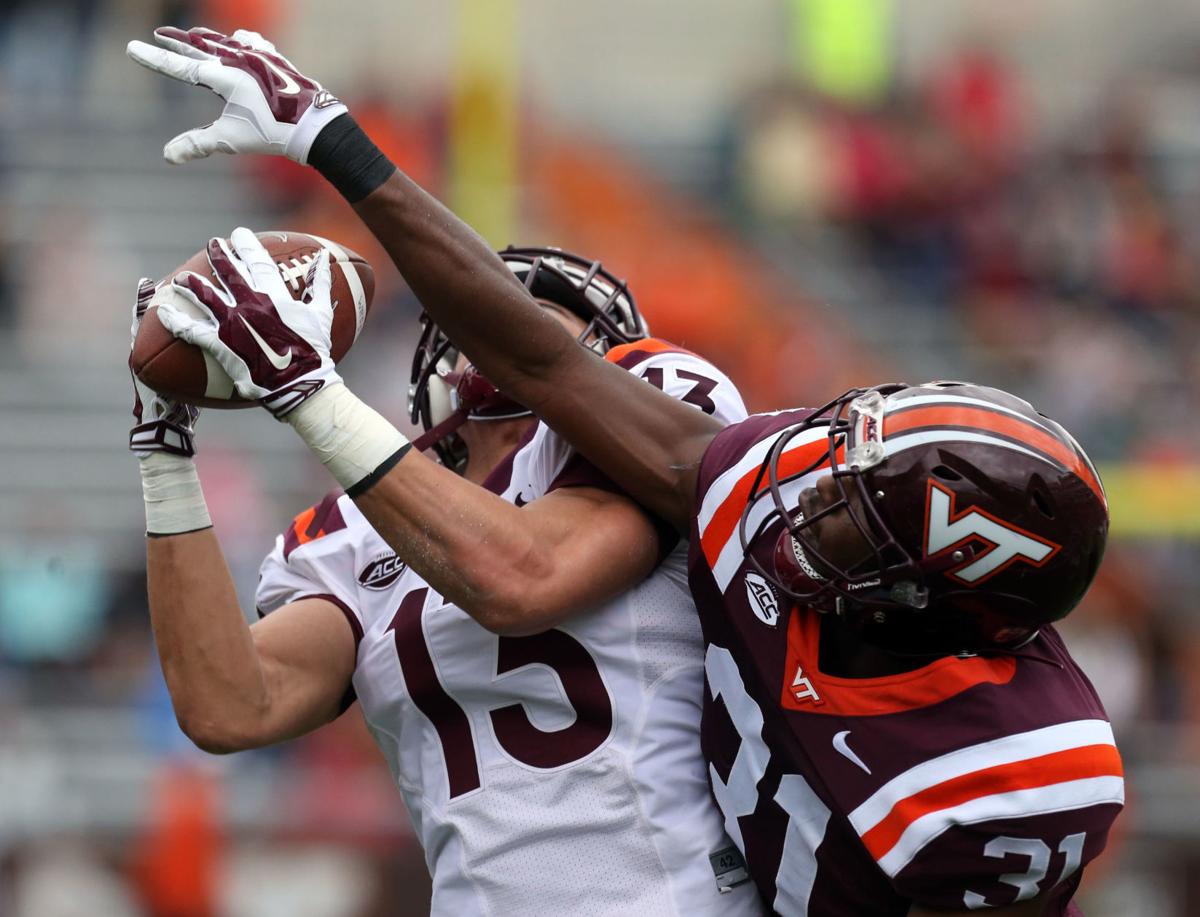 Virginia Tech opened spring football practice Saturday, and the media will get what will likely be their only chance to peek at the Hokies on Thursday afternoon.
So we'll have to make our observations count.
Here are some players I'm intrigued by this spring and will be sure to check out.
A quick note before getting to the list: Receiver Damon Hazelton might have been No. 1 if not for an injury that will keep him out of action this spring.
Drake DeIuliis, TE: He was going to redshirt last year before the Hokies thought they found a path for him to get playing time as an outside receiver capable of going up and winning those 50-50 battles in the air. After getting in briefly against Boston College, he pulled his hamstring during the bye week badly enough that he didn't return to action the rest of the year and later was awarded a medical hardship waiver.
DeIuliis is among an interesting group of tight ends that includes Dalton Keene and Chris Cunningham.
Brian Johnson/Jordan Stout, K: The last four years have been pretty much all Joey Slye — save for a few games at the end when he was dealing with a hamstring pull. Johnson, a redshirt sophomore from Washington, D.C., went 3-for-4 on field goals during that stretch, though none were longer than 30 yards.
Hezekiah Grimsley, WR: It's a young receiving corps, but this youngster in last year's freshman class came on strong at the end of last year. Grimsley finished with two straight five-catch games against UVa and Oklahoma State that totaled 119 yards.
Bryce Watts, CB: He got some special teams work last year as a true freshman, which is usually a path to playing time. Whenever the Hokies' coaches talk about the next wave of defensive backs, his name always came up, even ahead of some of the older guys on the roster.
Divine Deablo, FS: Hokies fans were just getting a glimpse of what he was capable of last fall when he broke his foot against Old Dominion in Week 4 and was forced to miss the rest of the season. That's a shame, because it looked like he was about to push for serious playing time.
Nathan Proctor/TyJuan Garbutt/Zion Debose, DE: It's hard to separate these three because we've seen so little of them since they got to Blacksburg. All three are from the 2017 signing class and needed a year in the strength program. Garbutt put on 23 pounds to get to 244. Proctor added 16 pounds to get to 240. Debose came in bigger already and is at 247.
D'Andre Plantin/Tyrell Smith, OL: There are a lot of offensive linemen who could be on this line, but I'll go with two guys who were on the cusp last year. Plantin rotated in at left tackle with Parker Osterloh after Yosuah Nijman was hurt, and held his own. Smith was expected to be the right tackle until getting nicked up in August and then watched Kyle Chung seize the spot.
Dylan Rivers/Rayshard Ashby, ILB: It's a whole new group at linebacker, where the Hokies bid adieu to Andrew Motuapuaka and Tremaine Edmunds in the winter, plus their top backups. It should be an interesting competition, but expect Rivers and Ashby to get the first shot at backer and mike.
Ryan Willis, QB: It's not often you see a quarterback transfer to somewhere when a scholarship isn't on the table, but that's what Willis did when he left Kansas after two years to join the Hokies prior to last season. Willis had to sit out a year under NCAA transfer rules, but he's eligible now. It'll be interesting to see how much of a factor he can in a quarterback competition that has an incumbent in Josh Jackson who's only a redshirt sophomore, another talent redshirt freshman in Hendon Hooker and a much-hyped incoming freshman in Quincy Patterson II.
Devon Hunter, OLB: The gem of the 2017 signing class got on the field, but only sparingly last year, set back by some bumps and bruises and just being a true freshman in general, one who didn't have the benefit of spring ball last year. He's got a shot this year and sounds like he'll get a chance to work at whip linebacker/nickel with Mook Reynolds on the mend this spring.
Hendon Hooker, QB: If there's anyone who is going to seriously challenge Jackson as the starting quarterback, it's probably Hooker (though I'd still contend Jackson is going to be hard to unseat). Hooker wowed as a true freshman in last year's spring game, even though he was working against the second unit. And he stayed in the competition enough that even when Jackson won the job, it wasn't a given that Hooker would use the year as a redshirt. Well, there's no benefit to holding him out of action anymore. And with a dual-threat skill set, a 6-foot-4, 216-pound frame and an increasing knowledge and, presumably, comfort in the system, it'll be interesting to see how ready Hooker is to compete this spring.
Caleb Farley, CB: A defensive back-turned-receiver who was supposed to be a big factor on offense last year but was hurt, missed the year and ended back on the defensive side of the ball? Yeah, I'd say there's some intrigue there. The coaches have seen his potential as a cornerback and seem confident enough that he can be a standout there.
Be the first to know
Get local news delivered to your inbox!