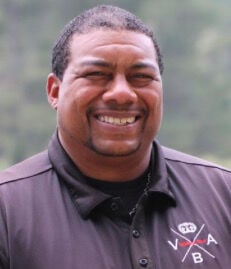 (Editor's Note: Patrick Henry Community College has four new sports coaches this year, all of which will take over when sports return in January. This is the second in a series of stories talking with the coaches about their new roles and the difficulties of taking over a college sports program during the COVID-19 pandemic.) A few months ago, Forest Park Country Club Head Golf Pro and General Manager James Draper got a call from Brian Henderson, the athletic director at Patrick Henry Community College.
"I got a call from Coach Henderson asking if I knew anybody who would be interested in coaching the golf team," Draper said. "And I told him, 'You're talking to him.'"
Draper's father was the golf coach at Martinsville High School and PHCC when Draper was younger. Now, the former college champion golfer is following in his father's footsteps and helping to rebuild both programs.
Draper brings a wealth of knowledge of college golf to the Patriots. He played at Johnson C. Smith University in Charlotte, North Carolina for two years, winning the National Minority Collegiate Championship his freshman year, and the Central Intercollegiate Athletic Association conference championship his sophomore year.
After taking some time off from school, Draper went back to college at age 35, and played at Winston-Salem State University.
Part of Draper's hope is non-traditional college students in the area follow his lead.
"You have people who may want to go back. You may have people who love the game and never went to college and want to go back and seek their degree," he said. "So I think that is an opportunity for them, as well as you may have some high schoolers who have taken up the game late in high school and know that they can have the opportunity to play at Patrick Henry."
Forest Park will be PHCC's new home course when the season starts this spring. It will also be the home for Martinsville and Bassett High Schools, Draper said.
The course has seen an increase in membership this year, with, as Draper pointed out, golf being one of the few sports available for people under COVID-19 regulations.
"Every youth, especially back in the spring and summer time, had an opportunity work on their game," he said. "And even now, they get out of school a little earlier. I think you really have more time than you did so if they went about the season as if they were still expecting to play they should still be prepared."
Draper has seen an increase in young golfers at the course this year, too, but he said he'd still like to see more done for junior golf in Martinsville and Henry County.
"Of course it's not as many as I would like but yes, we've do see some youth coming out and an increase in that," Draper said.
"Parents are bringing out the kids more. When you go back in the last 50 year span, we've had hundreds of college golfers in this area. At one time we had two Guinness Book World Record holders in the City of Martinsville. So golf has a special place in Martinsville, but back in my day the parents played and a lot of people left the area, so that definitely affects the kids playing."
Growing the game of golf for young athletes in Martinsville and Henry County has been of particular interest to Draper. He has had golfers from outside of the local area reach out to him about wanting to join the Patriots this season, and his hope is that more students from local high schools consider PHCC as well.
"There's always been the opportunity there but junior golf in the area is nothing like it used to be," Draper said. "It would be nice to have, at some point, Martinsville, Magna Vista, and Bassett kids all on the team. But I know we first have to get junior golf back going in this area for that to happen."
When talking with potential recruits, Draper reminds them of his connections with 4-year colleges if their goal is to transfer from PHCC.
The key is letting them know the opportunity is there.
"I always hear, 'Man I wish I would have taken the game up earlier or I wish I would have played in school.' Well guess what, you've got that opportunity now," Draper said.
"Just really helping these youth get to the next level. Finding out what they want to do with golf… Whether they want to use golf at the next level to play on a team or play on a club team. They can use golf as an advantage educationally and business-wise, so I just want to see them use the game of golf to their advantage."
The PHCC golf schedule will be released later this year. The NJCAA National Championship will begin on May 10.