Martinsville Mustangs coach Brandon Nania describes his catcher Matt Malone as a "journeyman," a thought the player couldn't dispute.
"I'm all over. I'm a very cultured man," Malone said with a laugh during an interview this week. "Dealing with Canadians, North Dakotans, Virginians."
Malone grew up on New York's Long Island, and started his college baseball career at a school in New York for two years.
But in August of 2020, the school shut down their athletics program, leaving Malone with about seven days to find a new schools where he could play.
He found it about 1,700 miles from home at Minot State, in Minot, North Dakota.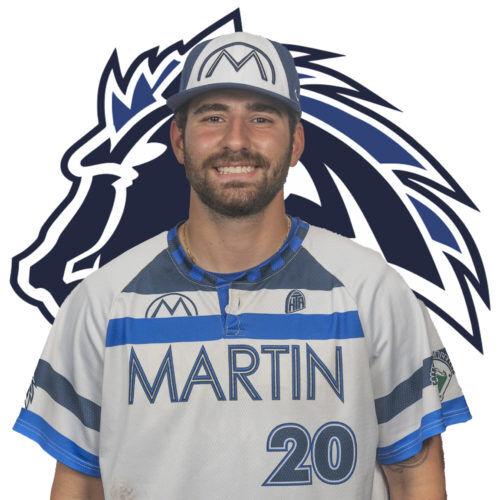 At the beginning of this summer, Malone was supposed to stay in the midwest and go just over the border to play for a summer baseball league in Canada. However, he again was forced to change plans in a hurry. The Canadian border is closed to Americans as both countries continue to deal with the COVID-19 pandemic.
"I made a couple phone calls and was like, 'I need somewhere to play,'" Malone said.
One of those calls was to Nania, who offered Malone a temporary contract to play with the Mustangs in the Coastal Plain League.
"I'm all about giving guys opportunities," Nania said. "And to come from where he came from, a small Division II school in North Dakota, to give him opportunity to come and compete against some of the top players in the country, I'm all for that."
The temporary contract was supposed to last a month, but Nania and the rest of the Mustangs' coaching staff quickly realized Malone needed to stay much longer. Beyond his great play on the field, from the first game Nania could tell the catcher was a leader in the clubhouse. Someone whose personality others fed off of.
"And those are the type of players I wanted to bring in to Martinsville," Nania said. "Guys that needed an opportunity and needed a break to play some really good baseball."
"I called Brandon and Brandon was like, 'Hey, I can give you a temp contract and if you play well you can stay.' And I'm still here," Malone said. "It's fun. It's a good time."
Malone was "kind of all over the place" when he was a kid, he said. He played a couple different sports when he was younger, but never really got seriously into anything. He said he just fell in love with baseball at a young age and stuck with it.
But, as he got older, he was undersized – weighing about 150 pounds his sophomore year of high school – so he learned he would have to be the kind of player who grinds it out every game, but also brings personality and leadership to the dugout. A lot like his favorite New York Yankee.
"Derek Jeter… That was who was the guy when I was growing up, so just the leadership he had and he always had fun playing baseball and he did the best he could," Malone said. "And that's kind of what I pride myself on is just having fun."
Growing up in New York, it was natural for Malone to gravitate towards the Yankees.
"Since I knew the game of baseball, since I understood it, I've been a diehard Yankees fan," Malone said.
Even though Malone has had a nomadic baseball career, he felt comfortable with the rest of the Mustangs from the get-go this summer. He came into this season with the same philosophy he's always had – have fun and don't care about the results.
But even if he doesn't pay too close attention to the results, they've been there. Malone is currently second in the CPL in batting average, hitting .392 in 26 games, six games more than No. 1. He's added 14 RBIs and scored 14 runs, and has 10 walks to nine strikeouts.
"I just wanted to play well. Get noticed by people," Malone said. "Hopefully it leads me to greater things and maybe playing baseball beyond college. That's kind of what I'm trying to do and playing well really helps with that."
Malone will be a senior when he heads back to school this fall, but still has two years of baseball eligibility remaining.
The catcher's strong play at the plate is proof to Nania he's "taken the bull by the horns," and made the best of a new situation this summer.
"I feel for him to have to make a decision and go far from home and him coming here and playing baseball has been awesome for him I think," Nania said. "I think it's really made him grow up and become more mature and a better baseball player and figure out what his strengths are, what his weaknesses are. And when he finds a weakness in what he's doing he wants to perfect that. He seems like a perfectionist and he wants it in the game of baseball. That's what you need."
In the clubhouse, Malone works to get other players out of their shells and bond the team.
"I try to… make everybody love everybody and get everybody close because, who knows, they could be the best man at our weddings in 10 years, five years down the road.
"It's nice meeting new guys and kind of seeing guys from all over and how you can really click with anybody."
Playing in Virginia for the first time, Malone joked he gets made fun of for his accent and the way he says words like "water" and "coffee."
But the journeyman has found the South to be everything he was hoping for and more.
"The people here are great," he said. "The south leads up to its expectations of everyone's nice, everyone kind of welcomed us into their homes, which is awesome. It definitely led up to its expectations."
In the same way Malone looked up to Jeter growing up, Nania said young baseball fans in Martinsville can look up to the catcher and model themselves after the way he play the game.
"The joy that he has for the game of baseball, you wouldn't know if he was 4-for-4 or he was 0-4," Nania said. "The way that he carries himself on that baseball field, he's just happy to be out there and to play. To see him do that and to have kids that might be looking up to him in the town of Martinsville, that is a perfect guy to watch play the game of baseball."
GETTING TO KNOW MATT MALONE:
Martinsville Bulletin: What is your walk-up song?
Malone: 'Theme of New York' by Frank Sinatra. I'm the only person probably in the world who has a Frank Sinatra walk up song, but it suits me.
I'm from New York and I'm Italian too so it kind of just fits. My grandfather would always listen to Italian music so I always kind of liked it.
Do you have any pre-game rituals?
Malone: I always drinks a bang energy drink.
Do you have any superstitions?
Malone: A lot. I cross the top straps on my leg guards when catching. My routine going up to plate is the same. Three swings with a weighted bat, watch, hop in the box, swipe across, and dig my foot in three times and slide across home plate. I'm very superstitious in that way. … I don't really change it, especially when it's working, you can't change it.
Do you have any hidden talents?
Malone: Fishing. I'm a pretty good fisherman. That's what I did at school either before a game or after a game, I'd go fishing. I've been fishing here. I've been fishing since I was a little kid. I love fishing.
I went fishing on the Smith River. The first day I got here I was walking on the water fishing.
How many hot dogs could you eat in 10 minutes?
Malone: Bun or no bun? With a bun, probably like five. That's filling. But no bun, I think I could get up to 10, maybe 15.
What is your favorite pre- or post-game meal?
Malone: What we have here is usually Chick-Fil-A or Tokyo Express. Back at school, before every home game I would have two bagels and a muffin.
Anything else you're trying to accomplish this summer?
Malone: Hopefully get to the playoffs and give the fans some good baseball, and just continue being me out there. Showing fans that baseball is fun and don't stress out about it.