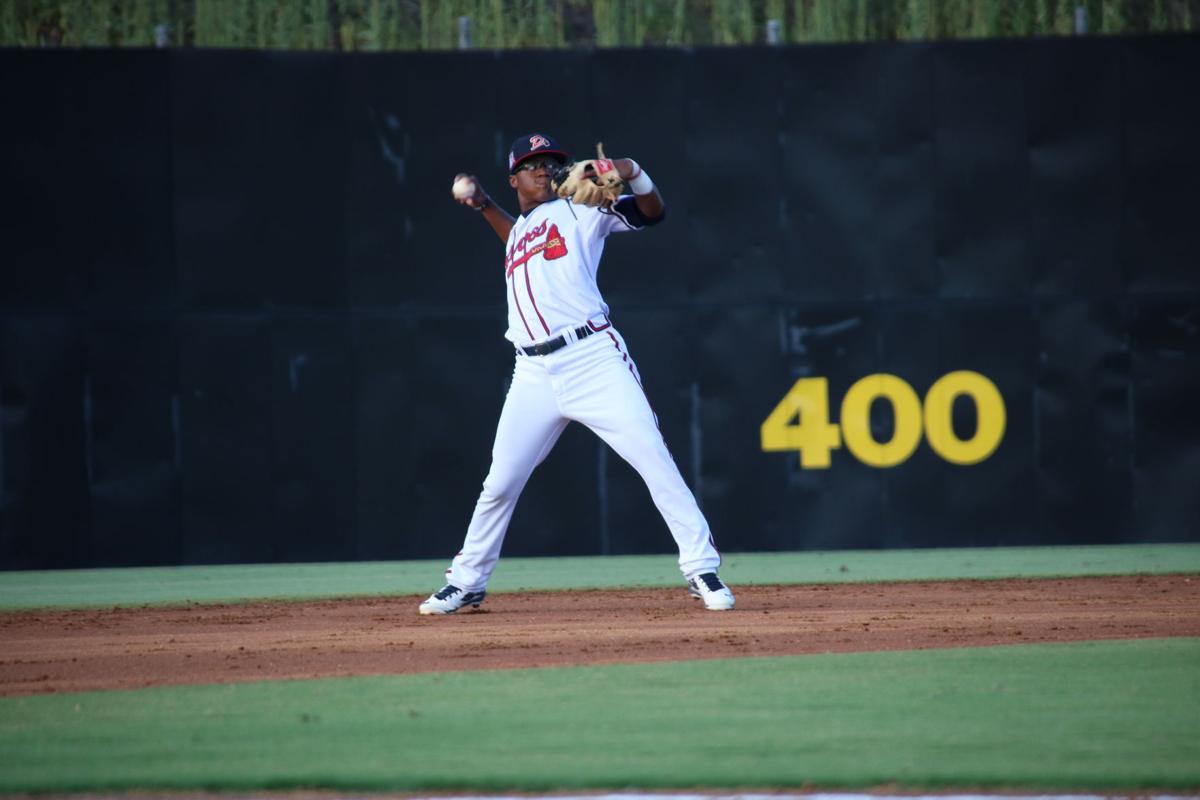 Terry Shumpert, a second round pick by the Kansas City Royals in 1987, made his debut in Kansas City in 1990. In 1995 he went to Boston, then to the Chicago Cubs in '96, and San Diego in '97. From 1999-2002 he played for the Colorado Rockies where he bought a home and had some of the best years of his career. He retired after the 2003 season in Tampa Bay.
Nick Shumpert was born in 1996 and spent those first seven years traveling around the country with his big league father.
"I remember a lot of it," Nick Shumpert said before a recent Danville game. "I grew up going to the field every day with him. Even when he was on the road he'd bring me on the road with him or me and my mom would fly out and she would bring all of us with them… I'd go to batting practice with him, just be in the locker room hanging out with him and all the guys. It was really cool to see and it actually got me prepared for this very well because I kind of knew what to expect when I got here."
After his playing days, Terry Shumpert was still around MLB, and in turn so was Nick. But, as Nick grew older and started playing his own sports, his dad wasn't always around to watch him play.
"It wasn't bad because my mom would always send him videos or she would always be talking to him telling him what I'm doing, but it's kind of how it is now," Nick said.
Nick played a number of sports growing up and kept playing multiple sports into high school. It wasn't until his senior year that he focused solely on baseball, but it wasn't his dad making that decision for him.
"He didn't push me into it. It was just what I knew so I grew up thinking I should play baseball," he said. "I played basketball, football, I did track and boxing and a lot of other things. He wanted me to do a lot of sports because it helps with baseball as well.
"My family is firm believers in playing multiple sports growing up… I quit football in eighth grade right before I went into high school because I broke my elbow. I played basketball until my junior year."
Having Terry, a former big leaguer, around always helped Nick with baseball, but the two have always been able to separate baseball and family time.
Well, sometimes Terry slips up.
"It was always a good separation. Baseball would be when we were at the field and when we got home he was dad," Nick said. "It still happens. We'll be out at dinner with my whole family and then randomly my dad will start showing me something about hitting or talking about hitting and I'll be like, 'dad, what are you doing? We're out at dinner right now. You can't do that.'"
Nick's dad isn't the only big leaguer in the family. He obviously asks his dad for help any time he needs it, but he can also go to his cousin, all-star right fielder for the Boston Red Sox Mookie Betts.
"If I feel something at the plate, I'll text (my dad) or call him after the game," Nick said. "A couple of times I've asked Mookie like what does he do when this is happening, but it's always been my dad. I've reached out to (Mookie) a couple of times about stuff like that. Most of the time when I talk to him it's about normal stuff outside of baseball… He can always help obviously. He's one of the best players in the big leagues right now, but it's always my dad. He's the main one I got to when I need something."
Nick was committed to play baseball at his dad's alma mater Kentucky, but said he wasn't really planning on attending. He was drafted in the seventh round of the MLB Draft by the Detroit Tigers in 2015. On the final day to make a decision, Nick decided to hold off on the MLB route for a year and instead went to San Jacinto College in Houston, Texas.
"That was a long process. I didn't choose that until the last day of the deadline, so we had a couple of weeks to think about it," Nick said. "We talked about it pretty much every day... It was a long conversation, but in the end that's what we chose and now I feel like it was a good decision."
The move cost Shumpert in terms of when he got drafted. In 2016, the Braves selected Shumpert in the 28th round, but despite the drop Nick feels good about taking the extra year at the college level.
"When you're in high school and college, if you're good you're always successful… Coming into pro ball was a huge adjustment just seeing that everyone else is good as well," he said. "It was definitely something to get used to, but now I feel like I'm adjusted to that and I know that you're going to fail most of the time so your head has to stay level-headed and that's how you'll be successful."
That's the best advice Nick said both his dad and Betts has given him over the years.
"The best piece of advice that (my dad has) given me is just to always stay level headed. When you're doing well, don't get too high on yourself, don't get too cocky or anything, just stay level and when you're doing very bad you'll have to remain the same," he said. "Some people, they're too moody and that won't work in baseball."
It's easy to stay calm on the field when you grow up watching big leaguers Alfonso Soriano and Ken Griffey Jr. Those were Shumpert's favorite players growing up, and both became known for staying cool in tough spots.
Shumpert remembers the day he met the former Cub and Yankee Soriano in Spring Training when his dad was working as a scout.
"Somehow I always remember the day, it was after my dad had already retired, he was scouting for the Texas Rangers and I remember meeting Alfonso Soriano," he said. "I remember meeting him and talking to him a little bit. I wasn't star-struck, but I just remember that."
During his career, Terry Shumpert played all over the diamond, playing seven of the nine positions on the field. For Nick, he primarily plays shortstop, but has experience all over the infield.
"It definitely makes you more valuable being able to play all around the field," he said. "I've always heard that if you can play shortstop, then you can play anywhere on the infield… I feel most comfortable at shortstop."
A lot of shortstops grew up watching and idolizing Derek Jeter. Shumpert was no different, but the Yankees great wasn't the guy Shumpert has tried to model his game after.
"The main one for me was probably Jimmy Rollins," he said. "He's someone that I definitely model my game after… he has power, he can run, he can hit and he's very good on the infield.
"Now I love watching Francisco Lindor… He's someone that I love to model my game after. He's someone I like to play like as well."
And who wouldn't want to play like Lindor when shortstops are able to make some of the flashiest plays on the diamond?
"I like something in the hole, a backhand, because then I get to show off my arm, so that's probably my favorite (play to make), like a diving play in the hole and get to throw him out at first. That's always a cool play," he said.
Following in your father's footsteps is something a lot of kids want to do. It's another thing to actually fulfill that dream. Shumpert has always wanted to follow his father and play in the big leagues and that's still a motivation to this day.
"I saw him play in the big leagues, so as a kid you want to be just like your dad, so I wanted to be in the big leagues like my dad," he said. "Now I have my own motivations as well that I know it would make my family so proud if I made it to the big leagues and played, had a long career. And I would love to play in the big leagues just like him, play in the same parks as him. That's really cool to me."
It doesn't happen all the time, but there are games where Nick has his dad and some other family members in the stands to watch him play. Those are the best days for Shumpert.
"It's really cool, because now I actually appreciate it even more that he gets to see me," he said. "Now he doesn't get to see as much because I'm all the way in Virginia across the country, so now I appreciate it even more… I love it, and I feel like I play even better when he is here."
It can also be hard to follow in the footsteps of someone who's already made it to where Shumpert is trying to go, but he just doesn't worry about that.
"I don't feel any pressure about that at all," he said. "I just think about coming out every day and doing what I need to do to make it to the big leagues."
There's more than just his dad in terms of people who have helped him get this far. He sure hasn't forgotten about all of the people who have been there to help along the way.
"I'd like to thank everybody who's helped me get to the spot that I am now," he said. "It's a blessing being where I am right now and I appreciate everything that those people have done and what my family has done."
Be the first to know
Get local news delivered to your inbox!