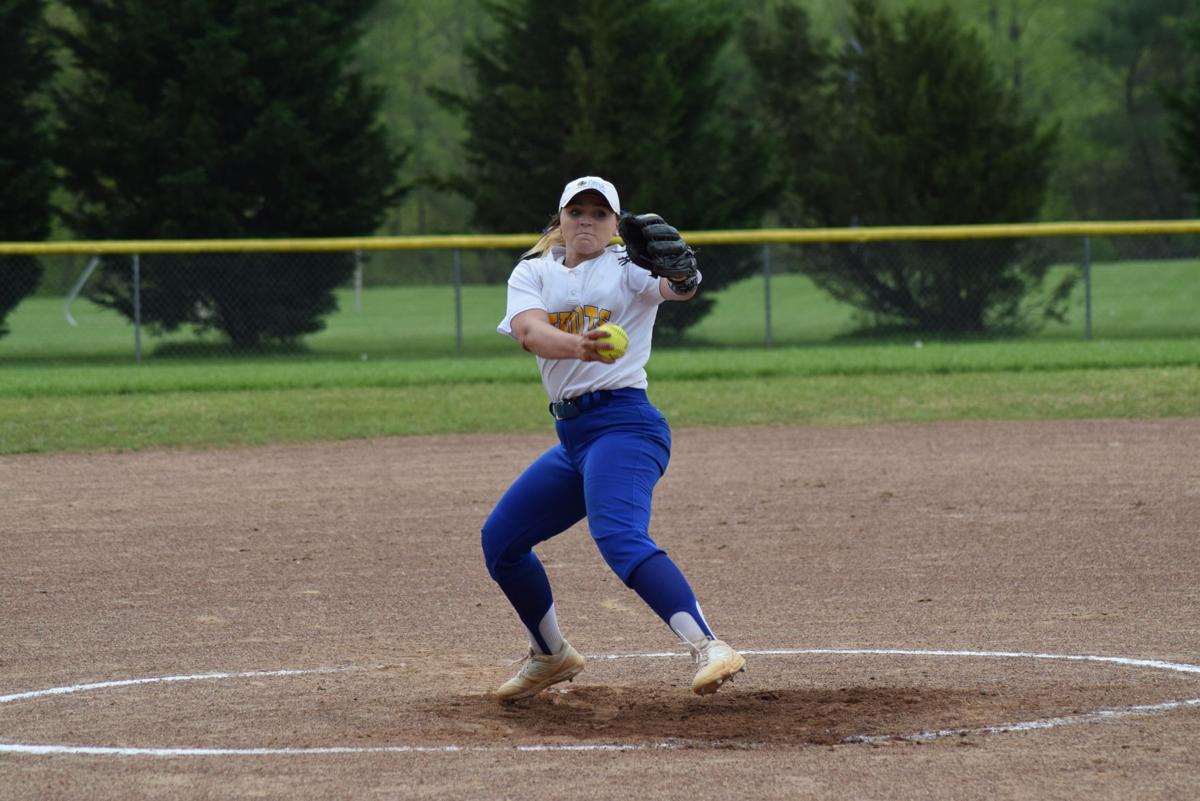 PHCC drops doubleheader against Pitt
The Patrick Henry Community College softball team welcomed the current No. 2 seed in Region X, Pitt Community College, to town for a pair of afternoon contests Wednesday afternoon.
It was the team's sophomore day, recognizing the program's five seniors – Abby Shelton (Magna Vista), Taylor Conklin (Magna Vista), Hanna Hylton (Patrick County), Meagan Puckett (Chatham) and Kayleigh Krause (Patriot HS, Bristow, VA) – but Pitt was in no mood to celebrate, taking both games of the doubleheader, 13-5 and 10-1.
Sidney Foster led off the bottom of the first inning of Game 1 for PHCC with a double and came around to score on an error to tie the game at 1-1. Pitt came right back and scored five runs in the top of the second to break the game open.
After a scoreless third inning by both sides, the Bulldogs plated three more runs to build a 9-1 lead. That's when PHCC found new life, at least for the time being. Mikayah Pulliam led off the bottom of the fourth with a double, moved to third on a sacrifice bunt by Hylton, and scored on a single by Dori Hicks. Conklin doubled, Logan Wilgus singled and then Shelton doubled to score three more runs to cut the deficit to 9-5.
It didn't last long, however, as Pitt responded with four runs of their own in the top of the fifth inning before sitting the Pats down in order in the bottom half of the inning to end the game after five innings, 13-5.
In Game 2, Pitt came out and scored two runs right off the bat in the first inning. Like she did in the first game, Foster reached base to leadoff the game for PHCC and then came around to score the team's only run on a double by Krause.
Pitt added another run in the second inning, but was quiet in the third and fourth innings before exploding for seven runs in the fifth inning to again take down PHCC in five innings, 10-1.
PHCC (9-21, 5-11 Region X) will return home next Wednesday at 2 p.m. for a doubleheader against USC Union before wrapping up the regular season with a pair of doubleheaders against Southeastern Community College-Whiteville next Saturday and Sunday.
Bassett 14, G.W.-Danville 0 (5 innings)
Following Tuesday's combined no-hitter against Martinsville the Bengals traveled to face G.W.-Danville and did the exact same things. Drew Fisher, Hunter Hiatt, Dylan Sigmon and Austin Custer combined to no-hit the Eagles in a 14-0 win for Bassett.
Fisher was the only pitcher to work more than one inning, striking out four batters in two innings. Hiatt struck out two, Sigmon had one and Custer got all three batters he faced by way of the K in one inning of work for each of them.
Custer also had a strong day at the dish, going a perfect 3-for-3 with two RBI and a pair of runs scored. Errors played a major role in Bassett's run production. G.W.-Danville committed nine of them in the game. Cassell had an RBI, as did Mike Martin, Yeison Sosa and Seth Moore.
The Bengals scored at least one run in every inning, and put an exclamation point on the win with seven runs in the fourth inning.
Bassett (9-4) will host rival Magna Vista Friday at 5 p.m.
Halifax 7, Patrick County 2
Patrick County fell on the road in South Boston Wednesday, coming home with a 7-2 loss to Halifax.
Lane Taylor started on the mound for the Cougars and went 5 2/3 innings, allowing six runs on six hits with five strike outs and six walks.
Patrick County had seven hits as a team. McCray Sawyers and Colby Vernon had two hits each. Landon Augustine drove in both runs.
The Cougars fall to 4-12 on the year. They'll go back on the road today to take on G.W.-Danville at 5 p.m.
Bassett 18, G.W.-Danville 0
Jade Hylton scored in all four of her plate appearances Wednesday to lead Bassett in an 18-0 road win over G.W.-Danville.
Hylton had a homerun, a double, and two walks for the Bengals. Erin Nelson had four singles in four at bats with two runs scored. Ella Wall had a hit, a walk, and a hit by pitch and came around to score all three times.
The Bengals improve to 2-8 on the year. They'll go back on the road Friday to take on Magna Vista at 5 p.m.
Bassett 11, Patrick County 0
Allie Laine and Logan Kinkema each had a hat trick to help Bassett to an 11-0 rout of Patrick County in Stuart Wednesday night.
Caroline Cook added two goals for the Bengals, and had six assists on the night. Abbie Laine had a goal and an assist, Aurora Wolchko had a goal, and Lacey Flanagan and Campbell Ferguson each added an assist.
Brooke Tilley recorded three saves in goal for the Bengals.
Bassett improves to 10-2 on the year. They'll return home on Friday to take on Magna Vista at 7 p.m.
Patrick County falls to 1-10 on the year. They'll return home to face G.W.-Danville on Friday at 7 p.m.
Franklin County 9, Martinsville 0
Martinsville travelled to Franklin County on Wednesday, but came home with a 9-0 loss.
The Bulldogs will return home on Monday to take on Bassett at 4:30 p.m.
Full results from Wednesday's match are listed below.
Franklin County 6, Martinsville 0
Chris Taylor (FCHS) def. Eli Akabar 6-0, 6-0
Dakoda Treadway (FCHS) def. Casey Hart 6-0, 6-1
Matthew Thompson (FCHS) def. David Betanzo 6-0, 6-0
Bram David (FCHS) def. Ethan Thomas 6-1, 6-1
Stone Gibbs (FCHS) def. Tim Holbrook 6-0, 6-0
Chase Carter (FCHS) def. Noah Snell 6-1, 6-0
Franklin County 3, Martinsville 0
Taylor/Davis (FCHS) def. Akabar/Hart 6-0, 6-1
Treadway/Thompson (FCHS) def. Betanzo/Thomas 6-0, 6-0
Hayden Tyree/Xavier Harrison (FCHS) def. Holbrook/Tucker Agree 6-0, 6-0