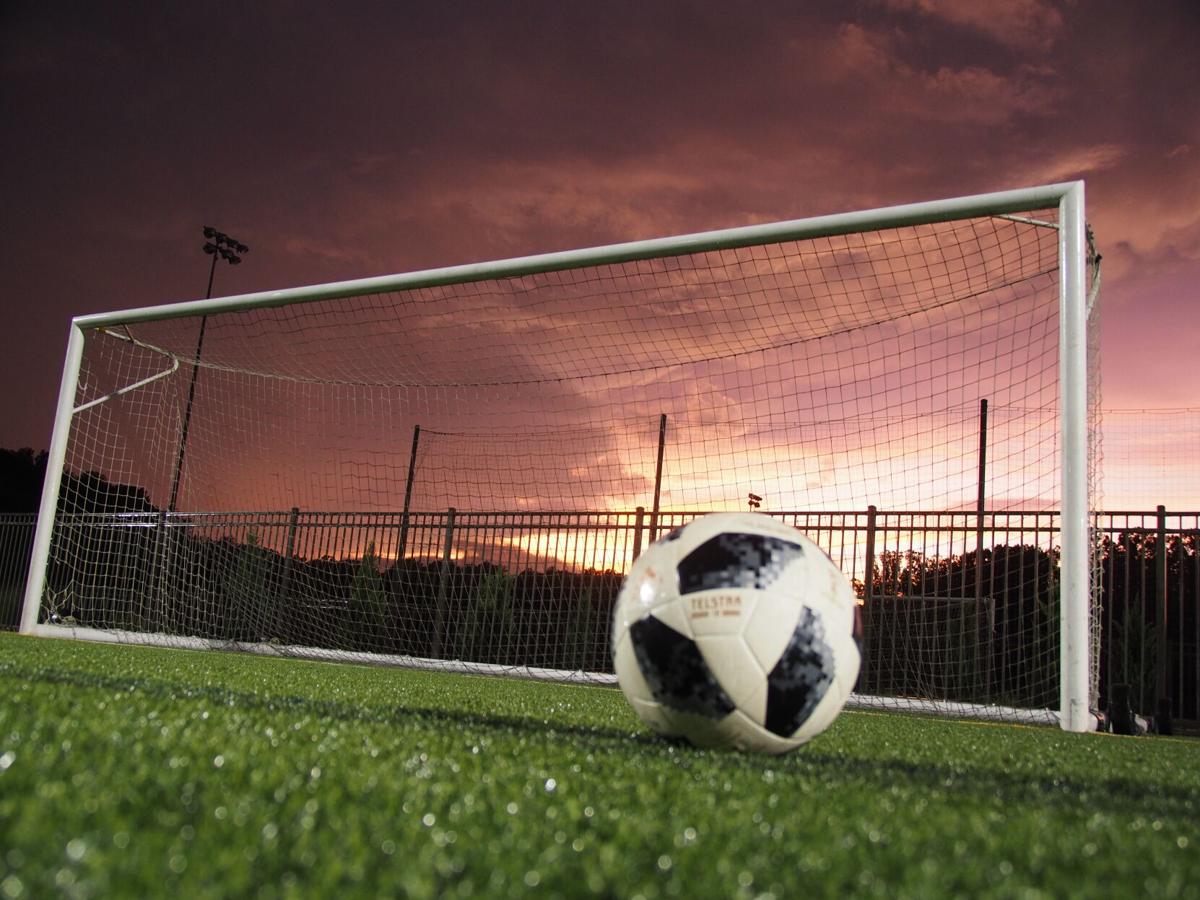 BOYS SOCCER
Carlisle 7, Fishburne Military 0
The Carlisle boys soccer team traveled to Fishburne Military School in Waynesboro on Thursday for their season opener, and came away with a 7-0 win.
Terrance Hairston scored four goals to lead the Chiefs. Jacob Simpson, Chris Toe, and Zach Craddock also added goals in the win.
The Chiefs will travel to The Miller School of Albemarle on Monday for a 4:30 p.m. game.
CROSS COUNTRY
Local results from Knights Crossing Saturday
Runners from Bassett, Carlisle, and Magna Vista competed at the Knights Crossing cross country meet at Green Hill Park in Salem on Saturday.
Nearly 1000 runners competed in different 5K races at the event.
Full results from three local schools are listed below:
4th - Sienna Bailey - 20:19.40
46th - Alheli Ramos-Garcia - 24:09.40
80th - Amanda Goad - 26:16.60
81st - Claire Howe - 26:18.20
109th - Brittany Cruz - 29:17.80
121st - Angie Roldan - 33:11.20
122nd - Payne Shipe - 34:32.90
126th - Annette Santiago - 36:55.30
128th - Karlee Shively - 40:21.20 
6th - Piper Doughton - 20:51.80
148th - Nathan Morrison - 18:55.00
154th - Benjamin Flores - 18:57.80
160th - Michael Foley - 19:03.60
210th - Chase Smith - 20:13.10
232nd - Oliver Lopez - 20:59.00
260th - Ethan Roldan - 22:00.20
310th - Johnny Lopez - 26:28.00
134th - Benjamin Stafford - 18:46.60
Patrick County hosts Piedmont District regular season meet
Runners from all seven Piedmont District schools ran in a regular season PD cross country meet hosted by Patrick County High School last Wednesday.
Bassett sophomore Sienna Bailey won the varsity girls 5K race, running 23:15.72. The Bengals won the girls team event, scoring 34 points.
The Bassett boys team also won the team event, scoring 36 points. Senior Shawn Foley was the highest finishing Bengal, coming in third after running a time of 21:23.61.
Tunstall senior Charles Hearp won the race in 19:08.74. Magna Vista's Benjamin Stafford was second, running 21:15.52.
Full results from the race are listed below:
Varsity Girls 5000 Meter Run
(Place, runner, grade, school, time)
1 Sienna Bailey 10 Bassett 23:15.72 
2 Sophia Hearp 12 Tunstall 24:14.96 
3 Alheli Ramos-Garcia 12 Bassett 26:41.40 
4 Zoe Kinkema 12 Bassett 26:59.50 
5 Bethani Bishop 11 Halifax County 27:00.69 
6 Abby Eades 11 Tunstall 27:50.49 
7 Amanda Goad 11 Bassett 28:12.99 
8 Irene Smith 11 Patrick County 29:56.51
9 Lydia Wenzel 12 Halifax County 30:41.69 
10 Morgan Crenshaw 11 Halifax County 30:51.19 
11 Mallory Salley 11 Halifax County 31:47.73 
12 Ashley Irby 12 Halifax County 31:50.75 
13 Brittany Dalton 11 Tunstall 31:58.60 
14 Sadie Martin 9 Patrick County 32:19.43
15 Chloe Wright 11 Patrick County 32:28.76
16 Madsion Walton 9 Tunstall 32:51.87 13
17 Alyssa Callahan 9 Patrick County 32:53.71
18 Kayleigh Towler 10 Tunstall 34:16.83 
19 Briana Qunitero 9 Tunstall 34:20.62
20 Zakiyah Williams 10 George Washington 35:07.45
21 Abagail Jimenez Magna Vista 35:10.70
22 Khamauri Mays 9 Tunstall 35:31.81 
23 Emmaree Barnes 11 George Washington 35:59.36
24 Destiney Edwards 9 George Washington 36:51.34
25 Jenna Hall 11 Halifax County 37:00.56 
26 Jaci Parham 11 Halifax County 37:05.40 
27 Sophia Barker 11 Tunstall 37:22.08
28 Analuisa Frias-Alvare Magna Vista 37:32.26
29 Brittany Cruz 9 Bassett 37:56.47 
30 Makiah Tarply 11 Tunstall 38:25.97
31 Brooklyn Price 9 Tunstall 38:29.87
32 Halle Cassada 9 Tunstall 38:37.10
33 Annette Santiago 12 Bassett 38:55.83 
34 Payne Shipe 10 Bassett 39:22.30 
35 Angie Roldan 10 Bassett 39:27.69
36 Alayna Newby 10 Halifax County 40:15.70
37 Jodi Amos 9 Tunstall 42:01.41
38 Elizabeth Lewis 12 Tunstall 45:19.99
39 Kira Thomas 9 Tunstall 46:43.42
40 Parker Sinclair 9 Tunstall 46:44.51
41 Karlee Shively 9 Bassett 49:37.35
42 Julee Myers 12 Tunstall 50:08.56
43 Ashby Eanes 9 Tunstall 50:11.51
44 Sarah Gato 12 Tunstall 55:47.58
45 Devin Walker 9 Tunstall 55:59.96
Varsity Girls 5000 Meter Run Team Scores
Varsity Boys 5000 Meter Run
(Place, name, grade, school, time)
1 Charles Hearp 12 Tunstall 19:08.74 
2 Benjamin Stafford Magna Vista 21:15.52
3 Shawn Foley 12 Bassett 21:23.61 
4 Jalyn Jones 11 George Washington 21:26.39 
5 Nathan Morrison 12 Bassett 21:36.99 
6 Moises Cisneros 10 Patrick County 21:42.50 
7 Ethan Kirkhart 12 Halifax County 21:52.37 
8 Michael Foley 9 Bassett 22:00.82 
9 Benjamin Flores 11 Bassett 22:01.93 
10 Will van Opstal 12 Halifax County 22:34.54 
11 Justin Pool 12 Halifax County 22:44.41 
12 Nikolas Hearp 12 Tunstall 22:46.06 
13 Edwin Diaz 10 Tunstall 23:05.68 
14 Ben Barnett 10 Tunstall 23:14.25 
15 Riley Brim 12 Patrick County 23:27.37 
16 Chase Smith 10 Bassett 23:57.51 
17 Oliver Lopez 12 Bassett 24:01.96 
18 Christopher DeGraw 10 Halifax County 24:04.78 
19 Azael Quintero 11 Tunstall 24:09.60 
20 Jc Gonzalez 11 Tunstall 24:14.95 
21 William Oveby 9 Patrick County 25:25.94 
22 Ethan Roldan 9 Bassett 25:36.84 
23 Henry Midkiff 10 Halifax County 25:39.73 
24 Charlie Hungerland 9 George Washington 25:45.49 
25 Preston Simpson 11 Halifax County 26:10.25 
26 Aaron Flores 10 Martinsville 26:29.67 
27 Brandon Hernandez 12 Martinsville 26:30.61 
28 Ethan Howell 9 Tunstall 27:06.29 
29 Cole Grogan 11 Tunstall 27:09.92
30 Daniel Ronan 9 George Washington 27:16.59 
31 Brett Foley 9 Patrick County 27:19.92 
32 Erik Hudgins 12 Halifax County 27:22.71 
33 Luke Cassada 11 Tunstall 28:01.48
34 Adalai Martin 11 Patrick County 28:38.38 
35 Gabriel Haley 10 Martinsville 29:28.85 
36 Cristian Ramirez 12 George Washington 29:32.88 
37 John Nguyen 9 Martinsville 30:15.11 
38 Hector Murrillo Villa 10 Martinsville 32:25.01 
39 Skyler Spence 10 Martinsville 32:25.94 
40 Mark Day 9 Patrick County 32:44.63 
41 Landon Light 12 Tunstall 34:53.69
42 Sean Fitzgerald 9 Tunstall 34:55.73
43 Naun Andrade 9 Martinsville 35:34.70 
44 Camyron Walton 11 George Washington 36:26.68 
45 Luke Johnson 9 Tunstall 38:06.63
46 Allan Lule-Eusebio 9 George Washington 39:26.94 
Varsity Boys 5000 Meter Run Team Scores