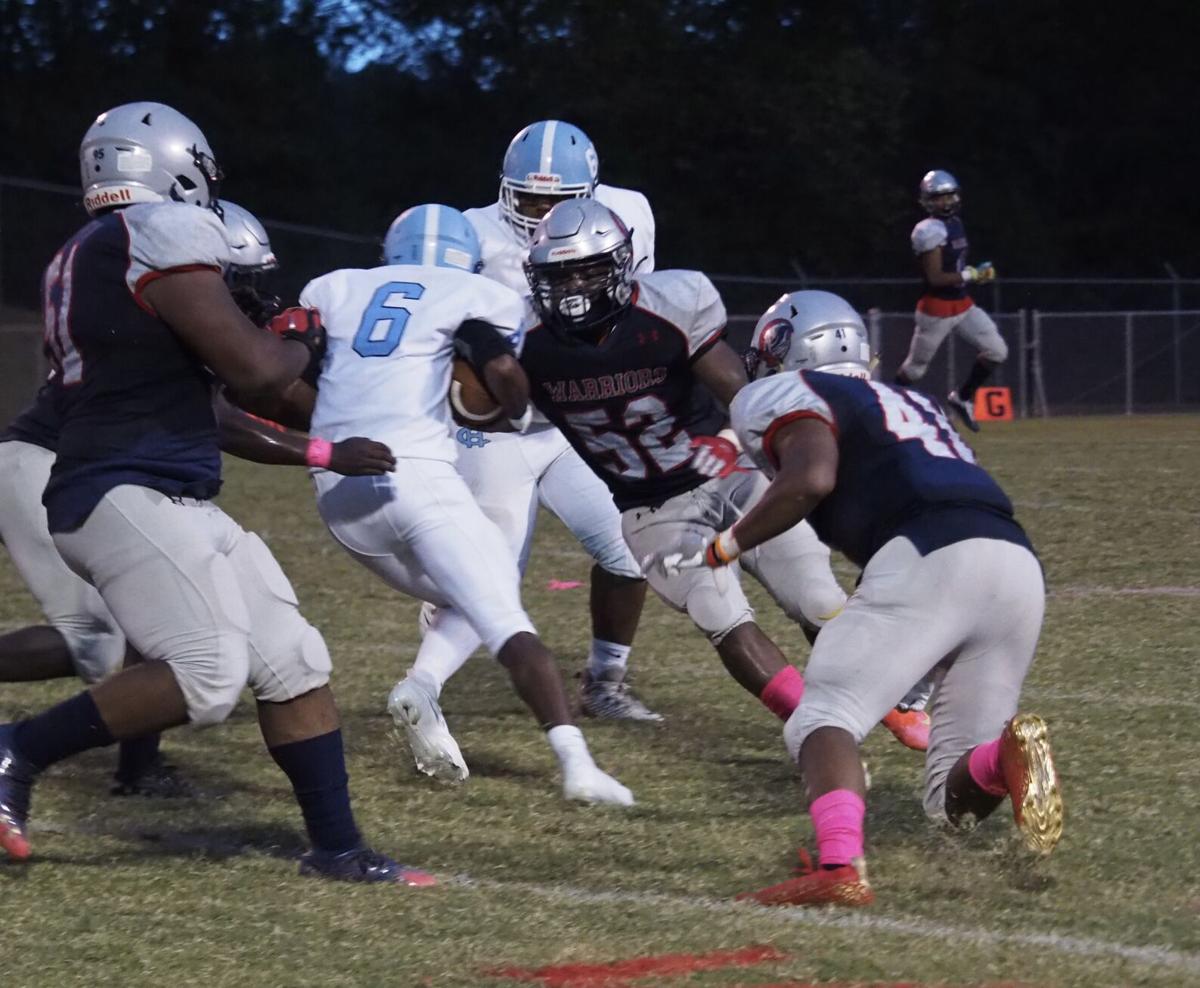 FOOTBALL
Martinsville 29, Chatham 20
A pick-6 in the final minute of play helped Martinsville pick up a non-district win at Chatham High School Thursday night.
Martinsville had a slim 22-20 lead late, but Chatham recovered a Bulldogs fumble and took over on their own 30-yard-line.
The Cavaliers were driving when Martinsville's Chavis Martin played hero, intercepting a pass and returning it 35-yards for a touchdown to give the Bulldogs their final 9-point lead with 40 seconds left to play.
Martinsville led Chatham 13-7 at the half, but the Cavaliers jumped out on top early in the third with a 17-yard TD by Jaden Breedlove.
The Bulldogs didn't stay down for long, returning Chatham's ensuing kickoff 70 yards to take a 20-14 lead with 6:34 left in the third.
Chatham retook the lead by one in the first minute of the fourth on a 5-yard TD run by Mason Anderson.
But Martinsville again quickly answered. On Chatham's next possession, the Cavaliers botched a punt attempt and the ball was recovered by the Bulldogs in the endzone for a safety and a 22-20 lead with 7:30 remaining.
The win brings Martinsville to 3-3 on the year. They'll return home on Friday for a Piedmont District contest against Magna Vista at 7 p.m.
Halifax 45, Magna Vista 26
Magna Vista made a comeback attempt in the fourth quarter of Thursday's game against Halifax County, but the Warriors defense couldn't stop the Comets in a 45-26 Piedmont District loss in Ridgeway.
After scoring on a last second heave into the endzone as time expired to take a 14-6 lead at the half, Halifax came out in the second half scoring a touchdown and a field goal in the third quarter and three more TDs in the fourth.
The Comets opened the second half scoring with a 30-yard interception returned for a touchdown by safety Qualik Tucker to go up by 18 midway through the third.
The biggest turning point for the Comets came early in the final frame. On the first drive of the fourth quarter, Dakii Chandler fumbled a snap and recovered it himself, turning the mistake into a more than 20-yard gain. Two plays later Mikyler Smalls scored a 1-yard touchdown to make the score 31-13.
On the ensuing kickoff, Halifax kicked it short, and Magna Vista recovered at midfield. But an offsides call on the Comets gave them another kick. Halifax turned the penalty into an opportunity, recovering an onside kick to retain possession.
Seven plays later, the Comets found the endzone again to take the lead to 25 points.
The Warriors started their comeback attempt on the next kickoff. Magna Vista's Deontae Lawson took the Comets' kick 72 yards and within 10 yards of the endzone. On the very next play, Rion Martin found Torian Younger in the endzone.
After another touchdown by Halifax, Magna Vista again tried to make a comeback in the final minutes. Two plays after Martin found Tyler Johnson for a 34-yard gain, Martin found Johnson in the endzone for an 11-yard touchdown to make the score 45-26 with 4:47 remaining.
Halifax turned the ball over on downs on their next drive, but there wasn't enough time left on the clock for Magna Vista to cut into the Comets lead any more.
Martin finished the night with four touchdown passes for the Warriors. Johnson had two receiving TDs.
Magna Vista falls to 2-4 on the year. They'll go on the road next Friday for a 7 p.m. game at Martinsville High School.
Halifax improves to 5-0 on the year, and remain atop the PD standings. They'll return home next week to take on G.W.-Danville.
Halifax County 45, Magna Vista 26
HCHS 7   7   10   21 - 45
MVHS 0   6    7    13 - 26
HCHS 1:24 1Q - A. Mabins 58 catch from D. Chandler (M. Morrison kick good)
MVHS 1:24 2Q - T. Johnson 26 catch from R. Martin (kick miss)
HCHS 0:00 2Q - 29 catch (M. Morrison kick good)
HCHS 9:22 3Q - M. Morrison 22 field goal
HCHS 7:30 3Q - Q. Tucker 30 interception return (M. Morrison kick good)
MVHS 1:38 3Q - J. Hairston 29 catch from R. Martin (C. Lynch kick good)
HCHS 11:23 4Q - M. Smalls 1 run (M. Morrison kick good)
HCHS 9:12 4Q - 3 run (M. Morrison kick good)
MVHS 8:50 4Q - T. Younger catch from R. Martin (E. Lane kick good)
HCHS 7:20 4Q - D. Chandler 1 run (M. Morrison kick good)
MVHS 4:45 4Q - T. Johnson 11 catch from R. Martin (kick no good)
VOLLEYBALL
Magna Vista 3, Martinsville 0
Magna Vista got back in the win column with a 3-0 Piedmont District win over Martinsville Thursday night in Ridgeway, by scores of 25-3, 25-7, 25-4.
The Warriors bounced back from their first PD loss of the season Tuesday night, and improve to 13-2 overall and 9-1 in the district.
Magna Vista was led Thursday by Morgan Smith (two aces, eight digs, 13 kills), Emma Hankins (16 points, 11 aces, nine kills, one block), Mykaela Dillard 12 points, five aces), Danielle Draper (six digs), Summer Stone (18 assists, and Briana Ocampo Suarez (eight assists).
The Warriors will return home on Tuesday to take on Patrick County at 7 p.m.
Martinsville will travel to William Fleming in Roanoke on Wednesday for a non-district contest.
Bassett 3, G.W.-Danville 0
Bassett won its fourth game in a row with a 3-0 win over G.W.-Danville at home Thursday, by scores of 25-4, 25-6, 25-7.
The Bengals were led by: Makayla Rumley (nine kills), Zoie Pace (11 assists, 11 service points), Callie Ferguson (10 service points), and Nikki Finney (nine service points).
Bassett improves to 13-2 overall, 8-1 in the PD with the win. They'll return home on Tuesday for another PD contest against Halifax County at 7 p.m.