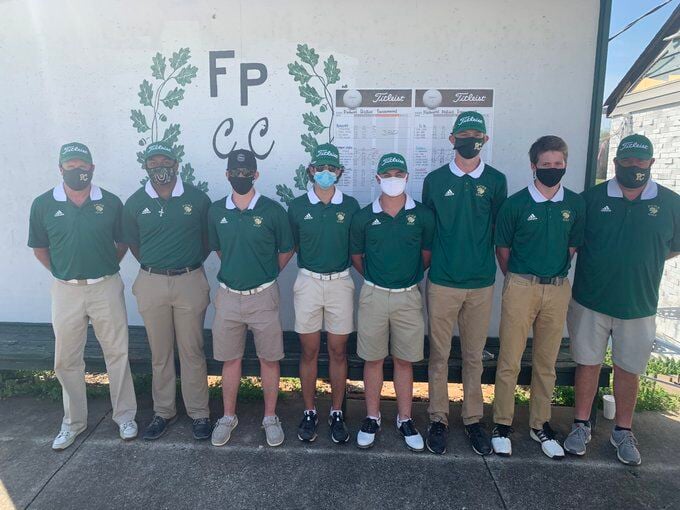 After winning the Piedmont District regular season title two weeks ago, Patrick County added to their 2021 titles by winning the PD golf championship Tuesday at Forest Park Country Club in Martinsville.
The Cougars shot 319 as a team to best second place Halifax County High School by nine strokes.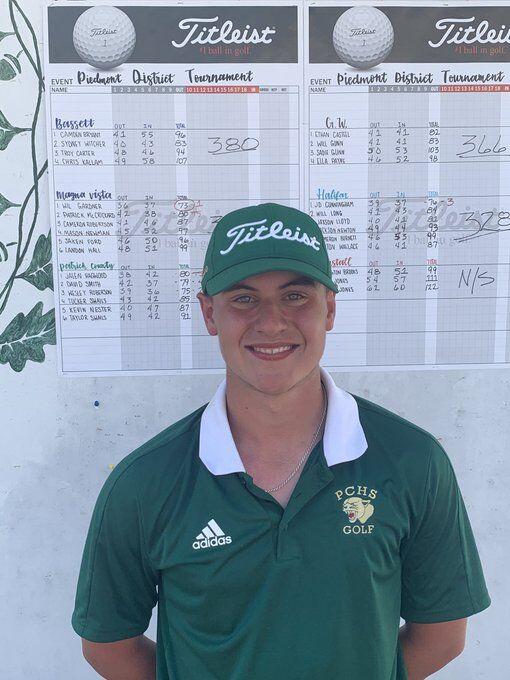 Patrick County's Wesley Roberson, who finished 2nd Tuesday after shooting 75, was named PD Player of the Year. The award is given to the player with the lowest cumulative score throughout the entire PD regular season and championship. Roberson was the medalist in two regular season matches this season.
"The guys played really solid today. Wesley played really well... We just put some good solid scores up on the board today," said PC coach Philip Steagall.
The Cougars' depth was a strength throughout the entire season. The team had won or tied for the win in five straight PD regular season matches coming into Tuesday, only falling in the first match of the season.
PC had five medalists this season, and four different players have led the team in scoring.
"It's been a whole team effort, not just from four individuals, but all nine guys we have on varsity working together every day at practice and making each other better each day by also wanting to get better themselves," Steagall said.
"We're young and we made really good progress as the season went along and the guys have really put the dedication and the work into it that's been necessary for them to see the success they've been able to have."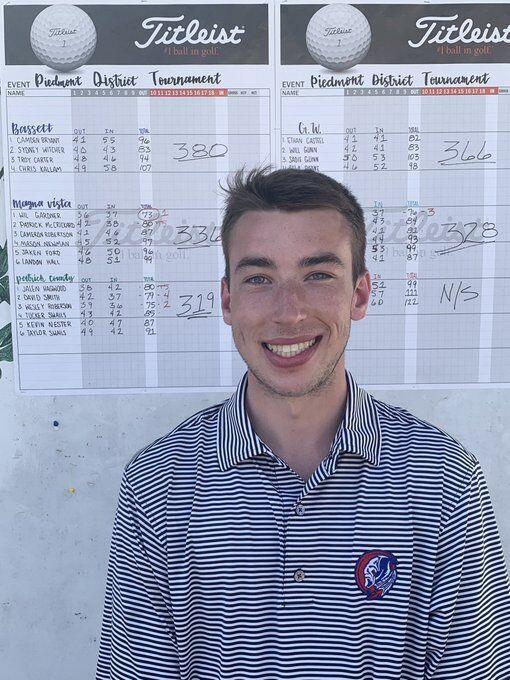 Magna Vista senior Wil Gardner won the individual PD championship after shooting 73 on the day. The Warriors finished third as a team, shooting 336 on the day.
Gardner was the PD player of the year last year, but this is his first time winning a postseason tournament as a Warrior.
"Today I was much more relaxed," Gardner said. "In the past rounds I had put a lot of pressure on myself... Last week was our home match at Oak Hills and I put a lot of pressure on myself to play good and I didn't do too hot. I think I was 82 last week. So I tried to relax."
Gardner said his spotter Tuesday was one of his teachers at Magna Vista, so getting to talk with someone familiar throughout the round also helped calm him a bit.
A few Warriors, including Gardner, went to Forest Park on Monday and played 18 holes to get a feel for the course.
"We just looked at each pin and each green and we jus talked about hitting different shots," he said. "So coming into today I knew where most of my shots were going to go... I knew which direction to the pin to hit it, which way it was going to bounce and stuff, so that helped a lot. "
Halifax County's J.D. Cunningham shot 76 to finish third. Patrick County's David Smith was fourth, shooting 79, and PC's Jalen Hagwood and Magna Vista's Patrick McCrickard tied for fifth, both shooting 80. All of the top five golfers were named First Team All-Piedmont District.
Cameron Robertson (MVHS), Ethan Casteel (G.W.-Danville), Tucker Swails (PCHS), Jackson Newton (HCHS), and Will Long (HCHS) were all named second team all-district.
Patrick County will play in the Region 2C championship on Monday at the Pete Dye River Course in Radford.
"I think the guys feel confident about their game, it's just a matter of going out when the time comes on Monday and playing the best we can and minimizing what mistakes we make and hopefully we can post a good score that day too," Steagall said.
The entire Magna Vista team will play in the Region 3D championship on Monday at Ashley Plantation in Botetourt.
Gardner, who will play a practice round at the course on Friday, said winning Tuesday gives him confidence as he move through the postseason.
"It feels great. Me and dad were talking about it last night, technically the regular season doesn't mean that much because this is the playoffs," he said. "You win in the playoffs, you keep going. So I'm just trying to keep it on track. I got this one and we've got regionals next week, so hopefully I can keep it going."
Full results of Tuesday's championship are listed below:
Piedmont District Golf Championship
Tuesday at Forest Park Country Club
Martinsville
1st - Patrick County High School (319)
- Jalen Hagwood 80 (t-5th)
- Wesley Roberson 75 (2nd)
2nd - Halifax County High School (328)
3rd - Magna Vista High School (336)
- Patrick McCrickard 80 (T-5th)
4th - G.W.-Danville High School (366)
5th - Bassett High School (380)
N/S - Tunstall High School