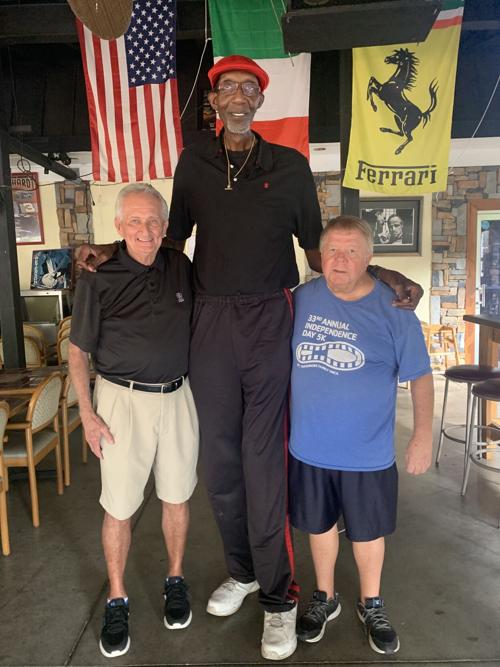 An all-star list of former local basketball stars and a Harlem Globetrotter make up the coaching staff for a basketball clinic to be held at the Martinsville YMCA this weekend.
The 3rd Annual Michael C. Jarrett Basketball Clinic will take place on Saturday and Sunday from 10 a.m.-1 p.m. at the Martinsville YMCA, located at 3 Starling Ave. in Uptown Martinsville.
Former Harlem Globetrotter George Bell and former local basketball stars L.J. Kilby and Mark Cartwright will team up to help coach the clinic. Bell played basketball at Morris Brown College in Atlanta and with the Harlem Wizards and Harlem Globetrotters show teams in the 1980s.
Bell, now 64, has known Michael Jarrett, the Bassett native who is putting on the camp, since he was 18 years old.
"Mike and I are old friends," Bell said. "He's had camps before and he asked me for help. He called me one day in the last month or so and said he has this camp going on and asked if I would like to coach and I said sure no problem."
Bell is known worldwide for more than just his basketball skills. He holds the Guinness World Record as the tallest man in America, standing 7-feet, 6-inches tall.
"I always have kids being like, 'How tall are you?' The basketball is secondary," he said. "So I have to try to get their minds back on basketball and me next. But I'm looking forward to it."
This is the third time Jarrett, who also played basketball at Bassett High School, has put on the camp, and he said it's the best coaching staff he's assembled in that time.
Bell will be joined by Cartwright, a star player at Martinsville High School and the son of former Bulldogs boys hoops coach Mel Cartwright. The younger Cartwright went on to play at Lincoln Memorial University, where he graduated in 1978 and was inducted into the school's hall of fame in 2019.
Kilby is the one in the group with the most coaching experience. He played at Bassett High School, Ferrum College and VCU, and went on to coach at the college level for more than 30 years, most recently at Cleveland State University.
"L.J. called and I said I was in. I played for L.J. so it was a no brainer," Cartwright said. "I wanted to come home and hang out with L.J. again and do a little basketball… I'm really happy to be here."
"I'm fortunate to say I know all three of them," Kilby said. "Mike and I went to high school together. He's a couple years ahead of me and we played basketball together. And Mark, I've known him and his dad and his brother from playing basketball in high school and we found out about him when I was an assistant at Lincoln Memorial University and we brought him out and the rest is history. George came out and worked out with us too and we messed that up some way or he would have played for us also."
The clinic is for boys and girls ages 6-16. All three coaches said they're excited to see the young players and maybe give some their first taste of basketball.
"We're going to keep it simple. Basketball fundamentals and try to have some fun," Cartwright said.
"There is nothing like seeing a youngster, if you teach them maybe how to shoot the basketball and they've never really made a shot, to knock that first one down and see the expression on their face. You can't put a price tag on that. It's priceless," Kilby said. "Anything they see they can do, that just gives them a little more desire to try to do something a little bit more. I guess that's the way got started. I got hooked on it through a sixth grade elementary principal."
None of the three coaches currently live in Martinsville, but Cartwright and Kilby said they excited to come back home and teach the next generation of local hoops stars, and all three are looking forward to giving back to the game that gave them so many opportunities in life.
"If you can do that, if you can help one, then I think you're doing the right thing," Kilby said. "I'm blessed to have an opportunity."
"Young kids, to me they have a little more enthusiasm. They want to learn how to dribble and how to shoot. It's fun to watch them try to learn the basics," Bell said. "To see them try to learn how to dribble and just have fun, I'm looking forward to it.
"It's very rewarding. I recall myself being a tiny tot trying to learn the game… So I brought my past and my enthusiasm to the kids to try to teach them something different and new… Those kids have great enthusiasm, even to learn more than the game of basketball."
Registration for the clinic will be held at the door at the Martinsville Y starting at 9 a.m. on the days of the event. The cost of the camp is $25 per day or $40 for both sessions. The fees include a certificate of participation and a picture with Bell.