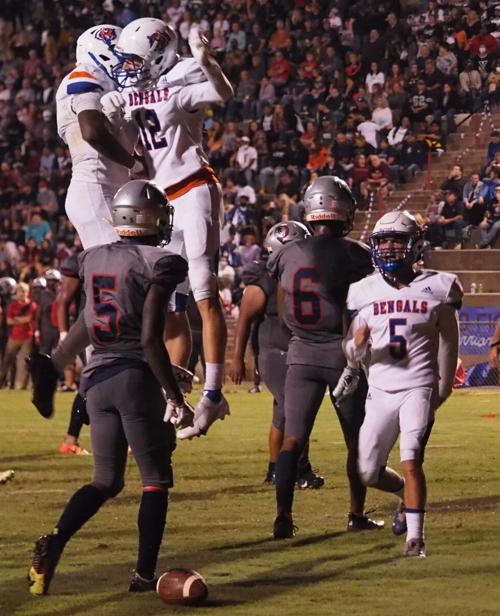 Ja'Ricous Hairston accounted for five total touchdowns, Bassett's defense had three interceptions, and the Bengals rolled to a victory over rival Magna Vista in Ridgeway Friday night, 49-13.
The win is Bassett's fourth straight victory over the Warriors, and gives the Bengals possession of the Smith River Classic trophy for another year.
Hairston started the scoring midway through the first quarter. The Bengals QB ran for 22 yards, and the next play went eight yards into the endzone to go up 7-0.
Hairston added two more rushing touchdowns: an 11-yard score with 10:55 left in the second, and a 15-yard TD with 3:36 until the half.
The junior also had two passing TDs. He first found Jacob Gilbert from 9-yards out midway through the second quarter.
Leading by 22 late in the second, Bassett's Elijah Stokes ran back a punt for a TD to give the Bengals a 35-6 lead with 1:58 until the half.
On the Warriors next possession, Casey Ferguson intercepted a pass to help the Bengals carry their 29 point lead into the half.
Magna Vista started to make a comeback in the second half. They opened the third quarter with a 38-yard touchdown from Rion Martin to Tyler Johnson, who broke a tackle in the middle of the field and ran to the endzone.
On the ensuing possession, Bassett marched down the field, but the Warriors stopped them on 4th-and-1 from the 4-yard-line, seeming to shift momentum toward the home team.
But Bassett held strong the rest of the way. Hairston had his fifth TD of the night, finding Stokes from 18 yards out to take the score to 42-13 with 8:26 to play.
Later in the fourth, Gilbert intercepted a pass, setting up possession for the Bengals on their own 13-yard-line. On the next play, Simeon Walker-Muse ran 74 yards, and later finished the drive with a 1-yard TD run with 4:19 to play. 
Bassett improves to 4-1 on the year. They'll return home next Friday to take on Patrick County at 7 p.m.
Magna Vista falls to 2-3. They'll also return home next week to take on Halifax County at 7 p.m.
Other scores from Friday night:
Patrick County 46, Tunstall 27
G.W.-Danville 39, Martinsville 0