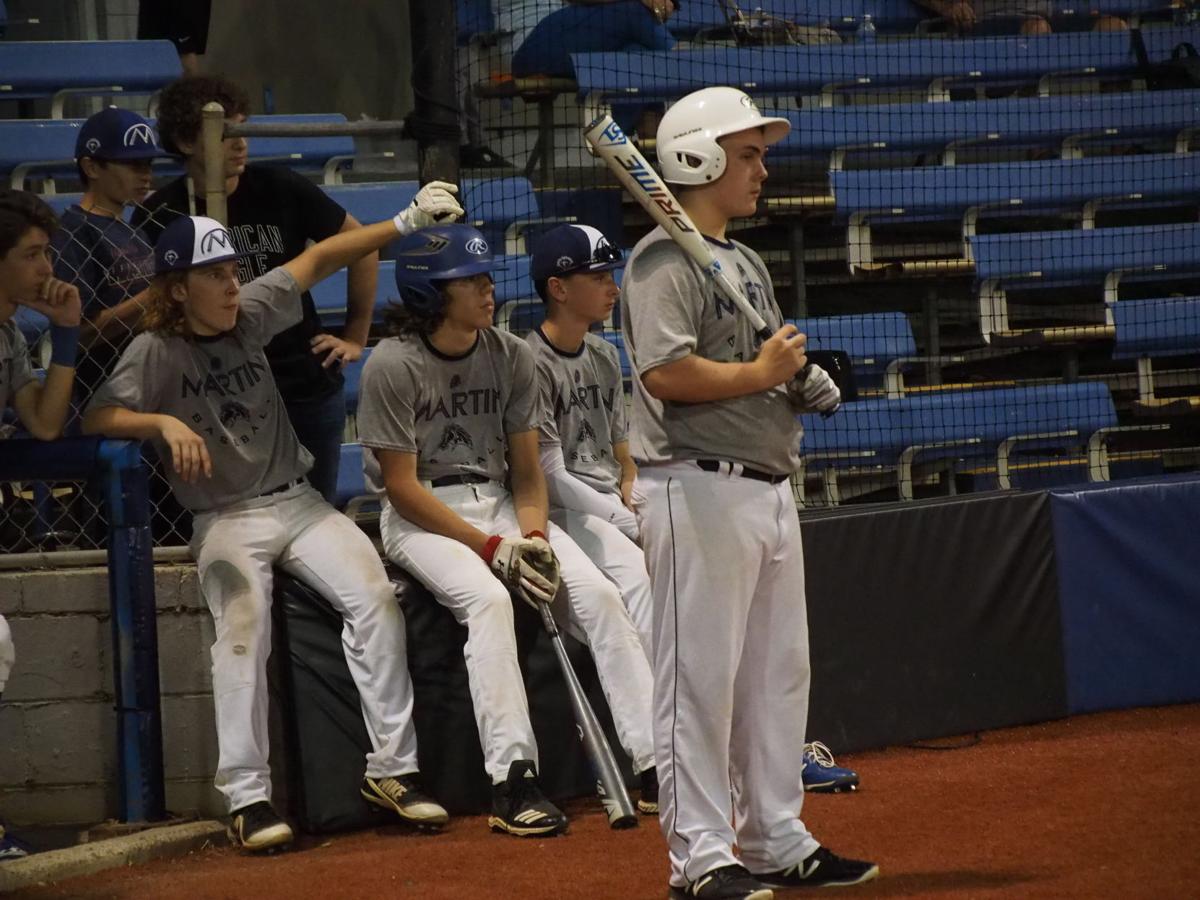 The three Junior Mustangs teams finished the season late last month, and while all three teams saw success in record, more importantly coach Terry Carter said they saw success in improved baseball skills.
The Junior Mustangs program was in its first season of existence. The team is affiliated with the Martinsville Mustangs Coastal Plain League college summer league team that plays at Hooker Field. The Junior Mustangs program had three teams – an older team for high school juniors and seniors, and two younger squads for freshmen and sophomores.
The three teams played most of their games against teams in the CPL High Point-Thomasville HiToms junior organization.
Carter was the head coach of the older Junior Mustangs squad, and also filled in as coach of the younger teams in the final week of the season.
"From Day 1 I've seen a lot of growth in a lot of the kids," Carter said following the team's final home game on Oct. 23. "A lot of kids have grown mentally. A lot of kids were lacking a lot of fundamentals when they came out here. Either it wasn't taught to them in the early years or… they just didn't remember it, but a lot of kids had to relearn a lot of different things. Fundamentally how to play the game. And each week it seemed like each kid got better. Mentally they got stronger. A lot of kids got stronger with the bat. A lot of kids who weren't hitting well at the beginning of the season, they hit well."
Carter said the fall league wasn't about continuing to succeed in areas where a player is already successful, but more about learning to be better at aspects of the game where players struggle – aspects like going deeper into counts and waiting for their pitch at the plate, and improving defensively.
"It showed that they made that growth from the beginning of the season to the end, and for this fall league that's all we ask for," Carter said. "That's all we wanted was for kids to grow in this game and get a little stronger mentally and to improve on things that they don't excel in.
"I think both programs, the older program as well as the younger program did very good."
The three teams would often practice together, something Carter said helped the younger players learn even more. He saw much more mental growth from the younger players, understanding the game of baseball in a different way.
"This is a mental game and if you're not mentally strong you're not going to succeed," Carter said.
"The young team, I would say they made tremendous strides… They took infield with my older team and sometimes you could tell they were a little lost fundamentally, but they watched the older guys do it and they picked it up.
"You could see them grow more because they wanted to do what the older kids were doing. They didn't want to mess up because the older kids weren't messing up and they didn't want to mess up. I would see them sometimes not hustling but then when they would practice with the older group I'd see them hustle. I could see when I would tell a few of the young guys, 'You need to do this, you need to make this adjustment' they actually made it. I'm really pleased with that."
The program consisted of players from Carlisle, Bassett, and Magna Vista High Schools. They played about 20 games this fall, often three games a week while also practicing three nights a week.
Carter said he heard from other coaches in the area who want to get their players involved in the program this spring. They hope to have more players from other schools and play another season starting in February before the high school season starts in April.
"What we did this fall, it's going to really help these guys," Carter said. "I think that it was definitely a success and it's going to grow more.
"I think it's going to do a whole lot better in the spring. It's going be a lot more competitive. The North Carolina teams will get stronger and we'll be stronger as well. Overall I think it's a great success."
Get in the game with our Prep Sports Newsletter
Sent weekly directly to your inbox!