In 33 seasons, Martinsville High School boys soccer has played 603 games.
Pete Scouras has been on the sidelines as the head coach for all 603.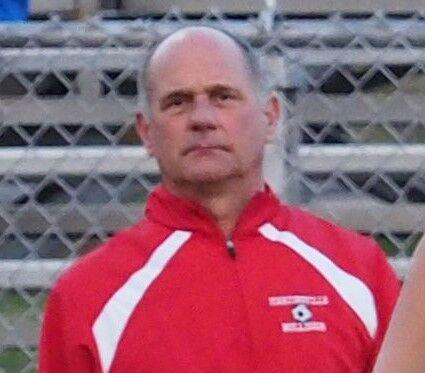 It's the biggest point of pride in Scouras's legendary career that started in 1987 and has included three state finals appearances, five 1-loss seasons, and just two seasons finishing under .500.
Scouras is currently third in Virginia High School League with 433 career wins.
The Bulldogs coach's longevity spans two back, a neck, and three knee surgeries.
"The way I was brought up in my family, and here as a Bulldog, in my playing days and the mentors I had… That's what you do, that's what you did," Scouras said. "I was a soccer coach. I went to the games. I didn't find excuses not to go."
When Martinsville opens the season in 2022, it will be the first time in school history they'll have someone different patrolling the sidelines. Scouras announced to the Bulletin this week he has given the school his resignation as boys soccer coach.
Martinsville hasn't played any sports since the 2019 season, when the boys soccer team went 20-1-1 and reached the VHSL Class 2 state semifinals.
The 2020 season was canceled by the VHSL, and Martinsville didn't compete in any sports this school year due to the coronavirus pandemic.
Scouras said he struggled with not being able to coach the last two years.
"I've been doing this a long time, and I can honestly say, you get to a point where you kind of know what your team is going to be like, and last year's team was going to be really special, and this year's team was going to be really special, and it never got to unfold," Scouras said in an interview with the Bulletin this week. "Last year, I understand. This year, I struggle with that a little bit."
The Bulldogs lost just five starters off of the 2019 team, and had 11 seniors this season, including three who started in the state semifinal game as sophomores.
Scouras said there were seven players on the Junior Varsity team that season he was excited about getting to coach at the varsity level.
"They never got to play a varsity game, and that really upset me because they had worked," Scouras said. "I was on Zoom meetings with the kids when we couldn't meet together, and there was one in particular, he's at Planet Fitness on the treadmill with his headphones on at the Zoom meeting getting in shape. They didn't even know if we could play. That's how bad they wanted it.
"They played travel. They worked out. They did it all on their own because they wanted it... after that taste of going to the final four.
"You can't help situations. You can't change things. As bad as you want to, there's some things you just can't control. But to myself, personally, I did not know if I'd have the energy in me at this point in my career to build another team like I had this year, would have had this year, and last year. I didn't know that I could do that, because it takes a lot."
Scouras is a 1980 graduate of Martinsville High School, and is the gym teacher at Patrick Henry Elementary School, a position he will continue to hold.
He said he grew up idolizing other legendary Bulldogs coaches like Dick Hensley and Husky Hall, who helped build a basketball powerhouse in the state. He would go to games with his father, Dr. George Scouras, a local icon in his own right who worked for more than 50 years as the school's team doctor.
"I joke with my kids at the elementary school… I say, 'You know I was born at the museum.' And they look at me like I'm crazy, like I'm some sort of reptile or something. But that used to be the old hospital. Martinsville Memorial Hospital stood where the museum is now," he said.
"I've been going to Bulldog games my entire life. My blood runs Bulldog red… When I walked across that stage in June of 1980, I knew I wanted to come back here and coach."
Martinsville started a club soccer team in 1987, and hired Scouras to coach it, with intentions of creating a varsity program the following year.
In the spring of 1988, the Bulldogs defeated William Byrd to win a region championship, the highest accomplishment at the time since VHSL did not play a state soccer tournament.
Scouras also coached JV football at Martinsville for 20 years, as well as basketball and cross country at various other times.
"I still miss every second of it," Scouras said of coaching football. "I'll miss this. I know I will."
Scouras has won Virginia, region, and Piedmont District coach of the year titles on several occasions, and was once nominated as the Virginia representative for national coach of the year.
"That's nice and good but I'd trade all of it for that last win, believe me."
While he never broke through to win a state championship, playing in the title game in 1994 and 2015, Martinsville soccer is represented throughout the VHSL record books. The 1989 team is still No. 1 in scoring average, putting up 9.47 goals per game in 17 contests that season.
Goalie Will Reynolds, a 2009 graduate, is No. 1 in VHSL with 50 career shutouts, 11 better than No. 2. Reynolds went on to play at Virginia Tech.
Kyle Quinlivan, a 2004 graduate, is third in career goals scored with 124, and fourth in most goals scored in a season with 47 in 2004.
"If I would have turned him loose and just let him go, if I would have said, 'You play 80 minutes and you score 10 goals,' that would be way up there," Scouras said of Quinlivan. "He was relentless. He was goal scorer. He'd rather score a goal than eat. Just a great, gutty kid. I've had a bunch of those."
Scouras had a rule with players—they come out of the games once they get a hat trick, so as to not run up the score on other teams.
"They'd get all upset with me," Scouras said with a laugh. "One player lied to me one time. He said, 'Coach, my grandmamma is in the stands, put me back in the game!' And I felt bad for him. I said, 'Well she came all this way.' And he got another goal and I finally took him out. I said that's enough. And I said, 'Where's your grandma?' He said, 'Coach, my grandma has been dead for five years.'
"The athletes that I've had, they just, they love the game. They wanted to play. I was pretty good at figuring out where they could help the team the most and how we could get the most out of each person."
Martinsville Athletic Director Tommy Golding said no other coach in Martinsville history coached for 34 straight years, and Scouras is the longest tenured coach of one sport in the Piedmont District.
"That makes me feel like maybe I did the right thing," Scouras said.
Several former players have also gone on to coach themselves, including Brennan Murphy, who has won three straight Region X Coach of the Year awards with Patrick Henry Community College, and led the men's soccer team to the NJCAA tournament for the first time this spring. Wes Lewis, who helped the Magna Vista girls soccer team to a Piedmont District championship this season, and Grant Boaz, who led the Carlisle boy's soccer team to a 2019 state quarterfinals appearance, were also Bulldogs under Scouras.
Bulldogs assistant coaches Matt Rowe and Ricky Dalton also played under Scouras. Dalton's son, Aaron, was a member of the 2019 team and would have been a senior this season. The Daltons are one of several families of players to have multiple generations who played for Scouras.
Former players who didn't coach in an official capacity would often still come back and help Scouras at practices, give his scouting reports, or come back and work out with the team.
"The ones that came back to coach under me were awesome. Great kids," he said. "They wanted to come back. Whether I had anything to do with that, I don't know. Or if they just loved the game, or they loved their school. I think it's probably more of that. But hopefully I had a little bit to do with them wanting to come back and help.
"They'd show us stuff. We'd learn from them, showing us what they did… That meant a lot to me in my tenure that they wanted to come back and help me."
Scouras thanked his wife, Ludy, his daughter, Alaina, and his mom and dad for the sacrifices they've made to help him during his more than three decades of coaching.
Dr. Scouras, now 89 years old, was able to watch his son coach the Region 2C championship at Smith River Sports Complex in 2019.
"That meant the world to me," Scouras said his dad watching his game. "I'd have times when I'm not sure and he'd say, 'Son, you signed up for it. Just do your best.'
"The apple doesn't fall far from the tree as far as Bulldog pride goes because we both have it, big time. And always will. Whether I'm coaching or not coaching, whatever. They can't take that from me. They can take a lot of things, but they can't take that.
"But sometimes you just think it's time, and I think it's time. Let somebody else try it... I got to do what I wanted to do and I got to do it for 34 years."
Martinsville has not announced a replacement for Scouras. The coach said simply he hopes the next Bulldogs boys soccer coach "respects the program as much as I tried to do."
"Actually that's probably even more important to me than winning and losing and all that. You respect where you came from, and that's what I tried to do," Scouras said. "I hope that the person who does get the job, whoever it is, gives it respect.
"I'm not going to say that because I know they will. They may not stay for 34 years… but I hope they do give it their best for the kids. That's where I got the most satisfaction is watching them grown as men. Watching them grow from squeaky little ninth graders to grown men and great people and great soccer players too at the same time."