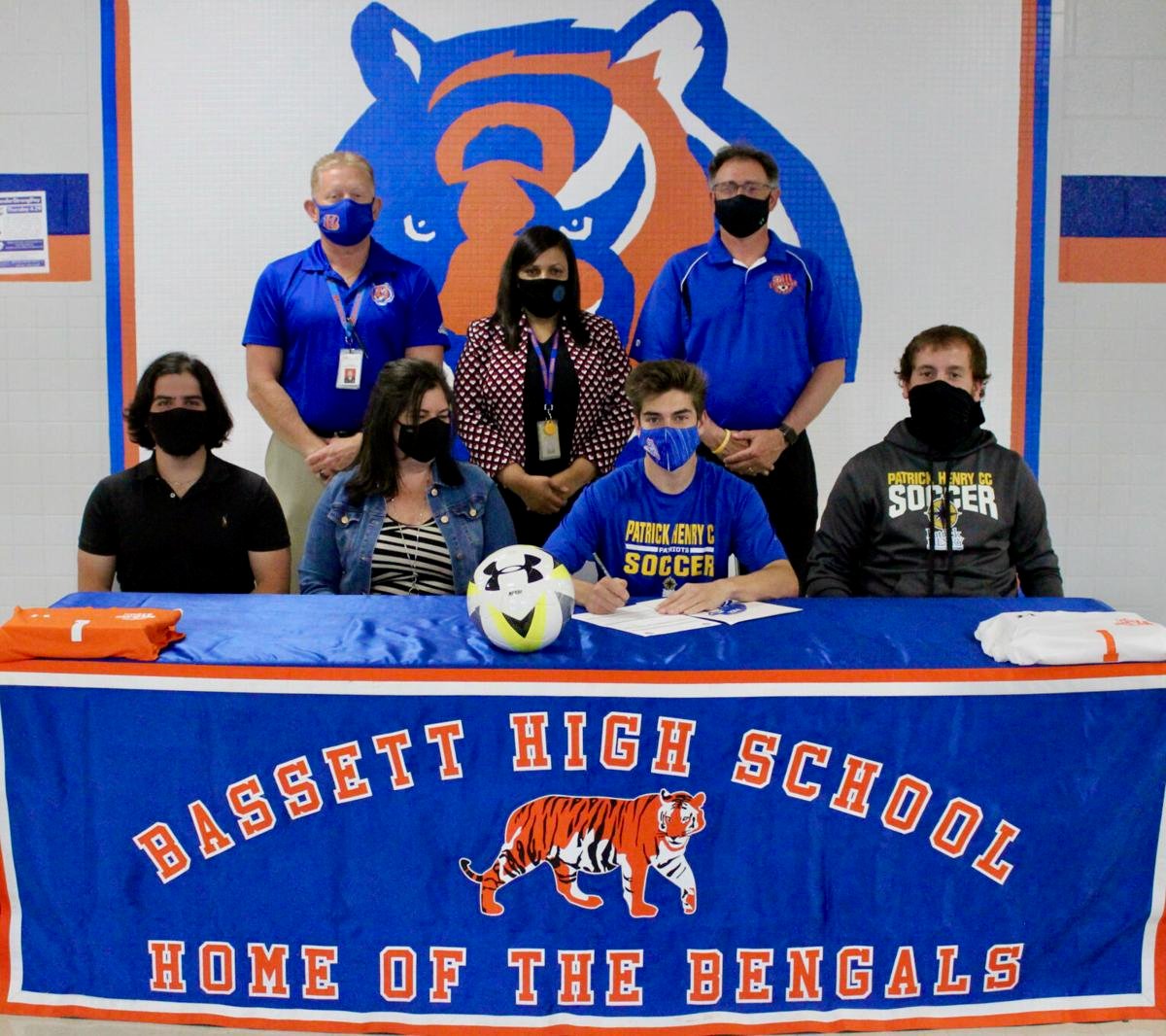 Daniel DeVivo had already made his decision to player soccer at Patrick Henry Community College, but after watching the Patriots play Wednesday night, he knew he had made the right decision.
DeVivo, a senior at Bassett High School, signed his letter of intent Thursday to play soccer for the Patriots in the fall. He'll be reunited with PHCC coach Brennan Murphy, who has also been DeVivo's travel coach with Piedmont Youth Soccer League the last two years.
"I'm excited mainly to have Brennan as a coach," DeVivo told reporters at Thursday's signing. "He was amazing. He was able to take a team from nothing and truly transform it, so I feel like going through PHCC is the best option for my future, being able to have a coach of that status and being able to move on from his system."
The Patriots defeated Louisburg at Smith River Sports Complex on Wednesday to win the Region X regular season championship. The team is currently 6-0-1 this season.
"After watching their game last night... that truly impressed me," DeVivo said. "The way they moved the ball, the team chemistry was amazing, so I'd love to be a part of that."
DeVivo played junior varsity for Bassett in eighth grade, and has been on the Bengals varsity team since his freshman year.
"He picked up the system very quickly," said Bassett boys soccer coach Larry Wylie. "Lot of talent right off the bat, made a big impact on the JV level and his freshman year as a varsity player because of his speed and his ball handling.
"Once he made that impact his freshman year, teams picked up on him very quickly and he actually grew his game. So instead of being a pure scorer and going in goal he was able to develop passing skills, holding the ball, delaying the attack until he could get help, those kind of things. So he really grew his game."
Wylie said DeVivo was a little upset that he was unable to do the typical recruiting steps like going to college camps and showcase tournaments because they were all canceled due to the coronavirus pandemic. However, Wylie said the way the Bengal plays "can make him a great player for any team."
"I look forward to great things from him," Wylie said. "He's a really smart student-athlete, so between the student-athlete part and then the soccer part, I look for great things for him coming out of Bassett."
SOFTBALL
PHCC to opener conference tournament Tuesday
After finishing the regular season with a 13-7 overall record, the Patrick Henry Community College softball team took the No. 2 seed in the Region X Division II West conference.
The Patriots will now host No. 3 seeded Southeastern for a 3-game series in the first round of the conference tournament. The first two games of the series will be played on Tuesday at noon and 2 p.m. at Martin Field on the PHCC campus. If needed, Game 3 will be played at PHCC on Wednesday.
BASEBALL
PHCC's Kelly named pitcher of the week
After throwing a complete-game shutout last weekend, Patrick Henry Community College freshman Zach Kelly was named National Junior College Athletic Associated Division II pitcher of the week, the NJCAA announced.
Kelly struck out 13 in a 4-0 win over Guilford Tech on Saturday in Game 2 of a 3-game sweep by the Patriots.
Kelly improved to 3-0 on the year with the win, and lowered his ERA to 4.66 in 38.2 innings pitched.
The Patriots (31-14, 18-6) traveled to Fayetteville Tech for their final regular season series.