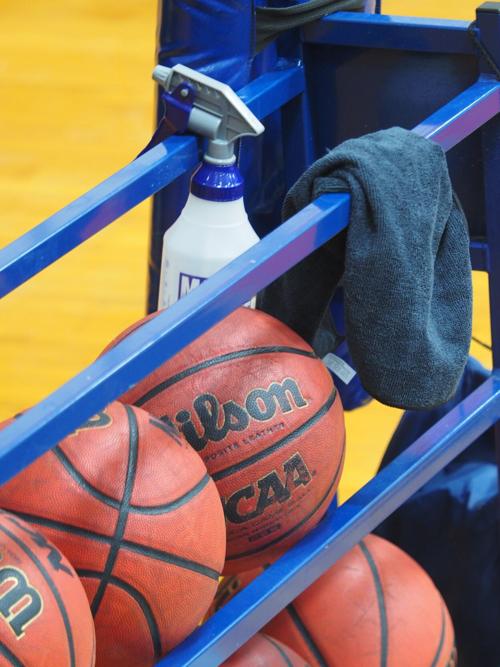 Winter sports teams at Magna Vista and Bassett High Schools will have to continue waiting to compete in games, Henry County Public Schools Director of Student Support Services Matthew Woods said by phone Monday.
Girls and boys varsity basketball teams were scheduled to begin playing games on Monday, and other winter sports teams also had events scheduled for this week, however Woods said HCPS has postponed all of those for an undecided amount of time. HCPS is following the Virginia Department of Health and Centers for Disease Control health metrics for the area, which say that there is currently a high risk for transmission of COVID-19.
"Henry County and our counterparts in surrounding districts decided it's not safe to compete right now," Woods said.
Woods said he and athletic directors at both high schools check the health metrics online every day, and have been since teams were allowed to start playing games on December 21. The online metrics system covers coronavirus transmission risks over the next seven days.
"If we happen to get to a point where it's moderate to low risk transmission, then it would be something where we might not say, 'O.K., we've already postponed those activities leading up through those many days.' We might say, 'We're going to take a look at it tomorrow or the following day if the conditions persist that we might be able to compete.'"
The decision to follow VDH and CDC health metrics was a region-wide decision across the state, Woods said, though it isn't "written in stone" that another school system can't decide to do something different.
"We don't dictate them and can't speak to it, we just know that at the beginning when conversations were being had it was something that all of us thought was appropriate to just be sure that we're putting our kids out there to compete, if possible, under the safest conditions," he said.
Henry County winter sports teams are still practicing under Phase 2 guidelines, which restrict play to individual skills and no sharing of equipment.
The postponement of games and events are blanket across all sports, Woods said, and there isn't a time when they would allow one sport to compete and not another.
As of right now, Woods said wrestling, swimming, and indoor track teams that typically will compete in large events with many schools will be restricted to only competing against one other school at a time.
"That's just to limit the risk of transmission," he said. "For example, let's say you're playing in a tournament and you have four or five different schools there. You kind of compound the risk because now you've got to look at the different metrics for all those areas instead of just one."
Woods said changes to that single-team policy when it comes to region and state tournaments will depends on what the health metrics are saying at that time. Those tournaments are scheduled to take place at the end of February.
As of Monday, Woods said HCPS had not determined anything about spectators at sporting events. Gov. Ralph Northam's COVID-19 restrictions allow just 25 spectators at indoor sporting events, however that number does not apply to players, coaches, officials, media, athletic trainers, or others required for putting on events.
"Right now we just want to make sure that conditions are safe enough for us to even compete against another team, and then be able to kind of start making those decisions as we look at the data for it," Woods said.
CARLISLE GIRLS OPENER POSTPONED
The scheduled season opener for Carlisle girls basketball team on Thursday has been postponed, athletic director Melinda Brightwell said by email Monday.
The team was scheduled to play North Cross at home. The game will be rescheduled to an undetermined date.
PATRICK COUNTY HOPES TO OPEN SEASON ON SATURDAY
A boys and girls basketball doubleheader for Patrick County High School on Saturday in Stuart is still scheduled to play, athletic director Terry Harris said by email Monday, though he cautioned that could change.
Harris said the school plans to open the season against North Stokes (N.C.), with the girls playing at 3 p.m., and the boys playing at 4:30 p.m.
Both Cougars teams were scheduled to play Magna Vista on Friday, however those games have been postponed.
Harris said the school will restrict spectators at Saturday's game to one parent per student.