On the first day of spring sports tryouts this March, the Bassett High School girls soccer team had seven girls come to practice.
That was a far cry from what is typical with the Bassett girls program. The Bengals went 15-5 in 2019, the last time a full spring sports season was played across the state. The team hasn't lost more than five games in a season in a decade and were the two-time defending Piedmont District champions.
Bassett has had enough players to field a girls junior varsity soccer team every year since at least 2010, the first season rosters are available on MaxPreps.com.
But seven was actually an exciting number for BHS boys soccer coach Larry Wylie, who had tasked himself with working to keep the Bengals girls' program afloat in a difficult 2021 year. It was exciting because, according to Virginia High School League rules, a school can field a varsity soccer team as long as there are at least seven players on the roster.
Playing games would be difficult, though, as soccer is played with 11 on the field. But, to Wylie, seven was a good start in an uphill battle.
"After that first day of practice and tryouts I got those seven girls together," Wylie said. "I said, 'Now, it's not going to be easy. It's going to be hard. You guys need to help me. We need to beat the bush. We need to get players out here.'"
Wylie and players in both Bengals soccer programs knew this year would be different. Girls soccer players said they weren't even sure if there was going to be a team and weren't informed about tryouts until late on the night before the first scheduled practice. The team was without a coach and low on interested returners.
"No one told us we had tryouts until literally like 10 o'clock the night before," Bassett junior defender Zoe Kinkema said. "So this is the team we got."
Low participation numbers has been a familiar theme across the board in high school sports this spring. When the VHSL announced in the fall a shortened spring season would be played from March-June this year, coaches were ready and assumed players would be too. After spring sports in the state were canceled in 2020 because of the coronavirus pandemic, the thought was players would be champing at the bit to get back on the field.
In actuality, for many programs the opposite has been true.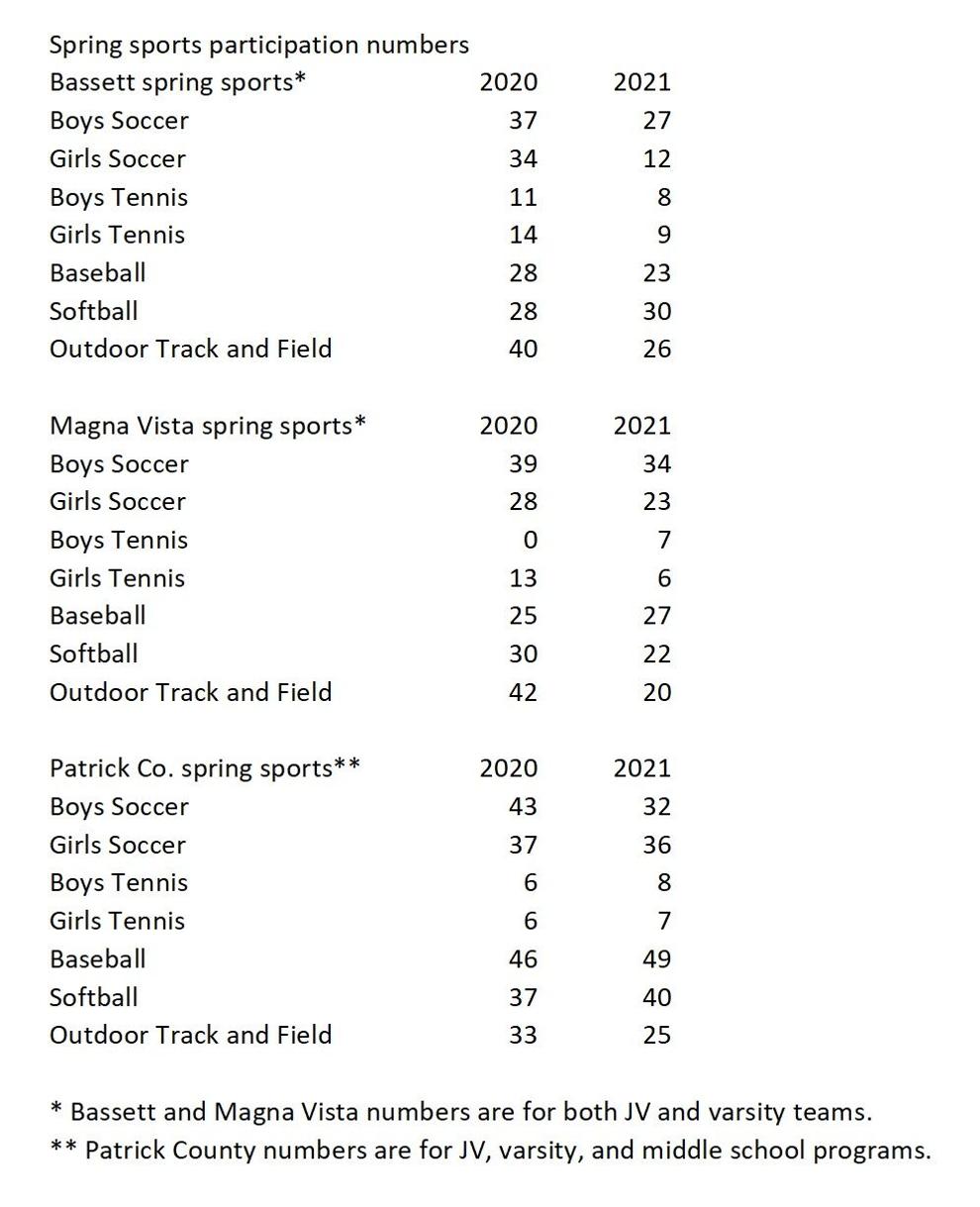 Data provided by the Henry County and Patrick County school districts show a sharp contrast in participation between the two counties. Martinsville City Public Schools elected not to field teams for any sports this past year.
Henry County Public Schools show that six of seven spring sports programs at both Bassett and Magna Vista High Schools saw number declines this spring compared to participation last spring before the season was canceled. The only increases were Bassett's softball program, which saw its roster grow from 28 to 30 players, and Magna Vista boys tennis, which had seven players after not fielding a team in 2020.
Participation overall in Bassett's three boys spring teams – baseball, soccer, and tennis – decreased from 76 to 58 students, and girls teams – softball, soccer, and tennis – saw a decrease from 76 to 51.
At Magna Vista, participation in the boys teams increased from 64 to 68 players, in large part due to the revived tennis team, however participation in girls sports decreased from 71 to 51 students.
Data broken down by gender for the outdoor track teams at both schools was not available.
Overall, there were 95 fewer spring sports athletes than in 2020, a decrease of more than 25%.
Low participation, however, hasn't been an issue at Patrick County High School. Data provided by PCHS Athletic Director Terry Harris show the school actually has seen an increase in participation in four of eight spring sports from 2020 to 2021, and an increase in all but one sport from 2019 numbers.
Among middle school, junior varsity and varsity programs, the 197 players competing this spring at Patrick County is an increase from 158 in 2019, and only a slight decrease from the 208 playing in 2020 before the seasons were canceled.
Harris said the school was "very lucky" to have not seen the same participation decline as other schools and that he believes a big reason is because Patrick County returned to a hybrid model of in-person and virtual learning in September. Henry County went back and forth between in-person and virtual learning, with students going back into schools four days a week in April.
"Even though some athletes may have chosen the virtual option, I still believe having the students in the building helped tremendously," Harris said in an email.
Most difficult season
Between a constantly changing schedule, a constantly changing roster and on-the-field and off-the-field issues, Wylie said this has been the most difficult season of his coaching career.
Coming into the year, there were a number of seniors who came to Wylie to explain their situations for why they couldn't or wouldn't play soccer this spring. For a program that typically has 60 to 65 players at tryouts for the JV and varsity teams, this year there were 28. The team has only played two JV games.
"We pretty much kept everybody, which is very unusual for us," Wylie said.
"I told the ones who didn't play, that's fine. Those are decision that they make, and I wished them the best of luck and told them if there was anything I could do to help, I'm more than willing to be there. But I had 28 guys come out for soccer. We had to move on with those 28 players."
At Magna Vista, softball coach Brian Brinegar said his program was in danger of not having enough players to field a JV team for the first time in the 18 years since he has been at the school. Just 12 players showed up for the first day of Warriors tryouts, and Brinegar said he had to "scrounge around and beg and plead" girls to play.
The team eventually had to stretch tryouts into a second week just to have time to recruit new players.
"Honestly, I've never had a situation of having to beg any girl to show up to play," Brinegar said. "Even girls who had never played before. I was trying to figure out how to get eighth graders over there to play. … It was bad."
After players missed an entire season last year, there were young athletes who didn't get a year to develop at the JV level now being forced into varsity roles.
For the Bassett girls, there were also now new recruits who had never even played soccer before as well as a new coach. Elizabeth Barbour was hired as interim head coach a couple of weeks into the season.
The Bengals have only on rare occasions had a full 11 players for games, and have lost three to injuries, which Barbour attributed in part to players having to play an entire 80 minutes night after night.
"When you are playing 10 or 11 girls for the whole hour and a half and their endurance was not where it should have been, when you get that kind of tired on the field you make mistakes and your play gets sloppy," Barbour said. "So I think endurance has been an issue probably for us, having zero subs and even playing with a lower number on the field."
Why no players?
Wylie said why students decided to sit out this spring is a "multipronged" issue.
He pointed to things like students getting jobs, making money for the first time or needing to help their struggling families.
Grades have also had an effect on teams, with students' struggling to maintain eligibility while studying virtually. HCPS had reported a rise in the number of students failing classes while they were being taught virtually.
Brinegar said students deciding to stay with virtual learning instead of going back in-person has also hurt, especially with younger players who are unable to get rides to practice.
There's also still a fear of COVID-19.
"The whole underlying factor was, until recently we didn't have a COVID-19 vaccination for high school-aged kids," Wylie said. "And I think that was an issue with several parents, and even kids. That thought, 'I just don't want to get it. I've done whatever for eight months, I've been locked in my house, I haven't gone to the store, I haven't done this. I don't want to go to practice and get it.'"
Barbour believes there was also a fear among students about not being physically ready to get back on the field.
"I think a lot of them probably felt like they were out of shape because of COVID and being quarantined and not being able to get out and do things. A lot of them didn't keep up with their normal routine," Barbour said. "And maybe because they didn't have somebody to train with or maybe their friend group, they couldn't get together and go work out like they normally would or train. I feel like that might have been some of it."
While there are many factors that led to players' decisions to not play, ultimately students think that after more than a year of quarantine their peers just became interested in other things and didn't want to play sports anymore.
"Because we're used to just staying at home, they don't want to get up or out of the house," Kinkema said. "A lot of the people are virtual [students], and they don't want to put the effort into coming to practice."
Said Bassett junior Alanis Osgood: "I think COVID kind of made everybody more used to not doing anything."
Maintaining a program
Former Bassett girls soccer coach Brian Hill resigned his position sometime in late 2020, and the Bengals did not have a replacement until Barbour was brought on, so the girls practiced with Wylie and the boys for the first couple weeks of the season.
Players said they think not having a coach at the start was a big factor in why it was tough to recruit players. Wylie wanted to let the girls practice with his team because he knows how difficult it can be to restart a program that has folded. He helped start a women's soccer program at Patrick Henry Community College and coached the team for several seasons. But the Patriots, too, have since struggled with getting recruits and playing a full schedule.
"It's easier to start a new program or a new sport because people are interested in it. They want to come out, they want to play, they want to check this out and see what it's about," Wylie said. "But if you lose a program, it's very difficult to rebuild that program. And the Bassett girls soccer program has been strong within the district. … I know they're really struggling this year as far the win/loss column goes, but the 11 or 12 girls who are out there, they have worked their butts off as far as doing it.
"I've talked to them, they've come to me after games, they've come to me after practice, they've caught me in the hallway and I just keep telling them, 'Don't quit.' It's not about the wins and losses, it's about keeping the program. Basically you're playing this year to keep your program for next year, and you have to stay on the field. If you can keep them on the field, then you're a step ahead."
Coaches believe it will still take some time to build all programs back to where they were pre-COVID. For one thing, high schools aren't the only area that has seen fewer participants.
Daniel Reynolds, deputy director with Henry County Parks and Recreation, said in an email Friday the county offers six different age groups from 7-14 in baseball and softball, and each league is missing one to two teams this spring. Reynolds said he guesses they are missing around 150 athletes overall.
With fewer kids playing sports, there are fewer feeder programs for the high schools.
And, with Henry County keeping the option for students to stay with all virtual learning this fall, Brinegar is afraid the 2022 season may be much of the same as this one.
"I really honestly think it's going to take two or three years to get back to normalcy," Brinegar said. "I think until they're made to go back to school every day I see it being a problem for a while."