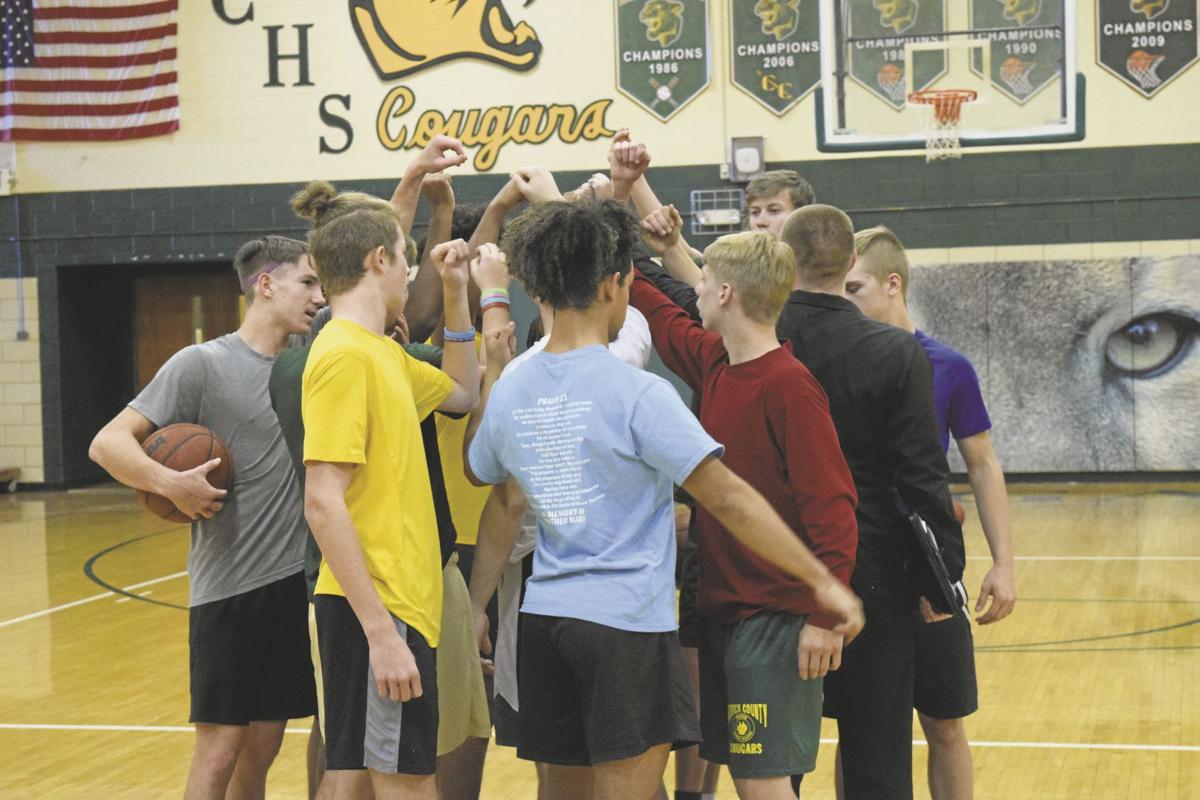 Don't expect to see much size when you go see Patrick County's boys basketball team.
When R.J. Hagwood and Matt Amos graduated last year, so too did the only size the Cougars had.
Head coach Andrew Terry has been planning for this since last season and has been conditioning his team to be able to run for 32 minutes in an effort to cover up the lack of an interior presence. The team has players that can get to the rim and others that can shoot from the outside.
"Driving and shooting. That's what we're working on right now," Terry said. "We've got guys that can get to the rack, we've got guys that can step out and shoot it and that's what we're doing. We're running a five-out this year. We're not putting a post in the middle."
There are only two seniors on the team this year and both provide that range Terry spoke of. Brandon Hubbard and Hunter Lawless are guys that need to knock down shots to open up the rest of the offense. Junior point guard Frankie LaComa and sophomore point guard DeAndre Reynolds, along with junior forward Darius Hagwood, can get to the rim, but having those players to kick it out to creates a tough offense to stop.
"We've got to be able to shoot the ball. A lot of teams scouted us in the past and I think they think we can't shoot," Terry said. "I'm going to start five guys that can knock it down from the outside and five guys that can get to the rim… (Hubbard and Lawless) knocking shots down from the outside is really going to open up the driving lanes for Frankie, DeAndre and Darius."
The Cougars want to push the pace on the offensive end. For that offense to be successful, LaComa and Reynolds need to be smart and efficient with the ball in their hands. Terry said he is not worried about either of those guys because he's confident they will make the right plays.
"Basketball IQ wise, (Frankie) and DeAndre are probably the two smartest," Terry said. "They understand the game, they understand where people are supposed to be and it's just about getting those guys to be more vocal."
The biggest challenge for the Cougars will be maturing the young players who are new to the varsity level. Terry said that there are five sophomores on the team and five players that have never played varsity before. That lack of experience showed in the team's first scrimmage last week against Pulaski.
"When our starters were in we won 26-20. When I had no starters in we lost 20-2. When I had a mix of both I think we lost by eight or 10," Terry said. "That's something we're going to be working on."
One reason Terry is confident that it will get fixed is because he is seeing a chemistry that will eventually lead to success on the court.
"That's the one thing about this group. They all get along. They've all played together for a long time," Terry said. "They know each other well. They hang out outside of school. There's a lot of chemistry there that I really like."
Last year's season ended with a blowout loss at Hidden Valley. In that game, and in some others throughout the season, Patrick County would fall behind early and not be able to get back into it. This year, Terry believes the mental toughness is a lot better.
"I don't think we have guys that are going to get down and stay down like we've had in the past." Terry said.
Be the first to know
Get local news delivered to your inbox!