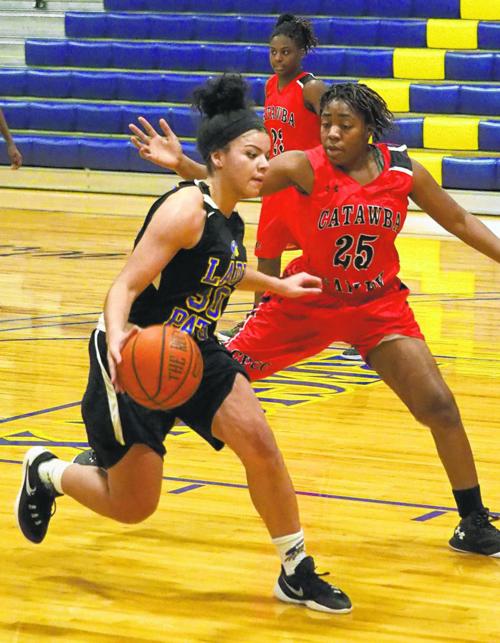 Patrick Henry Community College (PHCC) women's basketball went through a tough 2015-16 season. The Lady Patriots went just 8-15 on the court and then were dealt a big loss off of the court.
Head coach Brian Henderson said that the death of Ruth Oluwabukola Omolola has already played a huge part in preparing for the upcoming season.
"We learned that we needed to be more of a family. That we needed to grow together on the court and off the court, that is the biggest key that I'm seeing right now," Henderson said.
The Lady Patriots have dealt with tragedy, now they want to dedicate a winning season to Omolola.
PHCC enters the season led by 2016 All-American Ebony Reynolds.
"When you have a teammate that you can actually see is not just coming in living up to the success she had last year, but she's actually coming in better," Henderson said of Reynolds. "She's bigger, she's stronger, she's faster, she's in better shape than she was last year so that's huge for the freshmen coming in."
Henderson said Reynolds is a great scorer, but this year the other end of the court is where improvement was needed.
"The stats show that she can score the ball, but now we've got to stop the ball too," Henderson said. "So, that's one of her main focuses this year. One of my main goals for her is to be more defensive minded and have better defensive awareness. Can she do it? Yes, she has all the ability in the world."
Henderson said he's got a few other returning sophomores that have also improved a ton over the offseason and should play big roles this season.
"Lexi Dabney is our point guard. She has taken huge steps. She led us to some big victories down the stretch last year and that showed that she grew throughout the season," he said. "She's taken that growth and really worked on her game this summer and now we see a whole different Lexi Dabney and I believe the world is going to see a young lady that can help a lot of basketball programs at the next level."
"Then we have Kedra Bradley who is also a returner," Henderson continued. "She's one of the most athletic guards we'll probably have in this league… Then you have Laprecious England, who is going to be our super sixth man. We really want Laprecious not just to focus on coming in and being the point guard to run the show, but also score the ball."
To go along with the returning sophomores, Henderson has a few freshmen he expects to have big impacts on the season.
"We were able to Kaliya (Barbour) and one thing we saw out of Kaliya was that the aggressiveness she comes in with as a freshman is something that not many freshmen are going to be able to match up with," he said. "She is defense first and offense second and that's something that I love being a coach. I know that I have a player that's going to go out there and do everything we need defensively and at times will score from the defensive side of the ball."
Jakeema Lester will start at center as a freshman and Henderson said he is really excited about her potential.
"She is bigger and stronger than most posts we're going to play," Henderson said. "I honestly believe she has no idea how good she is going to be, I just hope to be able to get her there."
The record wasn't great last year, but the Lady Patriots won four of their final six games, which Henderson focuses on more than the overall record. The confidence built on from that strong finish, combined with the added emotion going into the season, Henderson feels really good about this year.
"This team can be very special and I use that word every time I talk about this team because the growth that we've had to come, because of the strength that I saw these ladies overcoming adversity, overcoming the tragedy… I feel like this team is special because of those things and I'm just blessed to be the coach of them," he said.
Henderson said the team goal is to get to 20 wins. He said that gives his team a chance to contend for a Region X championship and maybe a shot at advancing to the national tournament.
To get there, it starts with gaining confidence early in the season.
"Confidence, confidence hands down," he said. "Freshmen coming in not being scared to mess up, confidence in our sophomores understanding that they learned a lot and that they just got to put it together on the court, confidence in my assistant coach Zara Pearson to be able to speak her mind freely, let me know when I'm making a mistake, go ahead and give me her opinion or suggestion on something that she sees that she wants to do and then ultimately, last but not least, for me just confidence in myself to know that I'm doing everything right, that I'm trying to put these young ladies in a position to win, not only on the court, but off the court."