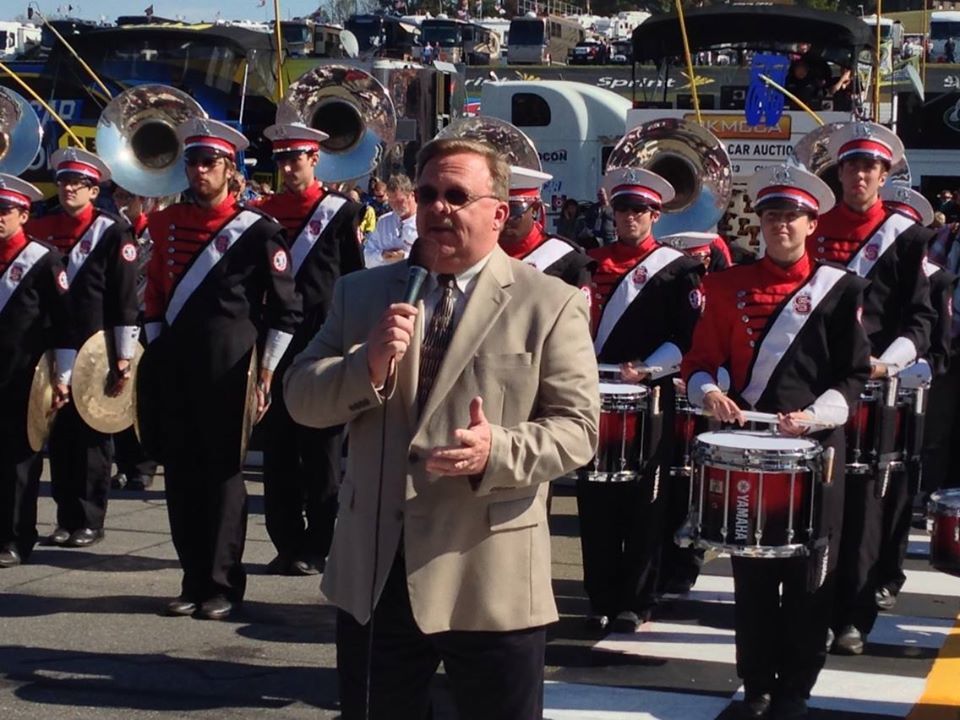 Mike Hatfield knows how precious those 25 seconds are.
In that time, Hatfield usually must pay homage to a racing family that has lost a loved one while also recognizing God's presence at the track and acknowledging any current events in the world that need a prayer for peace.
As a former radio DJ and news and sports reporter for WHIR radio in Central Kentucky, Hatfield learned to be economical with his time.
The invocation at Martinsville Speedway, and any other racetrack, is a succinct affair. It must be perfectly timed, just like the National Anthem, and say everything that needs to be said.
"There's almost always a flyover, and there aren't brakes on those things," Hatfield joked, "so timing has to be right there."
For the last 20 years, Hatfield, 57, has been the senior pastor at Chatham Heights Baptist Church in Martinsville. Shortly after he arrived in town, he met and developed a relationship with Clay Campbell, the president of the Speedway. In 2012, Campbell asked Hatfield to serve as the track's primary voice for the pre-race invocation, and Hatfield has missed only one race since then.
Hatfield will add a second missed race this week when he and all other racing fans must watch the Blue-Emu Maximum Pain Relief 500 from home. NASCAR has not yet allowed fans back into the stands following the onset of the coronavirus pandemic.
Hatfield is not so much concerned about missing the opportunity to give the invocation as he is about racing fans missing out on experiencing the first Cup Series night race at Martinsville Speedway.
"It's a NASCAR Woodstock up on that hill," said Hatfield, whose house is less than a mile from the Speedway. "It'll be different not having fans there because it's one of the more personal tracks. It'll be surreal to me."
The race is scheduled to start at 7 p.m. Wednesday and will be televised nationally on FS1 and FOX Deportes.
In Hatfield's place will be a prerecorded invocation likely prepared by NASCAR. There will also be a prerecorded National Anthem, and there was no flyover scheduled as of late last week.
The day will also surely be different for Michael Harrison, a member of Raceway Ministries Martinsville and the senior pastor at The Community Fellowship in Collinsville.
On normal race days, the ministry has 60-80 volunteers from around the region helping pass out refreshments, direct handicap parking traffic and hold a pre-race worship service.
On Wednesday, the ministry will still have a presence at the track—maybe 15 or 20 people, Harrison said, working at the Speedway's direction—but it won't be the same without the normal crowd.
"We serve race fans," said Harrison, 49, "and there's no one there. We're sad about that, but we understand."
For a sport with Bible Belt roots and a tendency to become dangerous enough to require prayer, the religious traditions that make up part of the racing experience at Martinsville Speedway will be noticeably different or absent altogether.
To what extent can a ministry serve if there is nobody around to serve? Harrison said that though the stands will not be filled with fans for this week's race, the ministry still has a purpose and plans to be back at future races.
"Our group is about loving people," he said. "As we look at it, the scripture tells us to be ambassadors of Christ, but we know and understand we're ambassadors of the Speedway (also), and our desire is to help NASCAR have a great event and help Martinsville Speedway be successful."
Hatfield, too, will have to focus on the next race. Until then, he'll watch the race at home this week. At times, he might head out to his back deck where he can listen to the engines and tell if the race is in a caution or not.
If Hatfield were to deliver the invocation this week, he knows he would have to craft a thorough and thoughtful message into his 25 seconds.
Not only is the U.S. still grappling with how to address the coronavirus pandemic, but the country is also in a state of unrest following the death of George Floyd, a Black Minneapolis man who died in police custody on May 25, an incident that sparked demonstrations nationwide calling for police reform and racial equality.
"I'm always cognizant of what may be happening with that immediate moment," Hatfield said. "You would be a poor steward of the time if you were to not in some small way bring that to the forefront."
Hatfield said that's no different from racetrack personnel asking him to acknowledge the death of a member of a local or prominent racing family.
"You mention asking for peace and grace for that family," he said. "You'd do the same thing for our culture and our society. I definitely craft the message in that direction."
Parker Cotton is a sports reporter at the Martinsville Bulletin and Danville Register & Bee. You can reach him at (276) 638-8801 ext. 215. Follow @ByParkerCotton.
Parker Cotton is a sports reporter at the Martinsville Bulletin and Danville Register & Bee. You can reach him at (276) 638-8801 ext. 215. Follow @ByParkerCotton.
Be the first to know
Get local news delivered to your inbox!