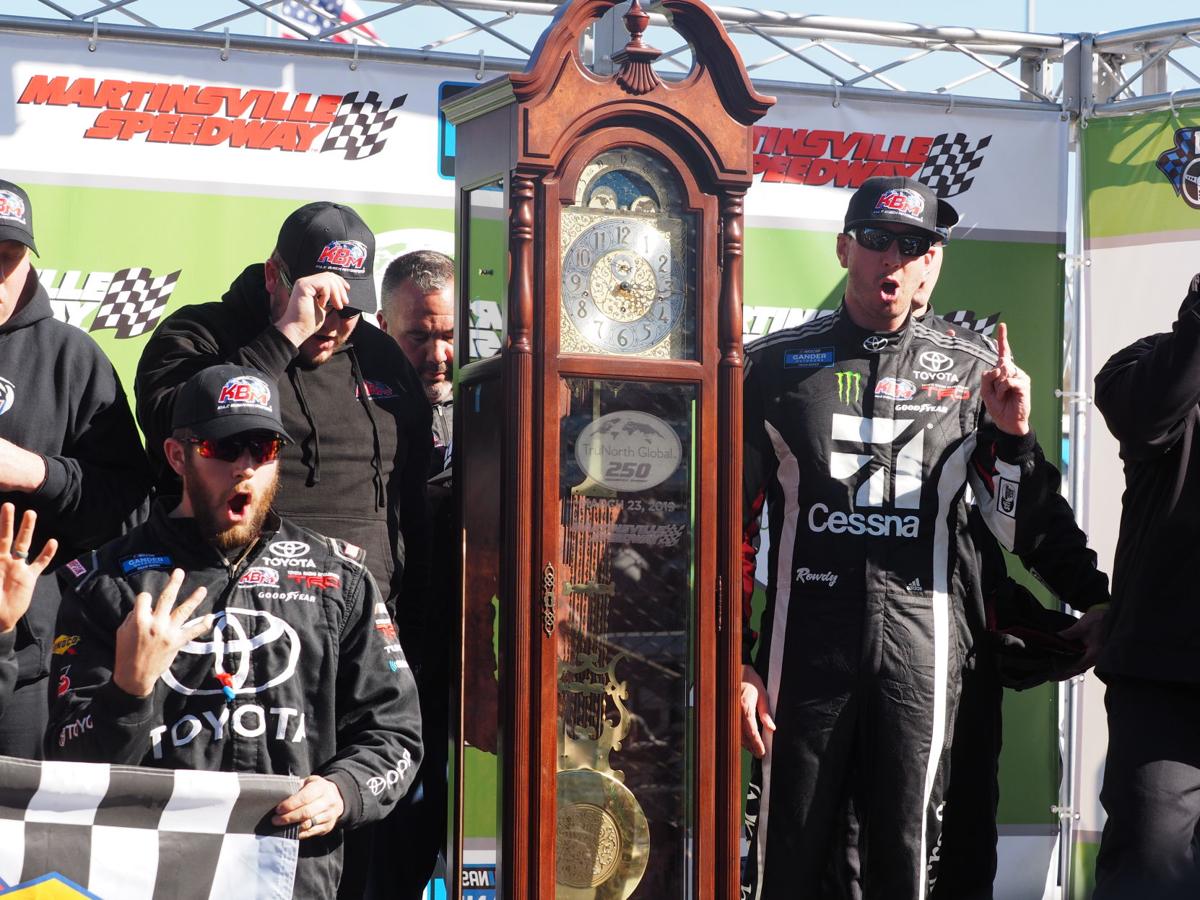 Kyle Busch won his 200th career NASCAR race last week at Fontana. 
On Saturday, he began his quest for the next 200.
Busch won Saturday's TruNorth Global 250 for his 54th career NASCAR Gander Outdoors Truck Series victory and his fourth grandfather clock at Martinsville Speedway. 
There were few times Busch's victory Saturday was in doubt. After starting second behind Stewart Friesen, he dominated early, leading 62 of the 70 laps in Stage 1 on the way to an opening-stage victory. 
"We had a pretty good truck. Everything we did to it yesterday and trying to improve on it, make it better for today was certainly beneficial," Busch said. "The guys worked really hard on some good changes, some smart changes, especially overnight getting us ready to go for the track conditions today. Overall a good day."
On Lap 119, Daniel Sasnett spun in Turn 3, bringing out the caution. Busch pitted, while Stewart Friesen and Ross Chastain stayed out. Busch was the first off of pit road but lost four spots, restarting fifth. 
Chastain then took the lead from Busch, and led 53 laps, including on Lap 140 when the second stage ended. Chastain has run in every NASCAR race in the top 3 series this season, but has yet to pick up a win.
Chastain held off a charging Busch for a couple laps, but Busch got the pass on Lap 185 and held it the rest of the way. 
"When guys were racing hard and trying to get that second stage ... we just kind of bided our time and waited and made moves when we needed to," he said.
Saturday was Busch's second Truck Series victory at Martinsville Speedway. It's also his third victory in three truck races this season. 
Per NASCAR rules, a Cup Series regular can only race in five Truck Series races per season. Going a perfect 5-for-5 wasn't the goal for Busch coming into the season, but it is now.
"It wasn't necessarily a goal, it's kind of an expectation," he said. "We just go out there and ... work hard, smart, and today we just kind of let the race kind of play itself out and come to us, if you will."
Busch race at Texas and Charlotte to finish his Truck Series season. He also is allowed seven Xfinity Series races, with two victories and a second-place finish in three races so far.
NASCAR's hottest driver has seven victories across 11 starts across the three series this season. He will start Sunday's STP 500 in 14th position.
"It could have been nine or 10 [wins] probably, that's was the scary part is," he said. "If it wasn't for some simple mistakes."
"Just going out there and doing a good job, working for some great people and having the opportunity to drive fast up is pretty cool right now. Putting ourselves in the right spots and doing the right things to do when it matters most to win."
Other notes from Saturday:
Chastain finished fourth on Saturday, his second-best finish in the Truck Series this season. He has yet to finish in the top five in either the Xfinity or Cup Series this year.
Friesen won the pole for Saturday's race, and led 19 laps but fell behind after Stage 2, finishing fifth. His fifth-place finish was enough to jump ahead of Grant Enfinger in the Truck Series standings.
Ben Rhodes finished second, but he never really competed with Busch for the lead. Rhodes started the day in the back of the pack, at 16th. He was 12th after Stage 1, and 7th after Stage 2. The driver of the No. 99 car has won two poles at Martinsville, but Saturday's second is his highest finish and just his second top-5 in eight career Truck Series starts at The Paperclip.
Defending Truck Series champion Brett Moffitt is still looking for his first career victory at Martinsville. Moffitt started the day fifth, and was 17th after Stage 1. He was able to move into the top five on Lap 96, and was running second during the caution on Lap 120. A bump four laps later pushed him back to fifth, where he was at the end of Stage 2. He finished in 3rd.
 Moffitt is third in the Truck Series points standings. His finish Saturday was his third of third or better this season, though he does not have a victory.​
Be the first to know
Get local news delivered to your inbox!