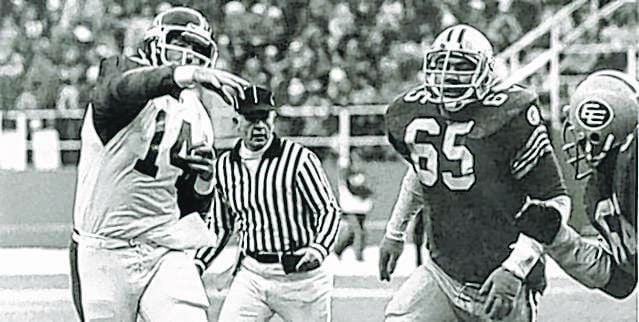 It's not every day that you find a former professional championship winning quarterback in your own community, but Martinsville is amongst a select group of places to share that honor.
Former Canadian Football League quarterback and Martinsville High School star Sonny Wade still calls the Martinsville area home as he now resides in Axton.
Wade attended Martinsville High School from 1961 to 1965 and was a multi-sport star. During his time as a Bulldog, not only did he shine on the gridiron, but he also starred on the hardwood and the baseball diamond. His baseball talents did not go unnoticed, he was drafted by the Pittsburgh Pirates. During the 1964 season Wade was named to the all-state football team as both a quarterback and a punter.
After graduating from Martinsville in 1965, Wade moved on to play college football, beginning his career at Virginia Tech. According to Wade, during his freshman season he was one of nine quarterbacks on the roster, which included recently retired Hokie head football coach Frank Beamer.
He remained with the program through his freshman season and then at the beginning of his sophomore season, after a difference in opinion with the coaching staff on how the offense should be run, he decided he was going to transfer from the program, not knowing at the time would he would be heading, but knew a change was needed.
Wade eventually found himself at Emory and Henry College. He was a signal caller for the Wasps from 1966-1968. In 1967, he led the nation in scoring with 141 points and in 1968 his team led the nation in yards a game, gaining a record of 553.3 yards per game. As a reward for playing a huge part in his teams' offensive power, he was selected to two all-American teams, in 1967 and 1968 respectfully. He was also awarded the Virginia State Player of the Year award in 1966, 1967 and 1968.
His play in college got him noticed by professional scouts and in 1969 in the tenth round, at pick number 236, Wade was drafted by the Philadelphia Eagles. After the draft the entire Eagles front office had been fired and that left Wade in an interesting position.
It was at that same time that he was drafted by the Montreal Alouettes of the Canadian Football League.
"The coach from the Alouettes came down to visit me at the college and I decided to sign and go up there," he said.
Wade played in the CFL from 1969-1978. During his 10 seasons, he completed 51.9 percent of his passes, threw for 15,014 yards and 89 touchdown passes. He still holds the Alouettes record for most punts with 852.
His three Grey Cup MVP awards puts him in a tie with former Buffalo Bills quarterback Doug Flutie. All of his accomplishments helped him to become inducted into the Virginia Sports Hall of Fame in 1994.
Wade said that while hockey is the main sport in Canada, Canadians still have a passion for football.
"There's still a lot of interest in football, but also Montreal at the time I was up there had a baseball team, the Montreal Expos and that was a big deal too, but we did have some success," he said. "The difference in the Canadian League and the NFL is you have 12 players on the field at a time instead of 11 and the field is larger, the field is 110 yards long, you actually have a 55 yard-line and 20 yard end-zones, so you could be on the 10 yard-line and throw a post pattern if you want to, you had room to do that."
Wade said the bigger field had an effect on him.
He said he felt, being young, that he might have a better opportunity to play sooner in his career if he went to Canada. He also said the uncertainty with the Eagles organization at the time concerned him, but said that Montreal had shown a real interest in him which ultimately was a determining factor in his decision to go north of the border.
"Looking back I wish maybe I had gone back to the NFL. The retirement from the NFL is pretty much no comparison from what you got from the CFL, but we had a lot of good times in Canada and some successes," he said. "We played in the Grey Cup several times and were fortunate enough to win it three times and again I was fortunate enough to be the MVP in those three wins."
With his playing days long behind him, Wade said he has made the trip back to Montreal several times, including a few years ago to celebrate the 100th anniversary of the Grey Cup. The Canadian Postal Service honored the CFL with a stamp for each team and Wade selected to be featured on the stamp for the Alouettes.
Living and playing in Canada presented its own challenges for Wade, but he said he was always able to have his parents up to attend at least a couple of games each season. He was married in 1972 and decided to hold off on having children for awhile as he did not want to have to worry about his family constantly coming and going from Montreal to Virginia. He had his first of three children in 1978, the final year of his playing career.
Wade said he still tries to catch some CFL games on television, but said it's hard to find them on in the states.
"I've got friends that I played with up there that I talk to regularly and kind of keep up with it that way," he said.
Wade enjoyed his time spent in Canada, but said ultimately Martinsville is home.
"Montreal was a wonderful place, it's a big city, but I guess I'm kind of a country boy at heart and I wanted to come back and live here," he said.
According to Wade, high school football in the area is currently in a good place.
"High school football is a wonderful thing for the kids and the community too, it gives them a chance to see what it likes it to play a team sport, where you're part of a team," Wade said. "It prepares you for later life when you're working for a company or so forth, you're not doing it for yourself, you're doing it as a team and as an organization."
The 68-year-old can now be found enjoying the retired life in Axton. He is married and has three sons, who are adults and live in different parts of the state of Virginia. Maybe most importantly, Wade is an expecting grandfather. His oldest son has both a boy and a girl and lives in Patrick County, but works in Martinsville. His middle son lives in Richmond and is expecting his first child. His youngest son currently lives in Norfolk where he is doing his residency in radiology.
Wade officially retired in 2000 and said now he enjoys the outdoors, spending time hunting and fishing and now lives on a farm and said he does some farming to keep him busy.