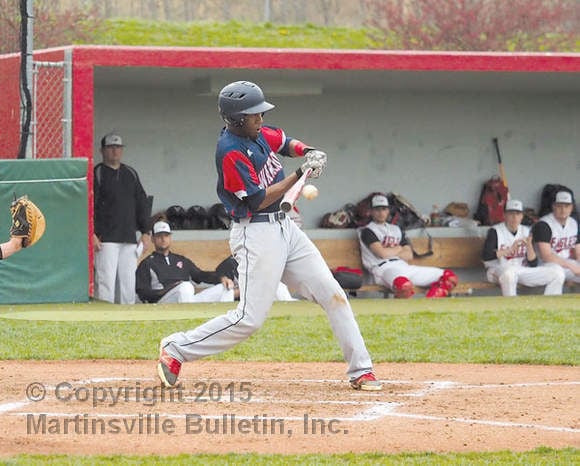 The Magna Vista sports program has had a banner school year, and the Warriors diamond sports teams are looking to continue that success for the school as each is off to a hot start to their season.
Magna Vista's baseball team currently has a 5-2 record this season, with the only losses coming against Dan River and Franklin County. Head coach Rick Ramey said his team's success lies in their ability to manage all facets of the game well enough to always put them in a position to win.
"We're hitting the ball, our offense has been very productive thus far. Defense is much improved. We're getting solid pitching performances too," Ramey said. "Right now we're doing all three pretty well. We're doing eveything we need to do to give ourselves a chance to win."
The Warriors lineup top to bottom can be deadly to opposing pitchers, which starts with leadoff hitter Jeb Belle.
"Jeb's real good job in the leadoff spot," Ramey said. "He gets on base a lot, gets a lot of hits, and gets a lot of walks."
Ramey said his top four hitters, Bell, Brandon Crowder, freshman Devin Page and cleanup hitter Cameron Brummitt, have all been hitting the ball solid this year, but he points to the bottom of his lineup as a strength as well.
"They (The 5-9 hitters) have contributed in games when we haven't hit at the top," Ramey said. "One of those guys has always come through when we need them. It always helps when players at the bottom can help you out."
One of the players Ramey mentioned is Bryar Turner. Turner and Crowder have not only come up big in the Warrior's lineup, but Ramey said they are his most consistent pitchers and his "go to guys" when he needs an ace on the hill.
With the VHSL rules that put strict limits on how many innings a pitcher can throw in a week, having a number of players who can throw proves to be invaluable during the stretch runs of the season when a team can sometimes have as many as four games in one week.
"I have potentially six (players) that can pitch," Ramey said. "But when you're trying to play four games a week, you're looking at minimum of 20 innings. Fortunately at this point I've had three pitchers that've been able to go out and go deep in game. So, that's a plus. But, if you have a four-game week you really have to try to look ahead and put yourself in position that you have enough pitching the next night."
The Warriors have proved their case to be one of the toughest teams in the Piedmont District. The toughest thing for them will be gauging how they stack up against the rest of the teams in Conference 31, according to Ramey. Their conference includes Northside, William Byrd and Lord Botetourt, none of whom they face during the regular season. But playing well against a tough slate of Piedmont District schools can be a good indicator of how good a team is, Ramey said.
"it's a very tough league," Ramey said. "G.W.-Danville, Franklin County and Halifax are bigger schools. There's no easy nights, you have to go out and play each night and perform.
"It's good to get out of the gate (with several wins). You can feel you're doing well and playing well, but in the Piedmont District you can be humbled prettty easily on any given night. There's a lot of talent," he added. "I have a good group of kids. They're hard workers. We're hitting the ball now, we're playing defense, we're pitching pretty well. You put those together you're gonna put yourself in a good postion to win."
The Warriors softball team is currently off to a 3-4 start. In seven games they're already one win away from tying their number of wins from last season. Coach Brian Brinegar said his team's 4-16 record in 2014 was his worst in the 9 seasons he's been coaching the Warriors.
This season already looks to be far and away better than the last, thanks in part to what Brinegar calls a surprisingly good lineup.
"Surprisingly, our hitting has been a big strength for us. It's much better than I was expecting it to be," Brinegar said. "I knew we'd have two or three good hitters, but we've got some hitters near the bottom of the lineup that have come through for us."
One of those big hitters is Taisha Deshazo. The star on the basketball court has the ability to hit just about anything over the fence. She went deep earlier this month on Patrick County power pitcher Cassidy Largen.
"She's (Deshazo) a really big help for us," Brinegar said.
Brinegar also said his team's success comes on the pitcher's mound. Senior Jasmine Agee already has a perfect game under her belt in the first game of the season against William Fleming. She's pitched every game this season for the Warriors.
"I think the season is going pretty well. The loss to Franklin County was the only game I haven't been pleased about... but even with some of the losses I've been very pleased with the effort and how we kept going and kept our heads up."
Both the softball and baseball teams are 0-3 against the rain this week, as the weather has postponed games right in the heart of their seasons. They're both scheduled to play against Smith River Rival Bassett on the road Friday night, weather permitting.
Be the first to know
Get local news delivered to your inbox!