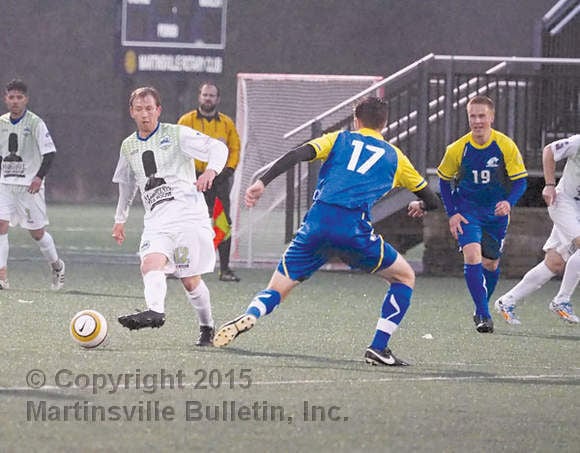 Despite a misty, cool night at the Smith River Sports Complex on Thursday, the Patrick Henry Community College (PHCC) men's soccer team still managed to enjoy an evening of competitive soccer.
Regardless of a 4-1 loss to lower tier professional club Gate City FC out of Greensboro, N.C., Patriots head coach Enda Crehan said it was a great experience for his returning players. As PHCC winds down its spring training schedule and scrimmages, preparation for the fall season is officially underway.
James Lee gave the Patriots a positive finish as his goal on a Carlos Sifuentes cross inside the final 10 minutes capped a difficult night for the PHCC offense. Several scoring opportunities either were wasted or stopped by the opposing goalie prior to the late goal, the only real criticism Crehan had for the night.
"These games prove to the guys that are returning that if we focus with the new guys coming in we can be a force nationally," Crehan said. "We were poor in front of goal but the result doesn't mean as much. It's more of an education opportunity for my guys. At the end, we kept pushing, and it was nice to get a goal."
Carlisle School boys soccer coach Jeff Lochrie — who replaced Crehan when he moved to PHCC — saw 60 minutes of action for Gate City on Thursday. As one of the senior leaders and captains of the Generals, this is the second go-around in the professional ranks for the UNC-Greensboro graduate. Following a bad experience playing professionally after college, Lochrie said this opportunity in Greensboro is a special one.
"To get a chance and do this again and have fun with it is really cool," Lochrie said. "I said I was done, but I have a passion for soccer, and so the way I ended before wasn't cool. But that's how it works if you're not playing or having a good time. Now, to come back and be able to play with a team that isn't totally serious while being able to enjoy myself has been great."
Gate City FC joined the National Premier Soccer League last season in its inaugural year. The NPSL is looking to develop into a more college-based league. The Generals have since dropped out and will play a non-affiliated schedule against a variety of professional teams this season, Lochrie said. It was the third game of a five-game preseason schedule for the Generals, who will open their home schedule May 9 against Chesterfield United.
Coming off a 4-1 loss to Rock Hill almost two weeks ago, Lochrie said Thursday's match demonstrated more communication and cohesiveness. Hoping to jell more and become more fluid with the new collection of players, Lochrie said he's excited to see what his team can do for a few months during the summer.
PHCC was its own worst enemy as each mistake in the back turned into a Gate City goal. The final goal scored for the Generals was ironically struck by recent Patriot signee David Osuji. It took Gate City 15 minutes to crack the scoreboard and then just two minutes into the second half to add to their lead. For the majority of the first half, both teams had a series of quality chances and played fairly even with one another.
"I think the college guys get to understand the old man strength and the experience that some of these (professionals) have," Lochrie said. "I've played at different levels and have seen a lot. This game is a little faster, and the players are more smart professionally."
Crehan said the match was good practice in simulating a matchup against Region X powerhouse Louisburg College. For returnees like Connor O'Dwyer, Mauricio Moreno, Miguel Parra, Lee and Sifuentes, Crehan said the spring sessions have been useful in keeping the chemistry together with his core players.
"We've signed some key players, and now it's about continuing the tradition we started last year by being ranked 17th," Crehan said. "This year I want to be top 10 and be competitive each time we step on the field. Tonight, the performance was good in spots but I'm still not too pleased with the amount of silly mistakes."
PHCC's men's team will host Concord University at 3 p.m. Saturday back at the SRSC to conclude its spring calendar.
Be the first to know
Get local news delivered to your inbox!