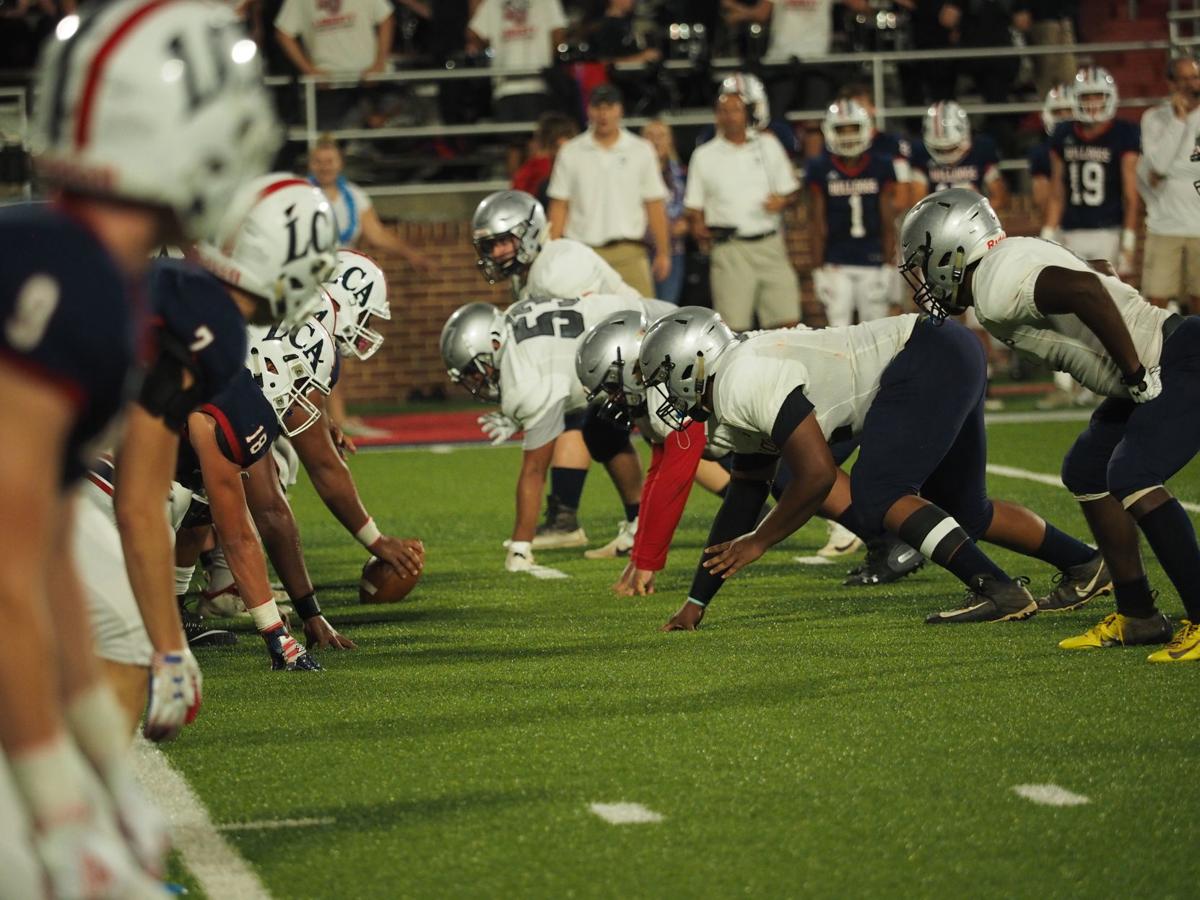 Magna Vista's defense this season has shown signs of being the defense of old in Ridgeway.
The Warriors have yet to allow more than 14 points to an opponent in three games. They've grabbed six interceptions, recovered four fumbles, and allowed an average of 216 total yards of offense per game.
Magna Vista's 3-0 record can be partly attributed to the efforts on defense, much the same reason the team has found so much success in the last decade.
But this year's crop of defenders doesn't want the moniker of the "Blue Funk" defense the Warriors have branded themselves over the last half decade.
"We have that swagger. But we're not 'Blue Funk,'" said junior defensive back Dekavis Preston.
If they're not "Blue Funk," then what should we call them? Is there a new name in Ridgeway?
"No, but we're just not 'Blue Funk,'" Preston said. "We're a new animal."
Call them what you want, this year's Warrior defense is certainly different.
A season ago, Magna Vista finished the regular season 5-5, and was bounced by Tunstall in the first round of the playoffs. A team with just nine seniors, players said they struggled with leadership, which led to feelings of complacency.
"We thought it was just going to come to us. We thought it was going to be like it was in past years," senior defensive back Freddie Roberts said. "We didn't have as much leadership last year as we do this year. That's helped a lot."
This season, the Warriors came in returning nine players, and are faster overall and bigger on the front line.
And they're deeper. Preston and Roberts each have an interception returned for a touchdown this season. Senior Trimon Holland also has an INT. Senior linebacker Logan George has a fumble recovery, and sophomore defensive back Rion Martin has a forced fumble. Seniors Tavion Gravely and Nicklaus Estes have led the way with sacks.
Having a defense full of seniors also brought about the leaders the team was sorely missing in 2018.
"The culture kind of changed in my opinion," Preston said. "We came into the summer ready to work. I don't believe we came in ready to work last year as hard as we have this year."
"I think last year really motivated it," George said. "Ending the year on a negative 5-6 record really got us hungry for the next year… I think we have a lot more focus. We make sure everyone is involved and they know what they're doing in practice and just keep everyone together."
Plus, they have the intangibles that Favero looks for.
"Very smart, very coachable," Favero said. "When they've made mistakes they owned the mistakes and tried to fix them. I think they do a great job of picking each other up. Teams work a lot on offense and they're going to make plays, but it's how to you play the next play when you give one up. I think these guys help each other, pick each other up when they make a mistake, and just try to play harder the next play and make the play."
The extra years of experience also helps. George points out that not only are they deep in seniors, but a lot of those seniors are fourth year varsity players.
Favero said older players are more adept when it comes to preparation. Not just preparing their bodies, but also their minds.
"They do a great job of understand what we're trying to do," Favero said. "This group watches a lot of film and does a great job in the mental preparation, not just the physical preparation. I think that's really helped us on the defensive side."
"Our work ethic has been a lot better," Gravely added. "We've been more focused in practice."
Growing up, most football players who are great athletes gravitate to the skill positions, and want to be the ones running, throwing, or catching touchdowns. It takes a different mentality to want to stop scoring from happening.
In Ridgeway, defense is drilled into players minds from a young age. Favero coaches with the mentality that defense changes games. It starts on special teams, another aspect of the game the Warriors have excelled this year, but it helps when a defense can play physical, set the tone for the game, and wear down opposing squads from the opening whistle.
"I think just defensive players, they just have that dog in them that they want to go at it every play. Instead of trying to move someone they want to stop somebody," George said. Defense wins championships. Offense sells tickets."
"Plus, I think Magna Vista has always been a football program so it feels good to be able to be a part of it," Preston added. "Offense, defense, special teams. It doesn't really matter."
The Warriors aren't looking ahead or looking at state and district rankings, although they're high in just about all of them. Just like it's always been in Ridgeway, the season is about making the steady climb to the postseason.
"We look to improve every week we play," Gravely said.
This year's Warriors don't want a name, and tend to shy away from attention. But watching them on the field, call them what you want, you can't say they don't stand out.
"We're not trying to really brand ourselves with the past, but we do kind of carry that 'Blue Funk' culture on," George said.
"Maybe 'Blue Funk 2.0,'" Roberts added.
Cara Cooper is the sports editor of the Martinsville Bulletin. You can reach her at (276)638-8801 ext. 241.
Be the first to know
Get local news delivered to your inbox!