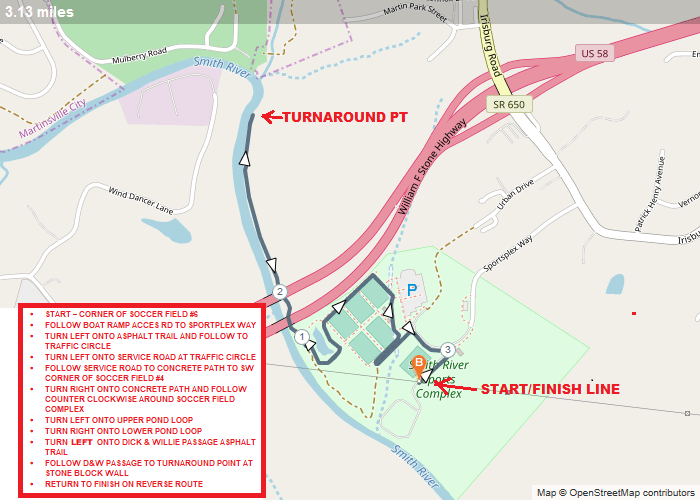 Miles in Martinsville, under the auspices of the Martinsville-Henry County Family YMCA, announced this week the kickoff to its fall race season.
The Harvest Moon Run 5K will be run on Friday, October 2 at 6:30 p.m. at the Smith River Sports Complex. Runners are asked to register online by midnight, September 29 at www.MilesInMartinsville.com.
Participants may pick up their packets with race bibs on October 2 from Noon- 4p.m. at the Martinsville YMCA, located at 3 Starling Avenue, and from 5-6 p.m. at the Pavilion at SRSC.
The race will start and finish on the boat ramp access road near the SRSC Pavilion. Runners will circle the soccer field complex before entering the Dick & Willie Passage Trail. They will then run along the Dick & Willie Passage to a turn-around point overlooking the Smith River before returning by the same route.
This annual event is held in conjunction with the astrological Harvest Moon and is known for its fun and family atmosphere, often with kids carrying light sticks and runners wearing headlamps. The race will be followed with bottled water and sports drinks, craft brews from Mountain Valley Brewing, and music by Jake & Andy.
This race is expected to attract a substantial crowd of runners and fans. COVID-19 protocols will be practiced by runners, volunteers and fans. The race will be have chip timing and will be started in small waves of runners. Small groups will start their run every 15 seconds to insure proper spacing.
Miles in Martinsville organizers ask that all runners and fans wear face masks when not running and all attendees are requested to maintain 6 foot social distancing during non-running activities. Volunteers will wear masks and gloves at packet pickup.
Miles in Martinsville conducts a series of seven races throughout the year with this effort being supported by numerous community sponsors. Title Sponsors for the series include Visit Martinsville, SOVAH Health – Martinsville, Friedrichs Family Eye Care Center, and.Gardner, Barrow & Sharpe – Attorneys at Law.
Be the first to know
Get local news delivered to your inbox!