The legend of Matt Goodheart started just a few hours after he got to Martinsville.
Goodheart and his Martinsville Mustangs teammate Kevin Kopps left from Fayetteville, Arkansas, early on a Sunday morning in late June and drove about seven hours before stopping for the night. The duo then woke up the next morning and drove another seven hours. They got to Hooker Field just in time for batting practice before the Mustangs' final exhibition game.

"I wasn't supposed to play but Coach Marinelli said, 'You can get an at-bat if you want,' " Goodheart said.
"I had the at-bat and it turned out good I guess."
Goodheart took a pitch over the right-centerfield fence for a home run in his first at-bat of the season.
Since then, he's added another homer, five doubles, and 17 hits for the Mustangs this season. The first baseman is hitting .327 with a .485 on-base percentage while hitting in the heart of the Mustangs' lineup.
Goodheart came to the Mustangs this summer from the University of Arkansas, one of four Razorbacks on the roster. The rising senior started all 16 games as a designated hitter in college this season. He was an all-SEC Second Team selection and was named to the SEC All-Tournament team in 2019 as a sophomore.
The bullpen catcher at Arkansas is good friends with Mustangs assistant coach Brandon Nania, who brought Goodheart and the rest of the Razorback players to town.
"Just through the grapevine they said they were looking for a guy and I ended up being the fourth," Goodheart said. "It's awesome. It's really good. Usually the baseball guys typically don't have an issue making friends with new guys but at the same time it's also nice to have guys there that have seen you play before and you can trust as well."
While getting at-bats this summer was important for Goodheart, he's much more thankful to get the chance to play in the field for Martinsville. He was coming off of shoulder surgery last year, restricting him to just DH duties at college.
"No matter where I'm at I want to prioritize getting at bats and staying locked in at the plate, but… getting to play some defense and reestablish some roots out there is a big step for me having not played a position since before April of last year," he said. "That was good for me to get out there and play some first base again."
Unlike most other college baseball players this summer who were forced to take several months off after the college season was shut down due to the coronavirus pandemic, Goodheart played in the Perfect Timing League in Arkansas in June, giving him a chance to get his feet wet before coming to take on the Coastal Plain League.
Baseball has been a lifelong love for Goodheart, who grew up in Magnolia, Arkansas, just above the Louisiana state line and five hours from his college home. His dad coached at Southern Arkansas University for 23 years and was an area scout for the Kansas City Royals for a few years.
"Even before I can remember we were hitting Wiffle balls in the backyard and stuff," Goodheart said. "I don't know, it's just kind of what I've dedicated all my hard work and time to. It's just something about it that's just a little different from other things."
That love brought him 14 hours from Arkansas to Martinsville, where he's thankful to get a chance to continue getting as much time on the field as possible.
"I've really enjoyed it so far," Goodheart said. "I've gotten about as lucky as I can get with a host family. The Davis family has been taking very good care of me. I'm very appreciative of them. My teammates are great. I can't complain at all about my teammates. And Martinsville is Martinsville. It's provided a setting for me to be successful and here I am."
Here's more to know about Matt Goodheart: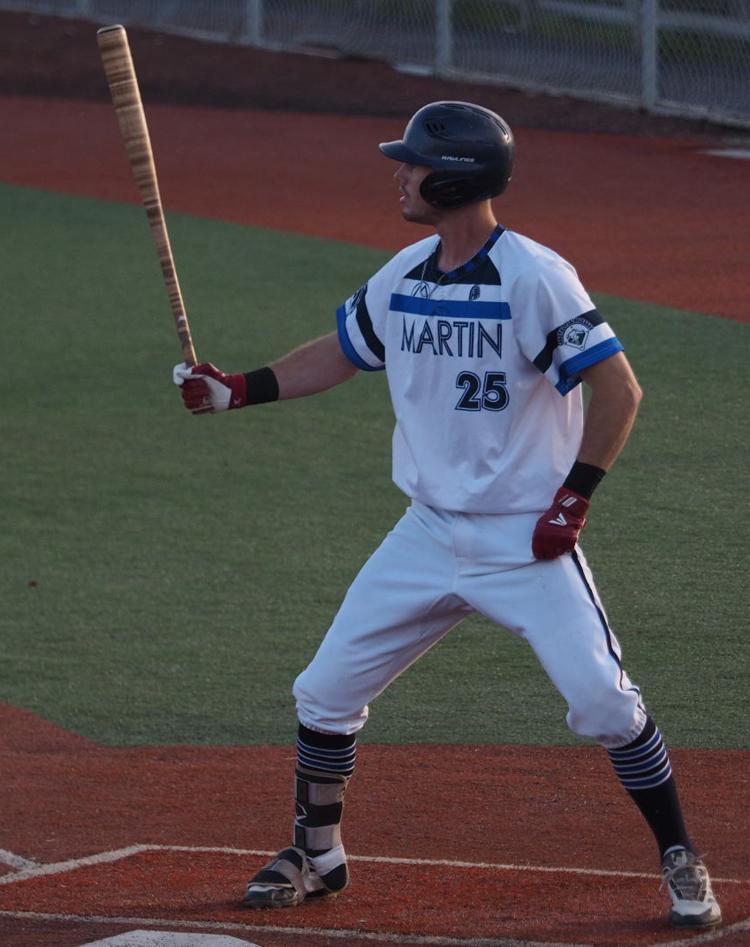 What's your favorite baseball team?
"That's a hard one to say because it's kind of changed over the course of my growing up. I started out as a Yankees fan, just with the Big 4, Derek Jeter and those guys. I was a huge Mariano (Rivera) fan. After those guys retired I wouldn't say I'm not a Yankees fan but they're still the Yankees. They're iconic.
"I've always grown up a St. Louis Cardinals fan as well because the bullpen catcher for the St. Louis Cardinals played for my dad at Southern Arkansas so when I was my teens he got me and my family tickets to come to a couple of the games and him and his family were really, really good to us in terms of just being very nice and very generous with everything. Ever since then I became a really big Cardinals fan. The atmosphere there was tremendous. It was just unlike any of the other places I've been."
Who was your favorite player growing up?
"I don't know. I really liked Jeter. I liked Mariano. It's hard to say. I've liked baseball for a long time so who I've liked has shifted as I've grown up. I'd have to go into like different eras and tell you which guys I liked in that one era. I probably couldn't put just one person."
What is your walk-up song?
"I've had two since I've been here. The first one was 'What's Poppin'' by Jack Harlow and then the second one 'Devil Eyes' by Hippie Sabotage."
Any reason behind those choices?
"Not really. The first one was just kind of I picked that one really quick because I didn't know that we were having walk-up songs, so it was just the first song that came to my mind.
"The second one, I really like the song too, but it was one of my teammates walk-out songs. He was a pitcher at Arkansas in 2019 and it just reminds me of Friday nights when he would start because he was really, really good. His name is Isaiah Campbell, he's pitching in the Mariners organization now."
Do you have any superstitions or pregame rituals?
"I'm not too superstitious. I don't know, if it's something that's putting me in a better position to be successful… I like to get in a routine in terms of what I eat and drink and prepare for the games, that kind of thing. But nothing like lucky underwear or anything like that."
What's your favorite pregame meal?
"I don't know, the times have been pretty sporadic when we play and stuff. We usually play here at 7 p.m. but sometimes we have to travel. You never know how far we have to travel sometimes so that kind of throws a wrench into that. I like pop-tarts. I eat a lot of pop-tarts, so I guess I'd have to go with that."
Do you have a favorite flavor?
"No, I don't. A pop-tart's a pop-tart."
Are you binge watching anything this summer?
"Right now I'm watching All-American. I'm not really binge watching it because I don't have a lot of free time but that's what I've been watching in my free time."
The Mustangs will return home on Friday for a CPL contest against the Peninsula Pilots. First pitch is at 7 p.m.
Cara Cooper is the sports editor of the Martinsville Bulletin. You can reach her at (276)638-8801 ext. 241.
Cara Cooper is the sports editor of the Martinsville Bulletin. You can reach her at (276)638-8801 ext. 241.
Be the first to know
Get local news delivered to your inbox!