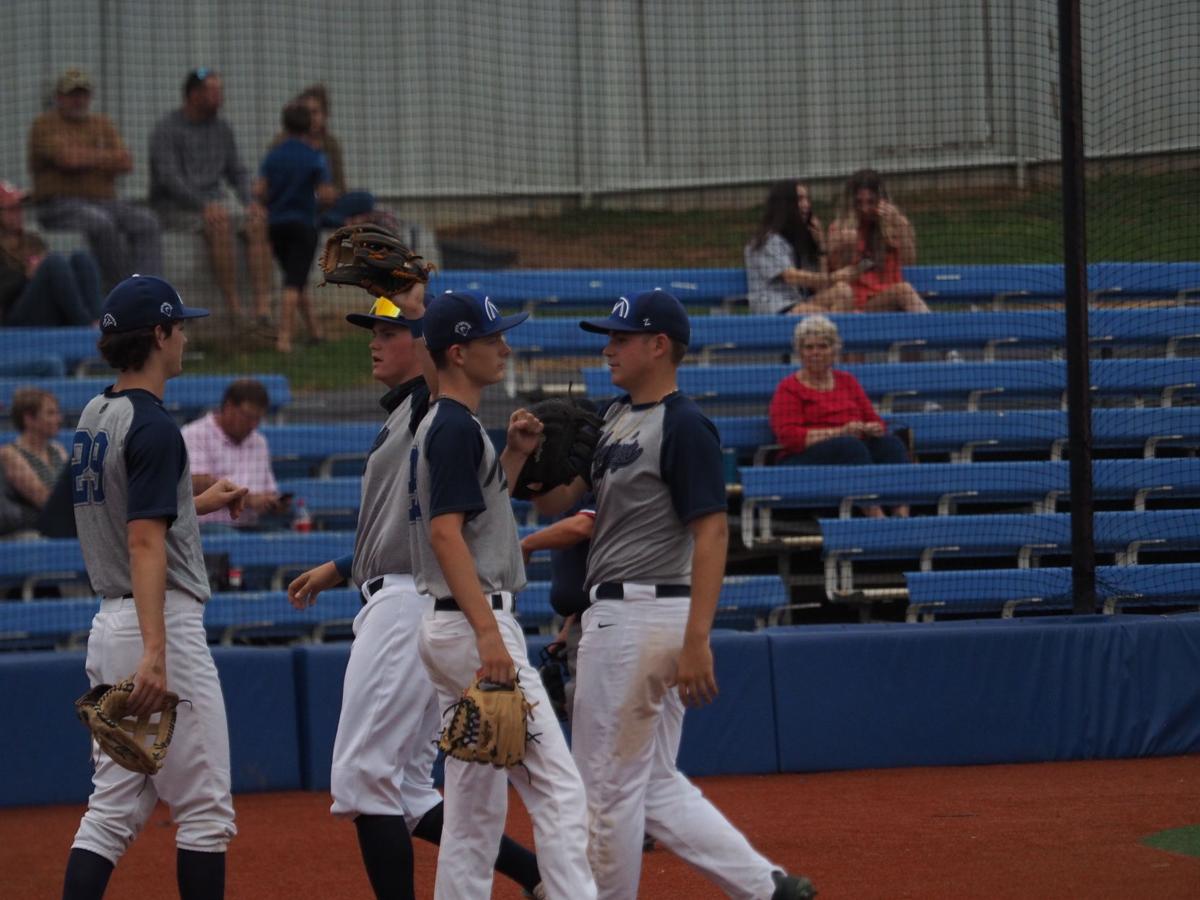 Addison Clark had six RBIs to lead the Martinsville Junior Mustangs to a 13-1 win Friday over the HiToms Blues at Hooker Field.
Clark had two triples and a single and scored two runs to lead Martinsville. Taylor Holthausen added two hits and two runs. Hunter Powell, Colby Cunningham, Kyle Ramsey, and Drew Fisher also scored two runs each.
Conner Plaster had three RBIs and Lane Taylor had two to add to the Mustangs' offensive output.
Fisher also got the win on the mound for the Mustangs, throwing three scoreless innings allowing just one hit and two walks with three strikeouts. Colin Cunningham finished in relief, throwing two innings allowing one run on five hits with three strikeouts.
The Martinsville Ponies, part of the Martinsville Junior Mustangs organization, picked up a 14-6 win over the Martinsville Racers, also part of the organization, Thursday night at Hooker Field.
The Ponies went on the road to Saturday to High Point-Thomasville. Results were too late for publication.
The Junior Mustangs and Racers will be back at Hooker Field for a doubleheader on Friday beginning with the Junior Mustangs taking on the Blues at 5:30 p.m. and the Racers facing HPT 14's at 7:40 p.m.
Box scores from both games are below:
Martinsville Ponies 14, Martinsville Racers 6
L. Moore 0-1, BB; J. Ryan 0-1, BB, R; J. Gilber 1-1, BB, R, RBI; T. Preston 1-2, 2RBI; C. Compton 0-1, BB, R; C. Carter 1-2, R; M. Hopkins 0-1, BB, R; C. Lowery 0-1, R
T. Richardson 1.1IP, H, 6R, ER, 6BB; J. Ryan 1.1IP 3H, 8R, 8ER, 7BB; A. Hurd 1.1IP, 2BB, K
T. Perkins 1-1, 3R, RBI, 2BB; P. Davis 1-4, 2R, RBI; L. Haynes 0-0, 2R, RBI, 3BB; T. Powell 0-0, 2RBI, 2BB; J. Martin 0-3, R, 3RBI; S. Geramita 1-3, R, RBI; N. Brumfield 0-0, R, 3BB; J. Simpson 0-0, RBI, 3BB; E. Hughes 1-2, R, RBI; A. Ray 0-2, R, BB; J. Hammock 0-2, 2R, BB
J. Martin 2.2IP, 2H, 4R, 0ER, 3BB, 4K; S. Geramita 1.1IP, H, 2R, 0ER, 2BB, K
Junior Mustangs 13, HiToms Blues 1
T. Holthausen 2-2, 2R; H. Powell 1-1, R; S. Geramita 0-0, BB; Colby Cunningham 1-3, 2R; A. Clark 3-3, 2R, 6RBI; K. Ramsey 1-2, 2R, RBI, BB; D. Fisher 1-1, 2R; C. Plaster 1-1, R, 3RBI; L. Taylor 1-2, 2RBI; J. Moxley 0-0, BB
D. Fisher 3IP, H, 3K, 2BB; Colin Cunningham 2IP, 5H, R, 3K
Be the first to know
Get local news delivered to your inbox!