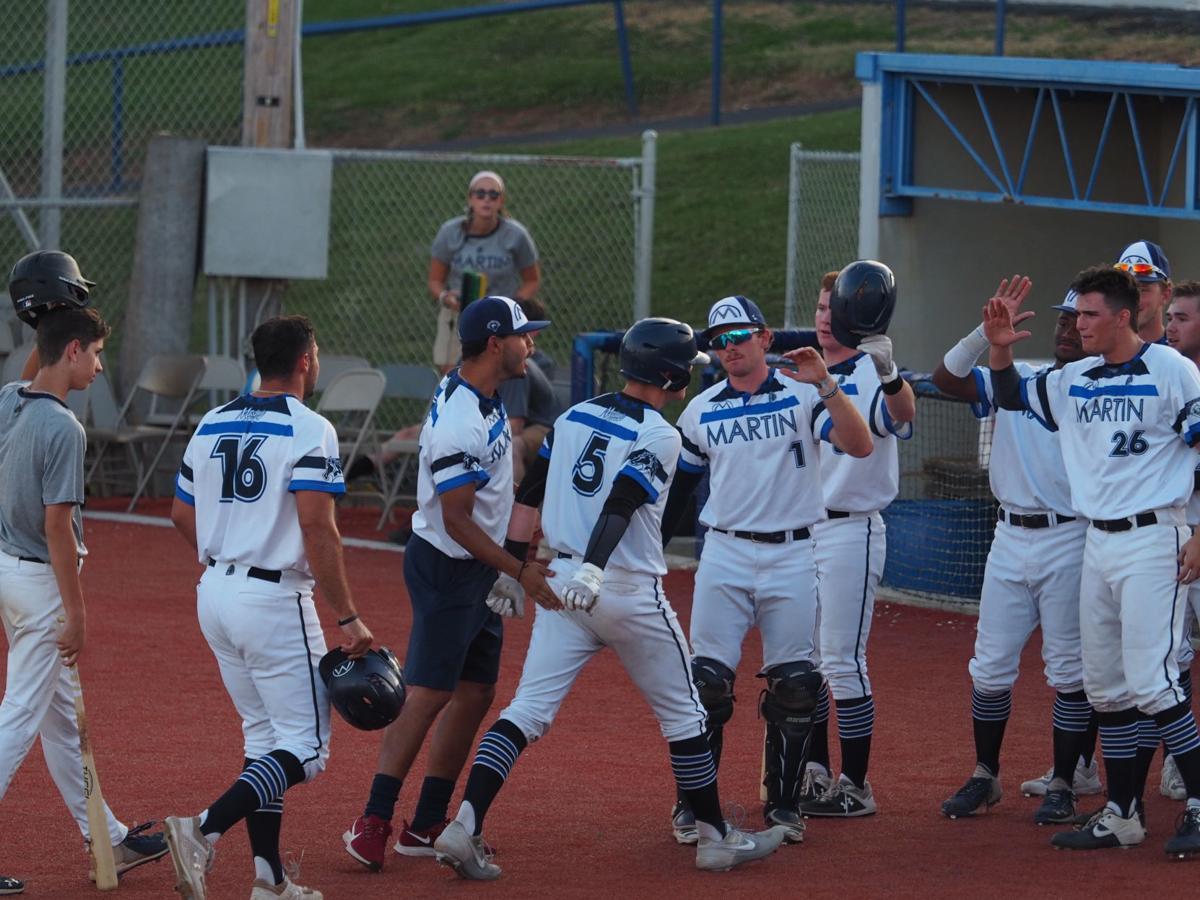 The Martinsville Mustangs saw a 3-game winning streak end Thursday night at Hooker Field in a 13-12 10 inning loss to the High Point-Thomasville HiToms.
"Crazy game, that's for sure," said Mustangs head coach Jake Marinelli.
Despite the late loss, Matinsville reached double digit runs for the third time in the last four games. After scoring six runs in the first two games of the season, the team has put up 45 ever since.
Martinsville scored five runs in two separate innings Thursday night. They had 10 hits, four for extra bases, from seven different players, and 11 walks as a team.
"We've had some good approaches and coming through in the clutch a little bit has helped, cashing in when runners are on base," Marinelli said. "I think these guys are starting to hit their stride a little more and knock the rust off."
Here's a look at this week from the Mustangs:
Since it had been three months since any of the Mustangs players had played a game due to the coronavirus pandemic, it was obvious players would be a bit rusty, which Marinelli said he could tell in the team's first few games. But now that they've gotten a few games under their belts he can tell they're getting back to the swing of things.
"I think a lot of it was rust, and I think a lot was team chemistry," Marinelli said. "These guys are gelling really quick and again we go back to the rust factor, I think that's almost gone now so I'm happy to finish out this summer with these guys."
Marinelli said the turnaround from early struggles has been a team effort. The defense has also improved every game – Martinsville had six errors in the first two games, but just one over the last three – which Marinelli said again pointed to the rust coming off.
The pitching staff has also provided quality starts. During the three game winning streak the starters went four, five, and five innings allowing just two total runs. Mustangs pitchers have struck out 48 batters and walked just 13.
Three Martinsville pitchers are in the top 5 in the Coastal Plain League for earned run average. Kyle Ruehlman, from Gardner-Webb, is second with a 1.50 ERA in six innings pitched. Jose Martinez, from St. Joseph's University, is fourth with a 4.50 ERA in six innings, and Patrick Halligan, from George Mason, is fifth with a 6.23 ERA in 8.2 innings.
The Mustangs are third in the CPL with 51 runs scored in six games. They're tied for the league lead with three triples, second with 47 walks, and tied for third with 12 stolen bases
On the pitching side, Martinsville is third in the CPL with 27 earned runs, however their 39 total runs allowed is tied for fourth out of seven teams. Martinsville pitchers have only walked 27 batters, best in the CPL, and struck out 65, third best in the league. The team's 4.50 ERA is also third in the CPL.
Bassett High School and Patrick Henry Community College graduate Christian Easley has been a huge bright spot in the Mustangs lineup, especially this week. Easley hit a grand slam in Monday's game, going 2-4 with four RBIs, four runs scored, and a stolen base. He followed that with another home run Thursday, coming off the bench with a hit and a walk.
In 16 at bats this season, Easley leads the Mustangs in home runs, batting average (.438), runs scored (7), and RBIs (9), and is tied for the team lead with three stolen bases. He's also second on the team with seven hits this season, and he's added three walks.
"Christian Easley has been huge for us the last week," Marinelli said. "He's been doing a lot of good things."
Easley is committed to transfer to University of Maryland-Baltimore County in the fall.
The Mustangs played an exhibition game against the Old North State League East All-Stars Saturday night at Hooker Field. Results were too late for publication.
Martinsville will start this week with two home nonconference games — Monday against the Catawba Valley Stars and Tuesday versus the Wake Forest Fungo, both at 7 p.m.
The Mustangs will follow with three straight games against the Peninsula Pilots, Thursday and Saturday at home and Friday on the road.
Cara Cooper is the sports editor of the Martinsville Bulletin. You can reach her at (276)638-8801 ext. 241.
Cara Cooper is the sports editor of the Martinsville Bulletin. You can reach her at (276)638-8801 ext. 241.
Be the first to know
Get local news delivered to your inbox!