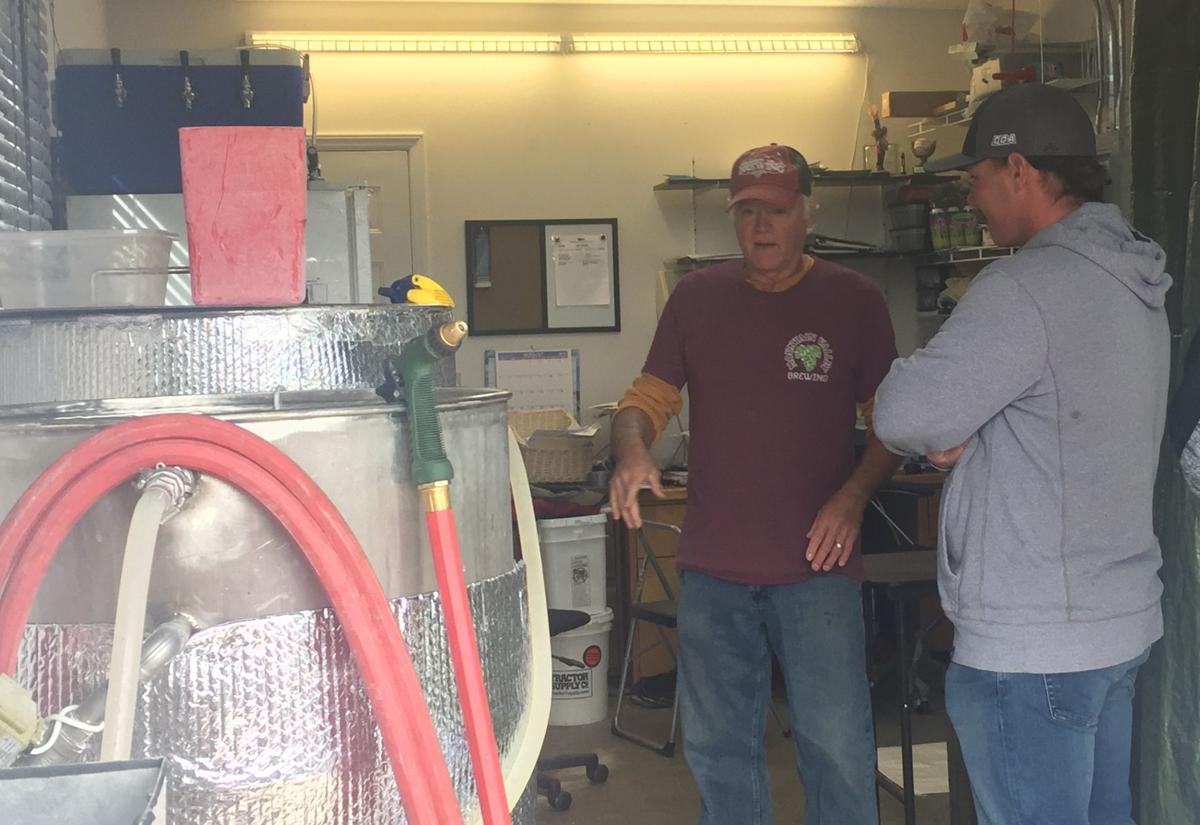 But first he made a pit stop in Axton at Mountain Valley Brewing.
Moffitt went to the brewery for a meet and greet and to taste some of Henry County's finest local hops.
"When I get the opportunity to have a media advance and they say it's at a brewery then I'm in every time," Moffitt said Thursday with a laugh. "I'm not turning that one down."
And the 26-year-old was impressed.
"I'm testing out their IPAs and so far, I definitely approve," he said.
Moffitt is currently second in the CWTS standings, and has four wins so far this season. The NASCAR veteran has had success at The Paperclip too. He's the youngest ever winner at Martinsville after taking the checkered flag in a K&N East Series race there in 2010 when he was just 17. Moffitt said his clock is at his parents' house in Iowa, though he'd like to add to his collection this weekend.
"We were here in the spring and we finished third and hopefully we can get two better," he said.
In two career Truck Series starts at Martinsville Moffitt has finished in the top ten both times. But he said it's a track where he never really feels comfortable.
"I tend to struggle here, I'm not going to lie," he said. "I've had fortunate results but I've never felt super confident going into it. A lot of different things can happen during the race as we know. There's a lot of trouble you can be involved in, a lot of wrecks, and if someone gets aggressive or mad at you they can easily end your day so it's a tough place and as a driver you're never too confident coming in here."
It's the fact that Martinsville is unlike any other track on the circuit that makes it hard to judge race-to-race. Moffitt said he hopes his past experience there pays off this week, but there are never any guarantees.
"Martinsville is tough. It's really technical for a short track because the straightaways are long and the corners are tight. You really need to be able to rotate but you still need to be able to have the forward drive off the corner which makes it difficult to do both. The crew chief always loves when I say 'I need to turn better in the middle and I also need to have more forward drive off the corner' because normally if you fix one you hurt the other. It's a difficult place for sure."
Projected rain today could make things even more difficult for Moffitt and the rest of the Truck Series if they're forced to cancel practice. More than anything, Moffitt hopes he can continue his top 10 streak, or better, to push for a spot in the playoffs final four at Homestead Miami.
As Moffitt finished his brew at Mountain Valley Thursday, he was told the local brewery would be pouring on the new SkyDeck at the Speedway this weekend, meaning his weekend in Martinsville could be an extended stay past his race Saturday afternoon.
"I might have to come watch the Cup race and get up there," he said.
Be the first to know
Get local news delivered to your inbox!