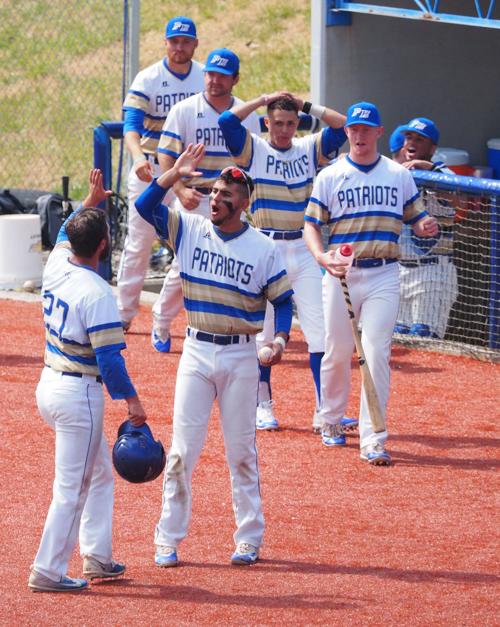 Everything was going right for Patrick Henry Community College's (PHCC) baseball team Saturday at Hooker Field.
In a doubleheader against Region X opponent Guilford Tech, the Patriots committed no errors, got two complete games on the mound and scored a total 17 runs to win both ends of two games 6-0 in nine innings and 11-1 in five.
Game 1 was dominated by PHCC sophomore pitcher Jared Bridges, from Franklin County High School. Bridges threw all nine innings scoreless while allowing just two hits and four walks while striking out four. It was just the second complete game in Bridges' career as a Patriot.
"It was good baseball. We played a very good baseball game on Thursday and we kind of carried a good game of baseball into today. We worked really hard this week on some things on the offensive side and you kind of see some things start to translate," said PHCC head coach Frank Jagoda. "Getting ahead, strike one, that was the big thing. When he (Bridges) fell behind he was able to get back in the strike zone, he was able to make his adjustment and get back in it right away. He didn't let it get away from him and htat wa the big thing."
Bridges had just two runs of support through the first seven innings, but the bats finally came alive in the eighth inning when PHCC scored four runs on five hits. Brandon Nania, Josh Brammell and Jake Jessel started the inning with a double, single and double. All three Patriots came around to score in the inning. After a flyout, Garrett Baugher kept the inning going with a triple that scored Jassel. Baugher came around to score on his own on a single from No. 9 hitter Junior Snow.
The Patriots had just five hits through the first seven innings before matching that in the eighth. Brammel was 2-4 in Game 1 with a double, two runs scored and an RBI.
The hot bats carried over into Game 2, when PHCC jumped out to a 6-0 lead after two innings on the way to a 5-inning game due to slaughter rule. The first five batters for the Patriots had 11 hits, scored all 11 runs with nine RBIs, and three walks while failing to reach base just four times, including a sacrifice fly.
Nania and Garrett Jones were each 4-4 in Game 2. No. 2 hitter Jones scored four runs with two RBIs and No. 3 hitter Nania had two doubles and scored two runs. Baugher, hitting in the leadoff spot was 2-3 with a triple and three runs scored and designated hitter Andrew Lancaster was 1-3 with four RBIs.
"In the first three innings (of Game 1) I was not unhappy with how we swung the bats. We had some hard outs, they made some good plays, we had some good gritty at bats, we did some different things we just didn't have a lot on the board," Jagoda said. "I thought we did a good job sticking with our approach and we just stuck with it, kept grinding out at bats, we put the ball in play, made them make plays and we found a way to continue to stay within ourself, stay within our approach and our at bat and it kind of broke through there in the fourth and the fifth and again in the eighth and it carried right over into Game 2."
On the mound, the Patriots had another gem from freshman Tyler Barrett, who threw all five innings of the shortened game.
After making it through the first two innings allowing just two base runners on singles in the second and third, Barrett's only trouble came in the fourth when Guilford led off the inning with a homerun over the left field wall, and added two singles and a walk to load the bases. The lefty, however, got out of the jam with a strikeout and infield popup to limit the damage to just one run.
Barrett finished the day allowing five hits with one run, four strikeouts and two walks.
"On the mound we filled up the strike zone," Jagoda said. "That's a good hitting club. They come in with an overall good record and some good offensive record. And our pitchers, Jared especially, a sophomore came out and threw a complete game shutout that set the tone and Tyler Barrett, a freshman, came in to shut the door for us a complete game himself. We couldn't ask for anything more. We didn't get into our bullpen at all and the key there was just throwing strikes, pounding the zone and letting our defense make plays behind it."
As the Patriots approach the halfway point in the season their current win streak improves to seven gameas and their record stands at 14-10, 5-0 in Region X play. They'll face Guilford Tech one more time on Sunday with a single game at noon at Hooker Field.
Patrick Henry CC 6, Guilford Tech CC 0
WP – J. Bridges 9IP, 0R, 2H, 4K, 4BB
M. Bradshaw 1-2; J. Martinez 1-3; G. Jones 0-3, sac, RBI; B. Nania 1-2, 2B, 2BB, R, SB; J. Brammell 2-4, 2B, 2R, RBI; J. Jessel 1-3, 2B, RBI, R, BB; A. Lancaster 0-4, RBI; G. Baugher 1-4, 3B, RBI, R; C. Douglass 1-4, R; J. Snow 2-4, RBI
WP – T. Barrett 5IP, 5H, R, 4K, 2BB
G. Baugher 2-3, 3B, 3R, BB; G. Jones 4-4, 2B, 4R, 2RBI; B. Nania 4-4, 2 2B, 2R, RBI; J. Brammell 0-1, sac, 2BB, RBI, R; A. Lancaster 1-3, 2B, 4RBI, R; A. Correa 0-2, 2HBP, RBI; C. Douglass 0-2, BB; J. Martinez 0-2, HBP; J. Snow 0-3