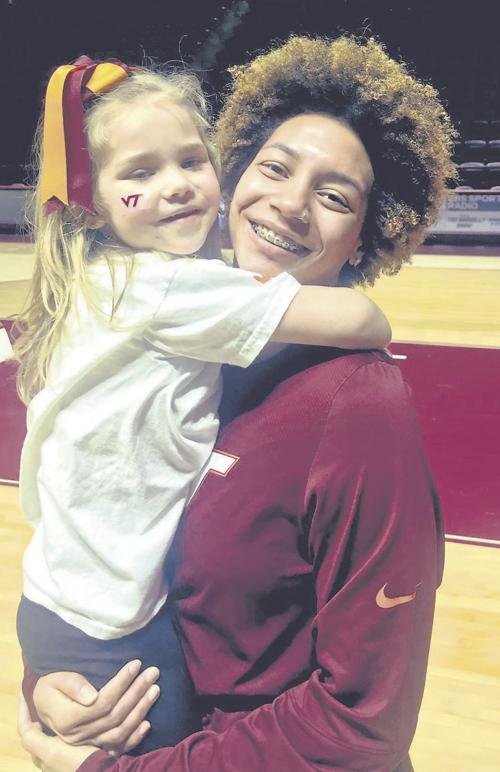 Taylor had never met Hokies' guard Taylor Emery, but the name stood out because his 4-year-old daughter's name is… Emery Taylor.
At the beginning of this season, Brooks Taylor, who works as the Director of Public Relations at Martinsville Speedway, messaged the sports information director of the team asking if it would be possible for Taylor Emery to meet his daughter after a game and possibly take a photo. But that one photo opportunity turned into more games and eventually season tickets, with the similarly named duo meeting up at the end of every game to chat, talk basketball, and build a friendship that both know will last beyond Taylor Emery's time in Blacksburg.
Since that first meeting between Emery Taylor and Taylor Emery, Brooks Taylor said just about every Thursday he'll pick his daughter up from school and they'll make the trip up to Blacksburg for the game. They've only missed one this season.
At the end of the contest, little Emery Taylor will wait on the sideline for her cue, and then heads onto the court or the back hall to wait for Taylor Emery and Hokies' freshman Dara Mabrey to come out of the locker room.
"They talk for a while, and then we come back here and get ready for the next one," Brooks Taylor said. "It's been really fun for both of us really."
Emery Taylor even has her own specially made jersey.
"The 'Taylor-Emery-Taylor' jersey we call it," he said.
Taylor Emery, the Hokies senior who average 18.7 points per game this season on the way to a Second Team All-ACC selection, has been the perfect role model for Emery Taylor. And not just because of her play on the court.
"Taylor is awesome. Not just as a basketball player, obviously, but as a person," Brooks Taylor said. "She's a great role model. There's probably nobody that I can think of that I would rather have as her (Emery's) hero and role model. So that's pretty cool too."
She's even passed on some of her hoops knowledge to her young protégé.
"She's good. She passes a lot," Emery Taylor said. "(She's teaching) dribbling with my left hand and dribbling with my right hand… How to shoot goals."
Being a role model to young players like Emery Taylor is important to Taylor Emery. She said she'll often get requests from parents on social media to meet their kids after games, and even has little girls who recognize her in the mall.
Growing up herself idolizing WNBA star Maya Moore, Taylor Emery knows what it means to be a young athlete with hoops heroes.
"Knowing that there are kids out there who love you, not only for basketball but for some reason they have some type of connection towards you, it means a lot for me," she said. "It means a lot that I am being a positive role model for kids all over the country."
Getting to meet a hero has been special to Emery Taylor, but at the same time it's also helped make the college experience better for Taylor Emery, who has eight nieces and nephews, all under the age of 12. Being in college away from her home in Tampa, Florida means being away from that big family, so having Emery Taylor around has made Blacksburg feel a bit more like home.
"Honestly, being away at college, the way you end up happy is having something feel like home," she said. "Being around kids is what I've always been used to. It's what I basically grew up on, so just having that here, she reminded me a lot of my little niece who is in Florida right now, and it feels like home.
"Knowing there are people here who aren't just in it for you with basketball but they're more like family. That's what she's become to me, like my little niece."
Taylor Emery's time on the court in Blacksburg is coming to an end, but the friendship between her and Emery Taylor will definitely go beyond her time as a Hokie.
Emery Taylor had one request at the Hokies' final home game on March 3.
"I want to go to Sweet Frog with her and the whole team," Emery Taylor said.
She doesn't know it yet, but Brooks Taylor is hopeful that will happen. Emery Taylor's birthday is in May, and the plan is that Taylor Emery will be able to make an appearance at her birthday party at the frozen yogurt spot.
And while Taylor Emery won't be on the Hokies' squad next season, the Taylors plan to keep their season tickets. Mabrey, Emery Taylor's other close friend on the team, is just a freshman this season.
"So that pretty much locks me in for three more years, at least. And then it'll be somebody else after that," Brooks Taylor said. "They've all been great, but especially Taylor and Dara. They both have really made it a point to see Emery and talk to her and hug her and just make her feel special. It's been really, really cool and a lot of fun to see that too."
"I definitely plan to stay in touch with her parents and be able to come see her whenever I can," Taylor Emery said. "I take pride in building relationships with people and I think that's how you're happy in life.  Building relationships with people, that's what means the most, that's what I take pride in being able to do.
"She's a great kid, she's so cute, she's so adorable. That's what I love being. I love being a role model for kids, for little girls and having them learn that it's not all about basketball, it's not all about academics, it's about being a good person."
And who knows, maybe one day Emery Taylor will get to be the role model Taylor Emery was for her. Right now, that's her dream. When asked if she'd like to play college basketball one day, Emery Taylor's answer was simple.
"Yes," she said. "At Virginia  Tech."