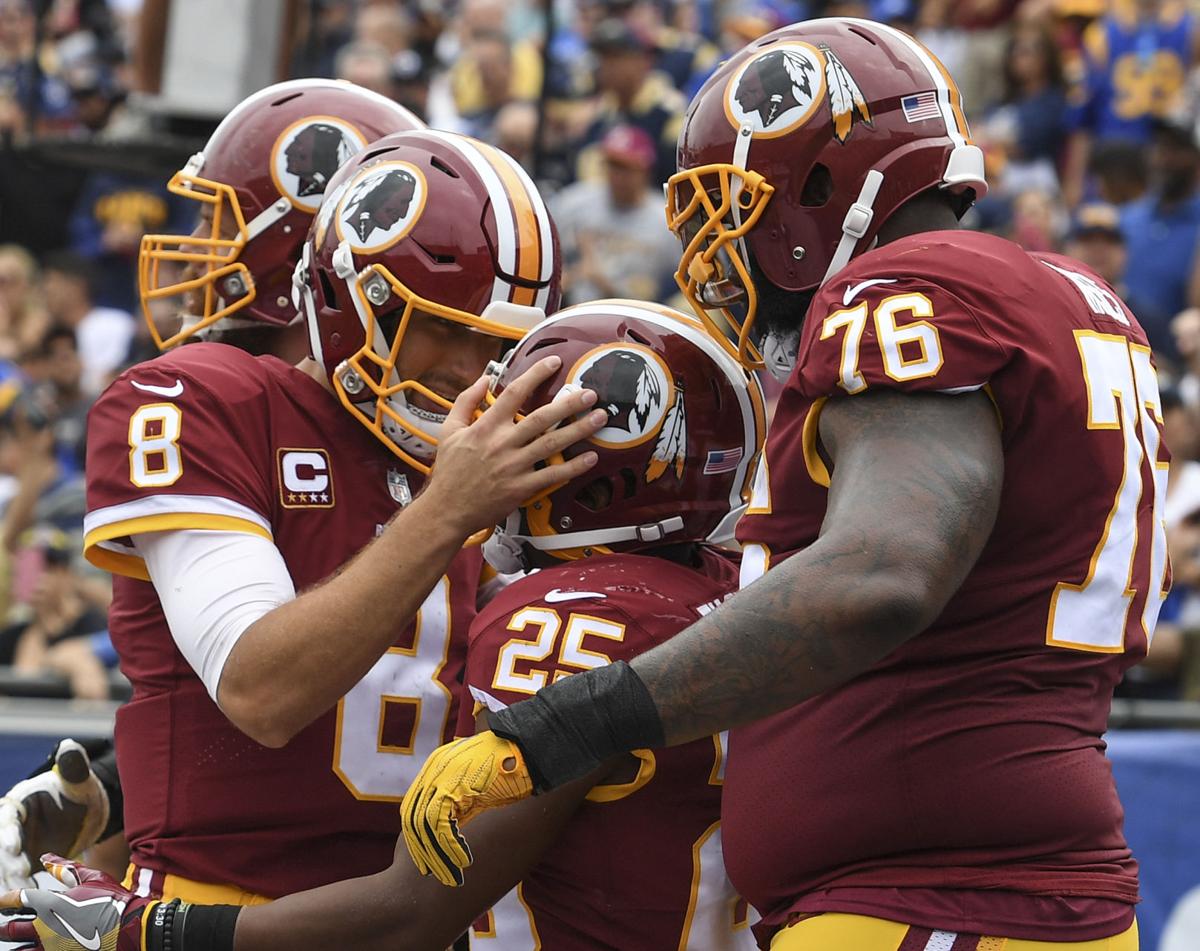 LOS ANGELES - As he composed an offensive game plan to beat an opponent more familiar with his tendencies than any in the league, Washington Redskins Coach Jay Gruden decided to go out of character and pound the football rather than sling passes as he often prefers.
Sizing up the Los Angeles Rams' personnel, Gruden saw an aggressive defensive front, but because it is so active, the coach believed opportunities would present themselves for success in the running game. And they did.
The Redskins ran the ball 39 times for 229 yards and two touchdowns and paved the way for their first win of the season, a 27-20 victory over former offensive coordinator Sean McVay and his Rams.
All three Washington running backs rushed for at least 67 yards. Chris Thompson had 77 yards and two touchdowns on three carries. Starter Rob Kelley had 78 yards on 12 carries before leaving the game in the first half with a possible fractured rib. And rookie Samaje Perine tallied 67 yards on 21 attempts.
The game plan made sense given the circumstances that Gruden and Co. faced. In Week 1, a similarly aggressive Philadelphia Eagles defensive front dominated Washington's offensive line, sacking quarterback Kirk Cousins four times and repeatedly forcing the offense into second- and third-and-long situations.
So Gruden knew he had to switch things up. Recalling the meeting with the Rams in 2015, when the Redskins gained 182 rushing yards, he thought some of the same success could be had.
"We stayed with the plan, stuck with the running game," Gruden said. "We'd played the Rams before. Different front but felt we could run the ball. It's a very active defensive front. But we felt like we've got bigger people and could move them around a little bit. It's easier said than done, but we challenged our players - linemen, tight ends, everybody, and they rose to it."
Redskins offensive linemen said Gruden and offensive line coach Bill Callahan asked how they wanted to attack the Rams, and they said they wanted to run the ball. That fell in line with what the coaches had planned.
The players embraced this approach because rather than sitting back in pass protection and trying to fend off talented pass rushers Aaron Donald, Robert Quinn and their teammates, they could instead go on the attack, firing off the ball and "hitting them in the mouth," as they put it. Also, with the Rams' defensive front so intent on getting upfield and after the quarterback, the Redskins coaches and players believed their foes would leave open running lanes that they could capitalize on.
The commitment to the running game started early. Washington ran the ball 15 times on their first 25 plays. That's two carries more than Redskins running backs combined for in the Week 1 loss to the Eagles.
On Washington's second possession, Gruden called six straight running plays. Kelley gained 19 and 21 yards on consecutive plays. Then Perine added a 3-yard carry. Thompson picked up 9 yards, Kelley added a 1-yard gain, and then Thompson took a pitch to the left 7 yards for a touchdown.
"When we feel we have the edge, we just want to keep running the ball," right guard Brandon Scherff said. "We could tell when they were getting tired. The way we ran the ball last week, we had a bad taste in our mouths, so I was just glad we were able to get after it this week."
That drive set the tone. Washington continued to rely on the run and entered halftime with 167 yards and two touchdowns on 20 attempts. Sprinkling in 15 pass attempts (nine completions for 81 yards), Washington led 20-10 at halftime.
Kelley was injured late in the second quarter, and the Redskins turned to Perine. He struggled, and so, too, did the offense as a whole. After gaining 225 yards in the first half, Washington managed only 75 yards and no points in the third quarter. Perine's struggles had to do with his timing. He didn't let his blockers set things up for him, and as a result, the same running lanes that Kelley and Thompson enjoyed in the first half weren't there. But running backs coach Randy Jordan continued to preach patience, and eventually Perine found his rhythm.
In the fourth quarter, he rushed for 38 yards on seven carries and helped pace Washington on a 10-play, 70-yard drive that Cousins capped off with an 11-yard toss to Ryan Grant that gave Washington the deciding 27-20 lead.
"We pounded four, five yards a carry and popped some runs. I'll keep running," Gruden said. "Great job by the offensive line, tight ends, can't say enough about them. . . . A lot of success running the ball means lots of opportunities."