Martinsville City officials turned the first shovelfuls of dirt Wednesday morning on an empty, grassy lot on West Church Street, kicking off a new housing development program that aims to help 27 local families become homeowners.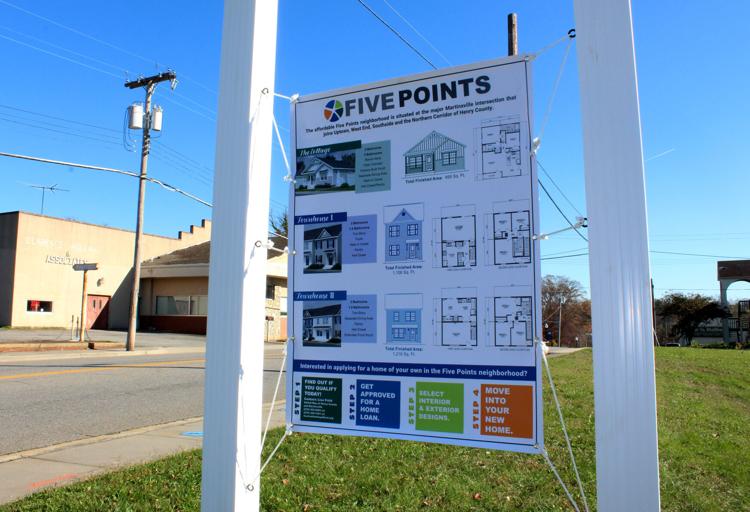 Wearing hard hats and face masks, only a small group attended in person on the cold and blustery morning as Mayor Kathy Lawson and Councilman Jim Woods ceremonially broke ground on the future Five Points neighborhood. Other partners in the public-private construction project gave their remarks and watched over Zoom.
It was the first "and hopefully last" groundbreaking that will have to be held virtually because of COVID-19, said ceremony host DeWitt House, senior program officer for The Harvest Foundation.
The foundation is one of several groups collaborating on what officials called the area's first major new housing construction in decades. Intended to address a shortage of affordable homes for workers earning in the range of $15 to $20 an hour, the project involves building 27 single-family homes at a reduced cost and helping qualifying applicants obtain low-interest loans to pay for them.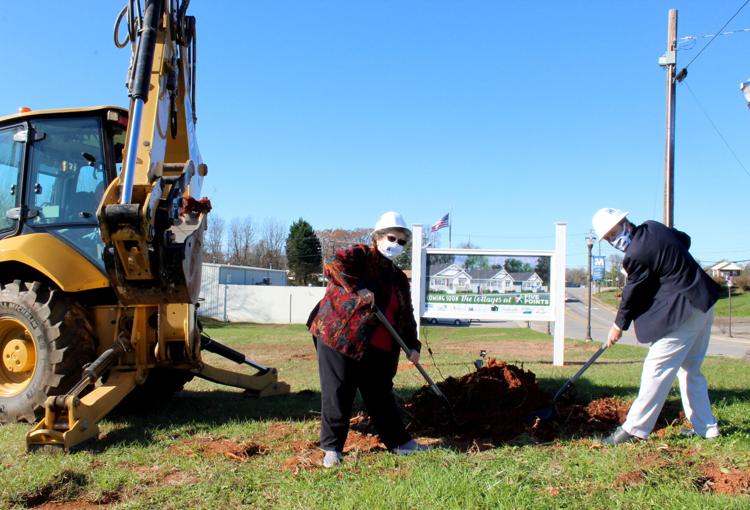 Martinsville City Manager Leon Towarnicki said during the Zoom ceremony that the future Five Points neighborhood entails about $4 million in new development and will probably generate around $100,000 a year for city coffers from utilities and real estate taxes.
"It's an exciting project for us, and it's a win-win-win-win for many people," he said.
Residences will be constructed by Nationwide Homes in a partnership between Virginia Housing, the City of Martinsville, USDA-Rural Development, Silverpoint Homes, Martinsville-Henry County Economic Development Corp., United Way of Henry County & Martinsville, and the Harvest Foundation.
Plans call for 12 single-family "cottages" and 15 two-story townhomes to be built on vacant land owned by the city on either side of West Church Street, near Womack Electrical Supply and the five-way intersection with Fayette Street and Memorial Boulevard South.
Nearby, large signs placed by the sidewalk showed renderings of what the new homes will look like outside, as well as sample floor plans of 2- and 3-bedroom residences ranging from 995 to 1216 square feet.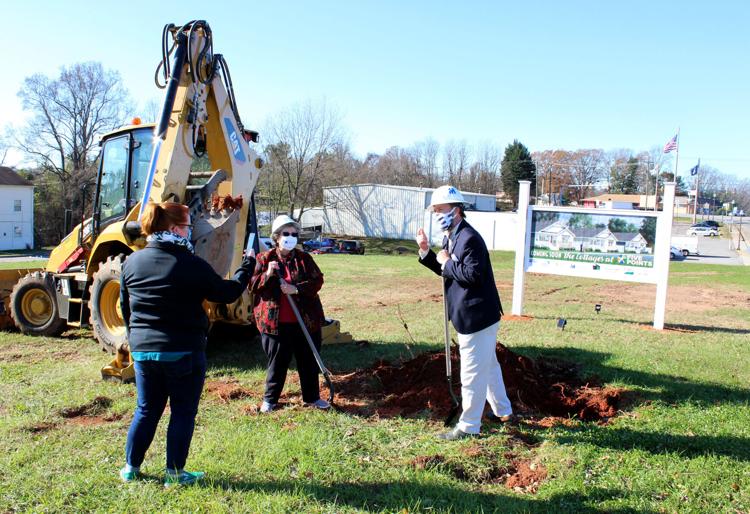 Virginia Housing, the state's housing finance agency, awarded one of only three $500,000 Community Impact Innovative Demonstrations grants to complete the site work. This in turn reduces the cost to the future homeowners, officials said.
"Through the grant we're able to pay down the cost of the site development and extension of utilities. Their cost is simply the cost of the units," Towarnicki said.
Harvest Foundation President Kate Keller said leveraging this grant funding will bring dollars "back to our community with the intention of building homes to change the lives of 27 families."
Participating residents will gain "the ability to build generational wealth and enjoy membership in our community as a homeowner," she said during the Zoom ceremony.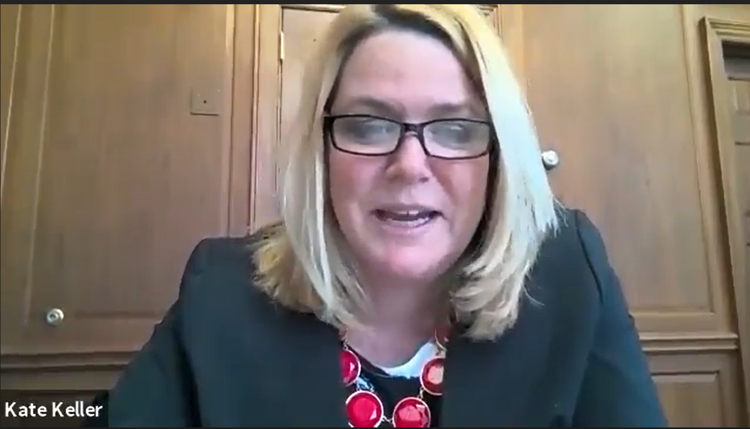 Five Points is also intended to create more foot traffic for uptown Martinsville, which Keller noted is "only a 10 minute walk. This builds into the vision of having a thriving uptown."
The local United Way is now taking applications and will direct people to financing options for those interested in getting "in line to get one of these wonderful homes," said Executive Director Philip Wenkstern.
Wenkstern said his organization's primary role will be "trying to help individuals enter the pipeline for this home ownership program."
The United Way already provides programs to promote home ownership, including a VIDA matching savings account that gives $8 in grant funds for every dollar aspiring home owners save towards a down payment, up to $4,000. Other financing options for the new Five Points program "will make it even easier for people to qualify," he said.
Now that the economy in Martinsville and Henry County has improved and unemployment rates are under control, local leaders and nonprofits have been working to address a new problem that has emerged in recent years: Finding enough homes for all the workers now being hired by local companies.
"A recurring message we were hearing from the Economic Development Corporation is that as new companies come to this area, one of the questions they frequently hear is, where are our employees going to live?" Towarnicki said.
Chris Thompson, director of strategic housing for Virginia Housing, praised the "real energy" he saw emerging from local leadership around the housing issue.
"Housing affordability is a crisis across Virginia. It's something that's critical for homeowners and renters," in both rural and urban areas alike, Thompson said. "It's been great to see the city, Harvest, Nationwide and others coming together to see how we can put a dent in this need."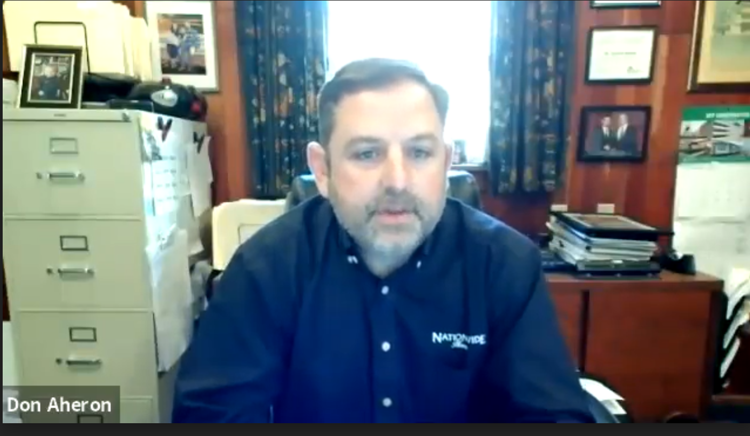 Also speaking during the virtual ceremony were Don Aheron, General Manager for Nationwide Homes, and David Worley, Area Director for USDA-Rural Development based in Lynchburg.
The homes are required to be occupied by the owners, officials have said.
The Harvest Foundation is providing support in the form of an Affordable Housing Fund that will serve as a stop-gap for the project if homes at Five Points are on the market for an extended time.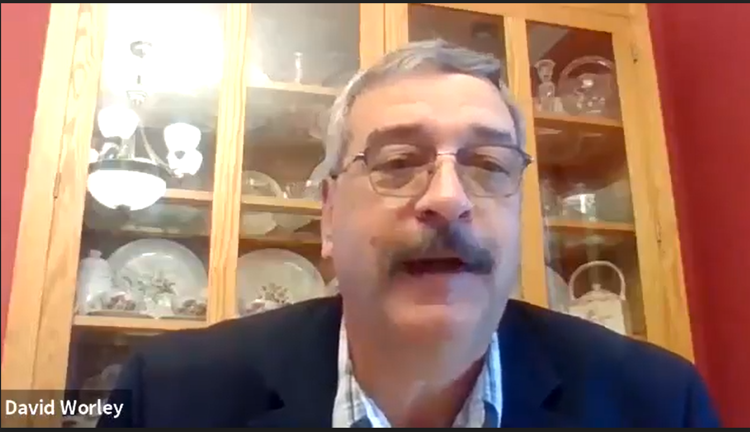 Be the first to know
Get local news delivered to your inbox!