The bands played, the cheerleaders cheered, and a small group of fans were able to sit in the stands at Bassett and Magna Vista High Schools on Saturday.
But after the initial excitement of a sports return wore off, it was time to play football.
Even though both the Bengals and Warriors came out with energy and excitement for a new season, neither team was able to finish Saturday with a win on Week 1 of the high school football season.
Bassett fell to Carroll County at home, 21-7, and Magna Vista lost to William Byrd in Ridgeway, 22-19.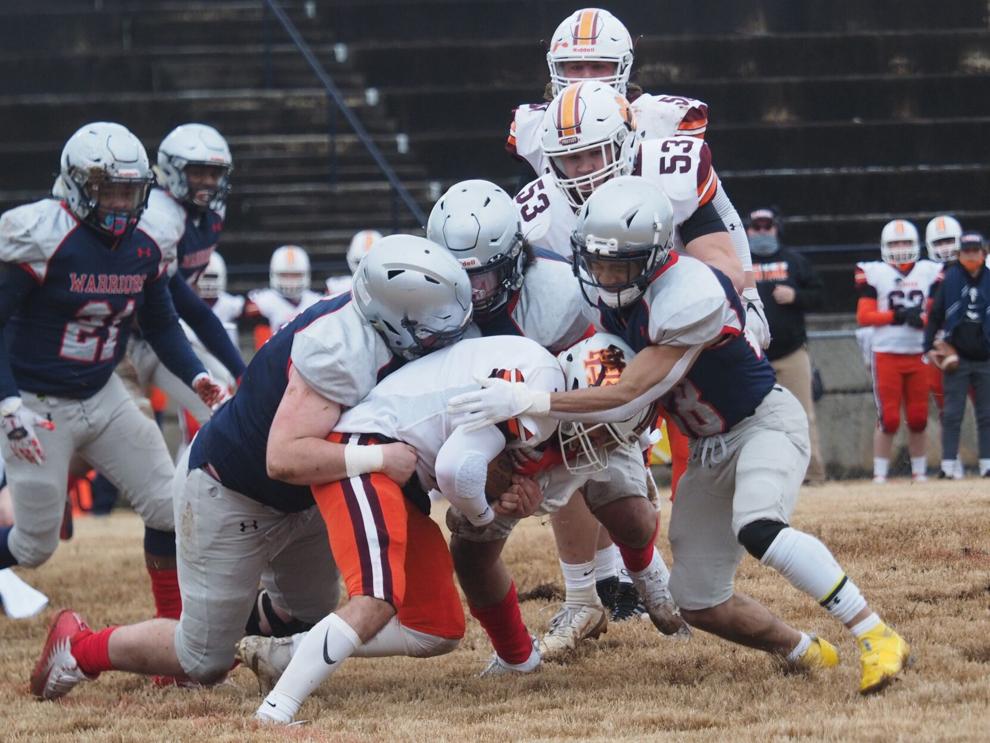 Magna Vista's defense came out of the gate swinging Saturday, and held William Byrd scoreless in the first quarter. The Warriors' offense, though, was unable to capitalize on three straight redzone chances to start the game.
On William Byrd's first two possessions they had a snap go over the punter's head and attempted a fake punt, both times giving the Warriors the ball inside of 15 yards to the goal line.
Both times, the Warriors turned it over on downs.
On the third possession, Magna Vista again was in the redzone, but turned the ball over on a fumble.
"When you look back, that's probably the difference in the game," Magna Vista coach Joe Favero said by phone following the game. "If you score on any of those there you come away with a win."
Magna Vista got on the board firt in the second quarter on a 63-yard pass from Dryus Hairston to Tyler Johnson, and scored again on a 76-yard kickoff return by Johnson later in the quarter. The Warriors led 13-7 at the half.
The Terriers tied the score midway through the third, and took their first lead of the game on a safety with 3:49 to play in the quarter.
After Hairston again found Johnson for 79 yards to help the Warriors retake the lead just before the end of the third, William Byrd went up for good with 35 seconds to play in the fourth on a 16-yard touchdown pass that would prove to be the game-winner.
"I thought our kids really played as hard possible. I told them I was proud of their effort," Favero said. "The conditions just deteriorated and deteriorated. It was like quick sand. It was hard to execute there at the end and unfortunately Byrd made a play right there at the end of the game to beat us."
Hairston finished the day 14-for-28 for 293 yards with two touchdowns and an interception. Johnson caught six passes for 176 receiving yards.
The Warriors had negative rushing yard on 13 run attempts.
Magna Vista's defense held the Terriers to 272 total yards of offense.
"I thought we played well," Favero said. "I thought our tackling and our physicality at the point of the attack was really good. Byrd had some good players and made some big plays when they needed to and took advantage of some opportunities. I think that was probably the difference in the game."
Magna Vista (0-1) will go on the road to Staunton River (0-0) on Friday for a 7 p.m. game.
"Our team got better today. We've just got to learn from our loss," Favero said. "Usually the biggest jump you can make as a team is from Week 1 to Week 2. You can really fix the problems you had, and I think that's got to be our goal going forward."
HALFTIME BURST DIFFERENCE MAKER FOR CAVALIERS AT BASSETT
Carroll County led Bassett 7-0 at halftime Saturday, but quickly extended that lead to 21-0 after scoring easily on the first two possessions of the second half during Saturday's contest at Bassett High School.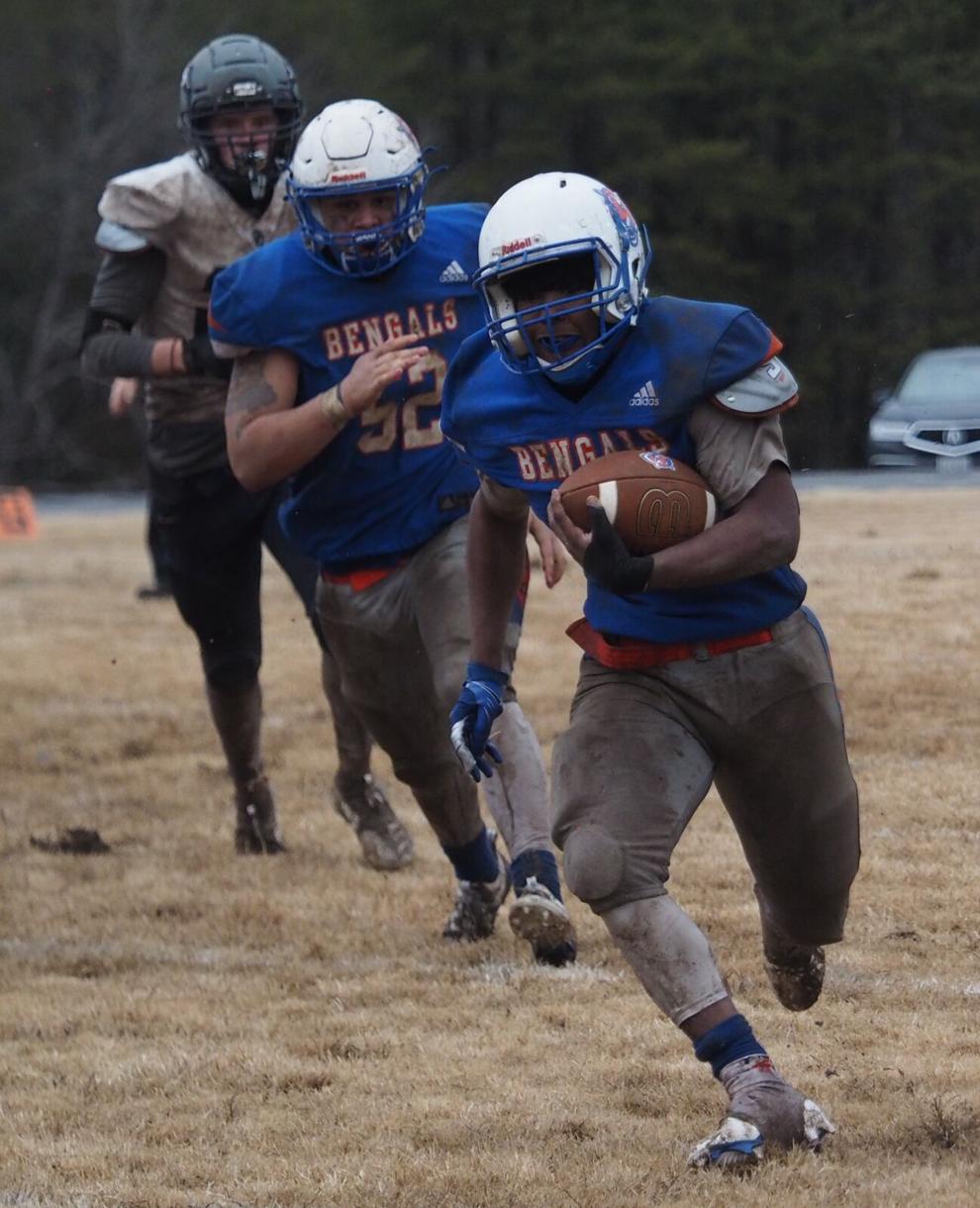 The Bengals answered with a 58-yard touchdown by Simeon Walker-Muse midway through the third, but it wasn't enough as neither team would go on to score the rest of the way.
"We knew Simeon would be a workhorse for us," said Bassett coach Brandon Johnson. "We knew we had some guys on the outside. Conditions kind of negate some of that, but upfront we have a great offensive line. They gave us a good push, gave us holes all night, but as I said before, when you get those holes, when you're trying to finish those runs, you've got to cover the ball up. We didn't do a good enough job holding onto the football. That shows in the score."
Bassett turned the ball over twice in the second half.
Johnson said his team played "really sloppy," which was to be expected given a short offseason and no scrimmages.
"Normally you come into a season, you have all this preparation time," he said. "I told the guys this year we're not going to make excuses... So we come out here and we play a football game and we expect to not make mistakes, and that's what we did. We made a lot of mistakes. Put the ball on the ground a lot, turned it over a lot. We're better than that."
Walker-Muse led the Bengals with 141 rushing yards on 15 attempts. He added two catches for 10 yards.
Ja'Ricous Hairston was 8-for-21 passing for 53 yards and an interception. Drew Fisher had one catch for 21 yards. Elijah Stokes had two catches for 19 yards and Jamari Johnson had two catches for 15 yards.
"I told the kids after the game, we played hard. We played really hard, especially being outmanned. We really, really played hard. But we just can't make those mistakes against a team that grinds it out. Can't make those mistakes and that's what happened."
Bassett (0-1) will go on the road to Halifax County (0-0) on Friday.
William Byrd 22, Magna Vista 19
2nd, 7:15 - MVHS - D. Hairston pass to T. Johnson, 63 yards (F. Underwood kick good)
2nd, 0:37 - WBHS - D. Hatfield pass H. Harris, 16 yards (kick good)
2nd, 0:22 - MVHS - T. Johnson kick return, 76 yards (F. Underwood kick no good)
3rd, 6:24 - WBHS - D. Hatfield run, 4 yards (kick no good)
3rd, 3:24 - WBHS - safety
3rd, 0:16 - MVHS - D. Hairston pass to T. Johnson, 79 yards (2-pt attempt no good)
4th, 0:35 - WBHS - D. Hatfield pass to E. Tinsley, 16 yards (kick good)
Passing: D. Hairston 14/28, 293 yards, 2TD, INT
Receiving: T. Johnson 6/10, 176 yards, 2TD
Carroll County 21, Bassett 7
BHS   0   0     7   0 - 7
Rushing: S. Walker-Muse 15/141, TD; J. Hairston 6/28; C. Hairfield 3/14; A. Mehmeti 6/26
Passing: J. Hairston 8-of-21, 53yds, INT
Receiving: D. Fisher 1/21; S. Walker-Muse 2/10; E. Stokes 2/19; K. Valentine 3/9; J. Johnson 2/15
Rushing: T. Peckron 26/104; B. Dalton 19/50, TD; C. Phipps 3/6; B. Davidson 4/56, TD
Passing: B. Dalton 4-for-12, 49yds, TD
Receiving: E. Marshall 1/25; T. Meade 1/8; B. Davidson 1/11; C. Phipps 1/5