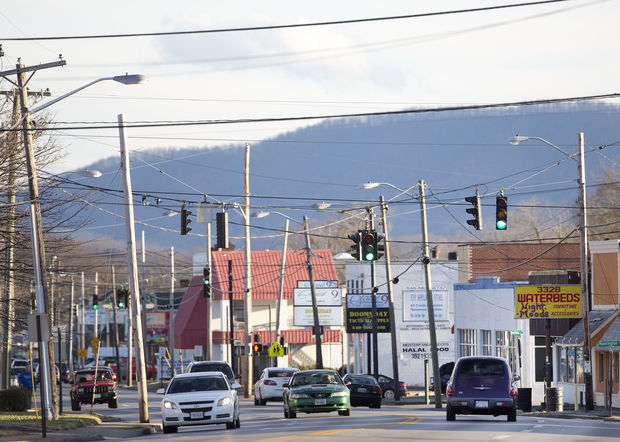 The Williamson Road Area Business Association is touting interest from Roanoke officials in correcting the hodge-podge of road and sidewalk engineering along part of the street as a "once in a generation" opportunity to make a more inviting commercial district.
"I'm looking for friendly, inviting," said WRABA Executive Director Wendy Jones. "I want this to be a destination."
But she said opposition to the effort from a member of the WRABA board is sabotaging her organization's effort to gather input from people who live, work and own businesses along Williamson.
She said a petition that's been circulated along the street is telling people there's already a settled plan to reduce four lanes of traffic to two lanes and add bike lanes, which she called a "fallacy" and a "lie."
"I think lying is pretty strong word," said Ben Burch, creator of the petition and president of the Airlee Court Neighborhood Watch Association. "I'm telling the truth as I know it."
He said he understands there is no firm plan, and while some improvements would be fine, he opposes any effort to reduce the number of lanes for cars and trucks. That would just drive traffic into neighborhoods, he said.
"I think we have a fiduciary responsibility to the neighborhoods and businesses on the road rather than just coming up with a plan and presenting it to them," said Burch, a 25-year member of the WRABA board. "We should be getting their input."
Jones and WRABA board President Mike Pendleton say that's exactly what they're trying to do, but Burch is not helping.
"He's going to taint the water so badly that people won't give us honest opinions," Jones said.
"First impressions are hard to overcome," said Pendleton.
Jones has been organizing walks along Williamson Road with board members, city officials and others for about two years in an effort to generate interest in improvements to the corridor.
She'd like to see commercial village centers developed at intersections like Liberty Road and 10th Street.
Looking to make Williamson Road more appealing to a younger crowd, Jones also has pushed the city for improvements to make the commercial strip with 17,000 vehicles per day passing by more friendly to pedestrians and bicyclists. That would also encourage potential developers of those small village centers, she said.
In recent months, city officials have shown interest in finding a way to revamp the stretch of Williamson from Orange Avenue north to Angell Avenue. A mid-1990s project made improvements to Williamson Road from that point north.
City Engineer Phil Schirmer said the idea has been floated to the Roanoke City Council, which is amenable to it. The cost of $6 million to $7 million would be spread out over probably five years, so work would be done incrementally.
Schirmer said that stretch presents some challenges, from a varying amount of public right of way within which to work, to a high number of entrances to numerous businesses. But he believes cutting the four traffic lanes down to two lanes with a center, dual turn lane to make room for bike lanes and sidewalks could work. That would be consistent with the city's "complete streets" approach, to make streets amenable to all kinds of transportation.
With left-turning traffic frequently bringing left lane traffic to a halt now, the road effectively only has one lane moving in each direction now anyway, he said.
"It hasn't been decided yet," Schirmer stressed. "We think there's a lot of pavement out there now. We want to re-allocate that pavement in a different way."
The city wants to hear from all the users of the road, he said, acknowledging what are sometimes competing interests between businesses, drivers, pedestrians and cyclists, mass transit, emergency services, schools, the public library and the neighborhoods that adjoin Williamson Road.
"This is a project that, one size doesn't fit all," he said.
To review ideas from the city and gather input, Jones and WRABA organized a kind of steering committee. The panel includes city officials, business owners and leaders of three neighborhood associations, including Burch.
The committee has met once, following a presentation by Schirmer at a WRABA meeting about possibilities for the road in November. Schirmer's topic was the "road diet" for Williamson. He said that term describes decisions on how to use available right of way, and not a single-specific plan.
Despite limited information, Jones said, Burch circulated a petition against the plan.
She accused Burch of telling people "road diet" means definitely reducing traffic lanes to add bicycle lanes, and of hinting to people and businesses that the petition is somehow endorsed by her.
Some versions of the petition ask, "Do you Oppose the plan to shrink Williamson Road From 4 lanes Into 2 Lanes with Bike Lanes?"
Burch said he's changed the language on later versions of the petition to reflect that there is no concrete plan, and he denied representing the petition has having anything to do with Jones or WRABA.
He pointed out that the signature sheet says plainly, in red type, that its source is Airlee Court Neighborhood Watch Association, which has taken a position against the reduction in traffic lanes.
The petitions have "taken on a life of their own," Burch said. "People are very upset and are copying the petitions and sharing them themselves."
He claims 2,000 signatures so far.
"If it's just sidewalks and lighting, great," Burch said. But from what he's read of "road diet" projects on the internet, and from what he's seen Roanoke, the term almost always means addition of bike lanes, he added.
"It sounds really friendly, but it's gridlock," Burch said.
Bike lanes on Williamson Road would mean fewer lanes for cars, which would mean congestion, he said. "When the roads get jammed up, it gets less safe because people are going through the neighborhoods."
And while there's no firm plan, Burch said, he wants to get ahead of any decision because he's seen how the city operates.
"You get a plan, you get a consensus and it goes to the city and its done," he said. "They'll have an open house, two or three people go, so they say there must not have been any people against it."
Jones and Pendleton said Burch is just getting in the way of people having accurate information and a say in the project.
Opponents bring up valid concerns, Pendleton said, but he doesn't care for how things have been handled.
"I just believe it's an unprofessional way for a board member to go about something where we're merely trying to get ideas put together," he said.
"This may be a once in a generation chance," Pendleton added.
Jones echoed that concern.
"We screw this up," she said, "and we may not get this opportunity again."